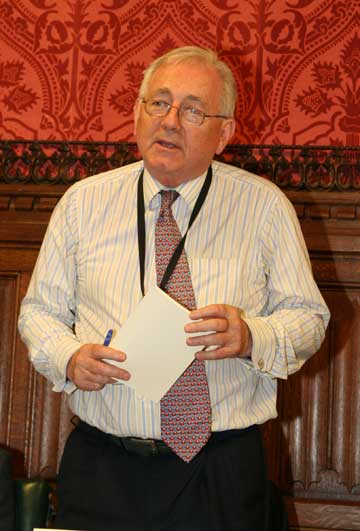 LKP's patron MPs Jim Fitzpatrick and Sir Peter Bottomley have secured a three-hour Commons debate next Tuesday (December 20) to discuss reforming leasehold tenure.
It is the first full-on debate over leasehold issues since the debates that led to the 2002 Commonhold and Leasehold Reform Act.
The MPs made the announcement to the All Party Parliamentary Group on leasehold and commonhold reform last night, which was attended by 70 stakeholders in the sector, as well as by MPs of all political parties and members of the House of Lords.
Sir Peter Bottomley bluntly told the APPG:
"I plan on Tuesday if I am called speak the name some names. I don't mean to go about smearing people.

"There are some issues that potentially give rise to defamation.

"Defamation actions actually have to be damaging, untrue and not privileged; I want to say things which are true; are privileged; and which might, having been brought out into the open,  prevent people doing things that are wrong."

"There are one or two other people who are well known in the freehold game who should have some of their behaviour exposed to public scrutiny.

"I don't want to knock developers because we depend on them but a number of developers should be spending time between now and Tuesday – and afterwards – asking whether they have done things that they now regret and what they propose to do to make them right."
Sir Peter referenced the Peverel / Cirrus price fixing scandal, where the Office of Fair Trading found that Peverel's subsidiary Cirrus had been fixing bids in a collusive tendering scam to cheat pensioners in retirement housing.
"This did not actually meet with effective action by the economic regulators, or the criminal authorities even though people were being ripped off left, right and centre."
Sir Peter also referenced Danny Truell, the former Goldman Sachs banker who heads the Wellcome Trust and is paid £3 million a year.
The Wellcome Trust is the world's second largest donating charity after the Bill and Melinda Gates foundation and it gave a record £1 billion last year.
As well as taking punt on sterling over the Brexit referendum, the Trust's revenues come from a handsome freehold portfolio in central London.
With the aristocratic Sloane Stanley estate, the Wellcome Trust fought the Mundy case where the methodology for valuing residential leases under 80 years was found to be flawed.
But the hedonic regression mathematical model proposed by James Wyatt, a chartered surveyor of Parthenia valuations, was thrown out.
"This means that the cost of extending leases has increased significantly.

"There was no Act of Parliament and no consideration by the Supreme Court. But this ruling will potentially affect 5 million households.

"It should not just rely on two people sitting in the upper tribunal [of the property chamber] deciding the matter with most of the public interest being ignored."