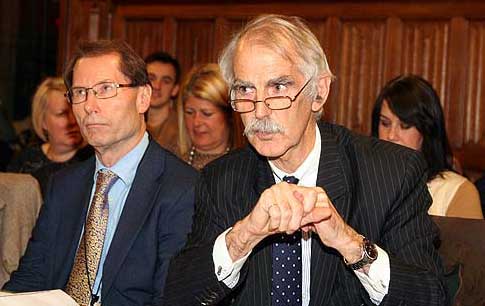 LKP raised questions earlier today with Gleeson Homes over the "fleasehold" row sparked by Justin Madders's speech in the Commons on Tuesday.
That article can be read in full below:
Gleeson won't sell leasehold houses, but freehold ones come with 'fleasehold' covenants, says Justin Madders
The response comes from Gleeson Homes CEO Jolyon Harrison. LKP is dismayed by the row, as Gleeson Homes was one major housebuilder that deplored the leasehold houses scandal and spoke out against the sector at the APPG of September last year.
The response from Mr Harrison was made to LKP trustee Sebastian O'Kelly, whose inquiry was copied to Communities Secretary James Brokenshire, Justin Madders MP, the LKP patron MPs Sir Peter Bottomley, Jim Fitzpatrick and Sir Ed Davey, and Katie Kendrick, co-founder of the National Leasehold Campaign Facebook group which has 11,000 members.
Mr Harrison's reply is below:
I am pleased that you have copied-in so many people because it gives me the opportunity to properly respond to the nonsense being promoted by certain people.The fact that you have a copy of our restrictive covenant document shows that we are totally transparent with our customers. Copies of this document are freely available for customers and potential customers on all of our sites.
We have adoption Agreements on all of our sites so the very few charges that we have are for maintenance of small areas of grassed open space; all of our roads, street lights and footpaths are always adopted (we have the best record of getting roads adopted quickly of any volume house builder). Typical charges are around £100 a year and very often less. Many local authorities will adopt open space but a few will not so we have no choice other to have a maintenance Agreement with a specialist on a few of our sites (by no means on all of them). The documentation with the customer allows them to be able to challenge the specialist's cost and bearing in mind that the work is usually a few hours grass cutting a few times a year it's fairly easy to see if they are getting value for money or not.
The answers to your questions are as follows:-
1. We impose exactly the same covenants on all of our sites. There are 40+ covenants that have evolved over the years following our experience of our customers. We sell low cost homes to people on low incomes, 90% of our customers are first time buyers and 75% are under the age of 35; we sold 60 houses last year to people under the age of 21.
A typical customer would be a working class couple in manual employment previously living in a council house who may buy a house that is semi-detached with a house bought by a young lady aged 20 next door. (we sell 25% of our houses to single women under the age of 35).
The purpose of the restrictive covenants is to ensure that our vulnerable young customers are not disadvantaged by the thoughtless or inconsiderate actions or activities of their neighbours who may take some time to acclimatise themselves to the responsibilities associated with home ownership.
2. We rarely form a resident's association to deal with the cost of open space because any area of open space is fairly small and therefore the maintenance cost is small. Our residents are not interested in resident's associations, they are busy getting on with their lives. Resident's associations are totally appropriate in blocks of flats (we always build houses; never flats) or exclusive up-market developments but no one would be interested in participating in a management company in Toxteth or Parson Cross (Google; Parson Cross Crew) which are typical of the areas where we provide homes for sale.
You assume that we hold the covenants for commercial gain. Nothing could be further from the truth, in fact they cost us a lot of money. We charge a fee of £200 for receiving and examining applications for conservatories and extensions. It says "from £200" in our document to give us the opportunity to increase it at some time but we have never charged more to date (this fee hasn't changed for 5+ years). We scrutinise architect's drawings and specifications and make sure that the proposed structure doesn't dominate or cause overlooking to neighbouring properties and we give advice on foundations and damp proofing so it costs us more than £200 in management time and is a good value service to customers. Our customers like to know that if their neighbours are planning to extend their house the proposal will come under close scrutiny and if we think there could be an overlooking issue we ask the applicant to obtain a letter of approval from the affected neighbour. We don't charge anything for permission for minor items.
3. I joined and restructured Gleeson in 2010 which is when we effectively became a new business. We had lots of legacy issues and we sold the old leaseholds relating to houses built prior to this date; none of these old leaseholds had punitive clauses. Old Gleeson didn't build many houses from 2007 to 2010 so the bulk of the last ones sold were pre-2007. As I have previously stated we stopped doing leasehold as soon as I joined Gleeson in 2010 on new sites although we had one old site in partnership with Manchester Council where we were the leaseholder but passed the ground rents to the Council. In this case the leasehold reverts to the Council when the council solicitor gets round to it, so the ground rent charges are safe..
We have never sold any covenants to anyone and we wouldn't do this.
We used to have several management companies but we have always transferred ownership to the residents at no cost. We have one old one remaining that we hope to hand over to residents soon, delayed by complications from another house builder.
I don't understand why anyone would want to transfer a management company to anyone other than the residents; my brain isn't wired like that.
4.
a. The maximum that we have ever charged for a permission is £200 as explained in 2 above. Most sites have "Permitted Development Rights" which means that residents can do a range of things without planning permission from the local authority. Our restrictive covenants go beyond this for very good reasons. An extreme example that actually happened recently was someone who started building a large shed made entirely of doors of different colours. The neighbours complained to us about the shanty shed and we intervened; the planning authority couldn't have done anything about this. Some customers want to dig-up their front lawns and cover the area with tarmac and if we allowed this to happen our developments would look awful and the people who cultivate wonderful front flower beds would be devastated. The planning authority has no control over this sort of thing so we refuse any permission but balance this by having an annual front garden competition. We call it our Christopher Robin Competition because everyone who enters gets a prize.
We don't want people to leave their bins at the front or to have transit vans all over the place (we sell lots of houses to white van man) and neither do their neighbours.
It would be really nice if all of our customers were kind considerate neighbours but someone once said that good fences make good neighbours.
The statement that the charge for retrospective consent will be higher is in order to encourage occupiers to seek consent before doing anything. Retrospective requests are rare.
b. We ban letting our houses because we encourage home ownership. It costs less to buy one of our houses than it would to rent it so why would we sell to a landlord who may put tenants in the property who haven't been told about the restrictive covenants and couldn't care less about them? A landlord is unlikely to enter our front garden competition. We want our customers to accumulate wealth rather than to put wealth into the pockets of private landlords, home ownership is a wonderful aspiration for everyone and in particular people on low incomes and it is my desire to satisfy this aspiration wherever and whenever I can.
We have given permission to let on rare occasions where a member of the armed forces has been transferred elsewhere for a fixed period of time. We ask to see the army transfer docket as evidence and in these circumstances the permission is limited to one year but is renewable provided that the tenant has behaved. We don't charge someone who is going to be shot-at in some far-off land.
c. We are quite happy with the Proscription about not doing anything that is a nuisance or annoyance or inconvenience to Gleeson or to anyone else on the development. We are currently having a problem on a site in Barnsley with a party animal with a barking dog who has been giving the neighbours some serious problems. It also covers people who park in an anti-social manner and a range of other similar issues.
d. Yes, we stress the legal costs issue in order to encourage customers not to break the covenants but legal action is rare. We haven't gone any further than a letter from our solicitor in the last 8 years and this has always done the trick and in these circumstances we have never passed the charge to the culprit so here's further evidence that all this costs us money. Having said this, we are just about to go further with someone who dug-up their front lawn a year ago and refuses to put it right and there is someone selling second hand cars on eBay from home who refuses to stop and I suspect that injunctions will be forthcoming and they will both have to bear the cost on this occasion. However this will be the cost we don't regard these issues as a profit centre, they cost us management time and are loss-making.
e. I think I have explained this one. But to be specific, our customer services department deals with complaints from one customer about another and they always respond. We often seek further information and photographs and sometimes we send a member of staff to garner further information. When we are confident that there is a valid complaint we write to the culprit and ask them to rectify the situation. The matter stays in a live file and if no action is taken by the culprit we use stronger language. Quite often people are just being thoughtless and when we politely point out that they are inconveniencing others they stop. We don't make a charge for doing any of this to either party.
f. Yes, we absolutely must involve ourselves with the issue of large vans. In fact this has in the past been one of the major sources of complaint by our customers about each other. We have recently introduced the piece about getting permission to park large vans in specific areas because it creates a sensible compromise and it encourages white van man to choose a plot where a van can be tucked-away and he is likely to be granted permission. A high proportion of our customers have vans that either belong to themselves or their employer. In extreme cases we have been obliged to email the employer.
Local authorities don't have the power to deal with most of the issues that I have highlighted above and even if they did, we all know that they would be slow to react and would probably be ineffectual, they would not want to commit resources in the way that we do. We consider that we have a duty to our customers both now and into the future and we will continue to do so.
It would be really nice if people would stop jumping to conclusions and accept the fact that there are house building companies that really care about their customers. We have recently been voted (the PLC Awards) the most sustainable quoted business in the UK. This isn't a competition that you enter, in fact we didn't know that we had been nominated; think about all of the huge major businesses in the UK that would love this award and it was won by little Gleeson!
The judges were particularly impressed by the fact that we have living wage accreditation the way in which we work with and in communities and were also impressed by YourWatch which is our social media platform that acts as a substitute for neighbourhood watch.
In challenging areas residents will not volunteer to be a neighbourhood watch coordinator because of fear of reprisals from local gangs. All of our customers (and sometimes other local people) are subscribed to YourWatch which acts as an intermediary between residents and the local police. People report all sorts of things to YourWatch including sending us film clips and photographs, often taken between window blinds. We report matters to the local police and work with them but we will release the name if the person reporting only with their specific permission. It works really well and young vulnerable people feel that they have someone looking after them and as you will no doubt ask, there is no charge and in fact we give small rewards to people who report things to us.
We are currently talking to a local authority about licensing YourWatch to them and if we do (I know you are going to ask!) there will be no charge.
If you have any further questions please do not hesitate to ask.
I await a very public apology from Justin Madders (but I suspect that I will have a long wait).
Best,
Jolyon.