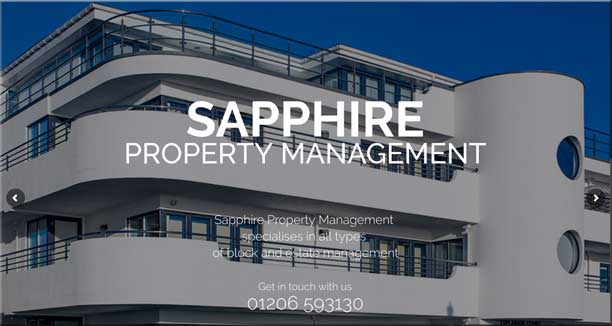 Sapphire Property Management
Sapphire House
Whitehall Road
Colchester
Essex
CO2 8YU
01206 593130
info@sapphirepm.co.uk
www.sapphirepm.co.uk
Sapphire Property Management specialises in all types of block and estate management.
The company was established in 2010 by directors Jeff Steggles and Gary Cooper, who have over 30 years in the property business between them.
After being leaseholders themselves, they were both growing increasingly frustrated with existing agents over-charging for items along with the lack of service being provided.
Thus Sapphire was born with the vision to create a Property Management Company that would provide excellent service for a fair fee, along with a clear transparency to all leaseholders of exactly how and where their money is being spent.
We strongly believe in maintaining regular face-to-face communication with our clients. We carry out formal site inspections quarterly, however, we often attend more frequently as and when required at no additional cost. We believe that sites cannot be adequately monitored and issues addressed unless the site is regularly visited. We have an excellent response time and believe that with our regular site visits and our flexible one-to-one approach, our service is second to none.
We have been known to make significant savings and offer competitive management fees. We have recently taken over a few developments from a large national agent saving them 25% on their building insurance as well as a similar amount in our Managing Agent's Fees and over a third off the accountancy fees.
We are also increasingly asked to undertake The Right To Manage (RTM) process by Leaseholders who have expressed dissatisfaction with their Freeholder's appointed Managing Agent and who understandably wish to have more control over the way in which their development is managed and how their Service Charge money is spent.
Testimonials
David S, Director of Residents Management Company in Brightlingsea
"I have no hesitation in recommending Sapphire Property Management. Our property manager is outstanding and has transformed the look of the estate by bringing in fresh ideas and new gardeners and cleaners whilst keeping a tight rein on costs."
---
Margaret W, Director of Residents Management Company in Colchester
"We moved the management of our development to Sapphire at very short notice. They reviewed all the contacts organised by the previous managers and re-negotiated them resulting in vastly improved provision of cleaning and maintenance of the grounds at substantially lower costs.

"Our property manager, Lydia, was tenacious and finally resolved the problems with the lift which had been unreliable for months. Despite the substantial costs of fixing this, we were within budget at the end of the year.

"While working with Sapphire we have managed to continue to improve the development while managing to contain costs. Lydia visits regularly and keeps all of the contracts under close scrutiny to ensure good quality at a keen price. As a landlord, I am delighted that our property is so well managed by an active and interested property manager."
---
Sarah G, Director of Residents Management Company in Colchester
"Sapphire Property Management have served our property well, cutting costs on many services and ensuring all health and safety regulations are met. They consult constantly with owner-directors and seek the best solution in every case. I would recommend them for their integrity and reliability. Lydia is meticulous and forever courteous in all her dealings with owners, and makes every effort to satisfy everyone."