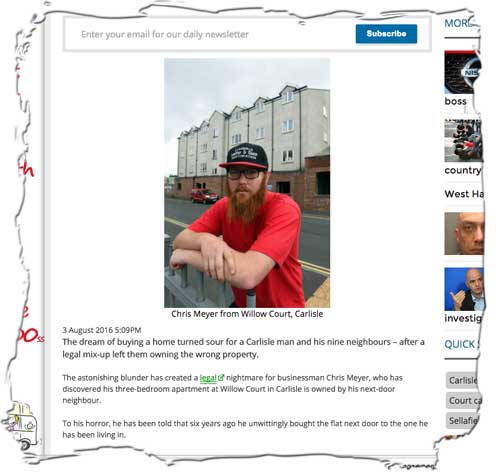 Ten out 15 flat owners at Willow Court in Carlisle are living in the wrong flats after a mix-up following their purchases years before.
Local businessman Chris Mayer discovered the problem when he tried to sell his three-bedroom flat.
To his surprise and distress he discovered from the Land Registry that the flat where he has lived for six years actually belongs to his neighbour.
Ten of the 15 flat owners in the building are facing the same problem.
Mr Meyer tells the local paper the news and Star:
"My girlfriend and I want to move to a bigger house, so I put the flat on the market three years ago for £80,000.
"I had loads of interest and an offer of £76,000.
"I'd chosen the new house, had the mortgage approved, a survey sorted out, and I was due to get the keys in a few weeks when the solicitor for the person buying my flat got in touch to say there was a problem.
"Basically, I live in number 8 and thought I had bought number 8.
"But Land Registry documents show that I actually own Number 9. The man who thought he'd bought Number 7 actually owns my flat. It's the same for 10 of the 15 flats.
"It's a complete mess. Not surprisingly, my buyer pulled out."