Michael Heseltine it isn't … but ex-Housing Minister and Tory chairman Grant Shapps has a flourishing little publishing business to fall back upon in the event that his political career comes to a grinding halt.
Run out of squalid little offices in Enfield, north London, the Shapps family offer codswollop Freudian analysis of dreams and computerized plagiarism of out-of-copyright material to boost Internet search engine rankings.
Unfortunately, Google has blacklisted a string of 19 websites for breaching its rules on copyright infringement.
The sites are run by his wife Belinda, sister or 75-year-old mother, while Grant himself appears as either Michael Green or Sebastian Fox. Shapps made his fortune as a jobbing printer (see the company history below).
To save you a lot of time and money, Leasehold Knowledge Partnership have reviewed them below and rated them on our "Shapps-ometer of Naffness":
The 'Trafficpaymaster'
Schapps-ometer: ****
The 'Trafficpaymaster' web site   http://www.trafficpaymaster.com/ provides software which borrows from other sites and "re writes" it automatically for you. You can then generate income via Google's 'Adwords'. That was until there was some bad publicity in the national press about this product. Google then took action and removed all 'Trafficpaymaster' pages from search results. In short, the site provides industrial-scale plagiarism of other people's original content and makes it look like your own. An anonymous buyer commented: "I used 'Trafficpaymaster' to search for "Tory Party Chairman" and came up with a whole set of my own ideas."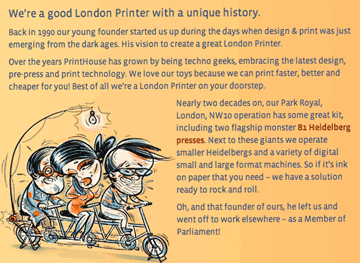 The 'Meaning of Dreams'
Shapps-ometer: *****
The 'Meaning of Dreams' web site http://meaning-of-dreams.com/ purports to offer the purchaser an insight into their dreams, based on revelations by an early Freudian psychologist Isador H. Coriat in a book, published in 1915, which has been "reprinted by Michael Green". Reviews at the time commended Coriat's book for two things: 1) it is simply written for the lay person; 2) it does not mention any of the 'downstairs' issues normally reviewed in great detail in Freudian texts.
Top Tip: since their altercation with Google, the link to buy "Mr Green's" book is not working. Readers can save time and money though by reading a full copy by the original author at absolutely no charge at the following web site:
http://archive.org/stream/meaningofdreams00cori/meaningofdreams00cori_djvu.txt
'How to find Happiness'
Shapps-ometer: ***
You may be getting the idea now that this site http://howto-findhappiness.com/ is also not worth spending your money with. We would not recommend their psycho-babble guide to the secrets of being happy.
'HowToCrop'
Shapps-ometer: *
Ok, this site links to all the above at http://www.howtocorp.com/ . Here you get to learn about other ways to make a fast buck, including: how to sell online; how to write a newsletter – good news for constituents of Mr Shapps since it helps produce on-line content using copyright free text from others:
"You could spend less than 20 minutes at your computer and turn out a newsletter that would simply stun your friends and colleagues with impact and quality. Not only is using our exclusive Copyright Free Article Directory as easy as copying-and-pasting, but we also explicitly allow you to claim every article as your own!"
Again, sadly, due to the problem with Google, all these fantastic products are not available to purchase at the moment.