By Harry Scoffin
Government felt the heat of MPs over the cladding crisis on Wednesday February 12 in a Westminster Hall debate called by Labour heavyweight Hilary Benn.
The debate saw a floundering performance by housing minister Esther McVey, who was sacked the next day.
As it happened, so was Lord Younger, the junior parliamentary under-secretary of state, who had met representatives of cladding sites as a stand-in for Communities Secretary Robert Jenrick.
Mr Benn opened saying that government inaction has "put leaseholders in a manifestly unjust position" and quoted comments made by the then Communities Secretary James Brokenshire about needing to protect leaseholders in dangerously-clad buildings.
He stressed the reasoning behind the original remediation fund – that leaseholders should not pay if building owners could not "do the right thing", despite exhortations from ministers – also applies to other unsafe blocks where "there are freeholders who have not lived up to their responsibilities" and are now seeking to recoup the costs of cladding removal through the service charge.
The Leeds Central MP went on to say that by floating the idea of Treasury loans for cladding victims in the Commons last month, Communities Secretary Robert Jenrick was trying to wriggle out of the position held by successive ministers that no leaseholder should pay to remove dangerous cladding, and "create two classes of leaseholder … completely unfair."
APPG co-chair and LKP patron Justin Madders, who has no cladding sites in his constituency, gave a scintillating analysis of the current situation and made the case for an end to the cladding lottery that has emerged.
The Ellesmere Port and Neston MP also read out a statement from Sir Peter Bottomley which called on parliament, ministers and officials to work together to "see the evil", "do good", and "recognise the people speaking through the Leasehold Knowledge Partnership."
The highly respected Public Accounts Committee chair Meg Hillier urged government not to use taxpayer money to "bail out" the "dodgy developers" and freeholders who will "not step up to the mark" by paying to fix these buildings.
She also criticised the insurance companies who have been using the cladding crisis to hike premiums excessively, an issue she said "the excellent all-party parliamentary group on leasehold and commonhold reform heard about only a few weeks ago."
"Insurance companies should not just get away with this. The reality of the risk is probably not as high as their algorithm throws up, but is it punitive for residents."
Birmingham Ladywood MP Shabana Mahmood concurred, citing the example of the Islington Gates development in her constituency, where the original insurer dropped out, forcing the residents "to go through a broker and a huge amount of stress, trouble and difficulty to find a consortium of five insurers willing to share the risk."
In a single year, the premium has leapt from £36,000 to £190,000.
Ms Mahmood demanded government intervene in the insurance market as it has done with the Flood Re scheme.
Tottenham MP and ex-minister David Lammy blasted government for the "entirely unacceptable" situation faced by 432 people in the Hale Village development in his constituency "who cannot get a mortgage or remortgage", an issue linked to the ministry of housing's guidance to building owners that has stalled the flat markets and was the topic of a recent BBC News article:
Thousands of people in the UK are living in flats they cannot sell, because the outside wall is covered in cladding. Sometimes it's combustible, like the material that turned Grenfell Tower into an inferno. But people may become prisoners in their homes even when it isn't – because the freeholder hasn't paid for it to be tested.
Parliament heard that the new industry-backed EWS1 form is having mixed results in addressing the issues thrown up by the government-issued Advice Note 14, with Greenwich and Woolwich MP Matthew Pennycook claiming:
"I have cases where large mortgage providers have rejected the form outright and others where forms cannot even be issued because of a lack of indemnity insurance coverage."
Mr Pennycook, who has been very active in dealing with cladding sites in his constituency, sympathised with ministers and their officials who "might be overwhelmed by a crisis that continues to grow in scale and complexity, and baulk at the potentially colossal drain on the public purse," but said that political leadership is required urgently as "this crisis is not going to disappear."
"Ministers must start by going beyond moral suasion and compel developers to do the right thing. In cases where that does not work, they must step in to expand the scope and amount of funding to remediate where necessary, and oversee a nationally co-ordinated response, so that nearly three years after Grenfell, we can finally get a grip on the issue and protect leaseholders, as they were promised in the wake of that tragedy," he said in his closing remarks.
New Putney MP Fleur Anderson astutely pointed out that the cladding crisis has been made worse by the deficiencies of residential leasehold tenure.
Leaseholders are tenants in law and so should not be paying to fix dangerous buildings they do not own.
If the cladding victims were bona fide flat owners, the debate would be different, LKP reckons.
Indeed, SNP politician Alison Thewliss – who made a surprise appearance at the APPG cladding forum last month – turned up to say Scotland abolished leasehold some years ago, removing "the leaseholder/freeholder issue" completely.
But UK government post-Grenfell decisions are causing headaches north of the border, too:
"The Scottish Government have highlighted that, although they appreciate that MHCLG [the ministry of housing] has introduced the EWS1 form to bring about a resolution [to the problems in the mortgage and insurance markets caused by Advice Note 14], it relies in some respects on a tenure system that does not exist in Scotland. That needs to be addressed," Ms Thewliss said.
The Labour MPs were amply supported by their Conservative counterparts.
Blue Wall newcomer Tom Hunt, the MP for Ipswich, made no apologies for making life difficult for his party over the cladding crisis, pledging that he "will be a lion in fighting" for the interests of his constituents who "feel that their lives have been destroyed".
"I repeat the key principles: we must go after the freeholders, not the leaseholders, and we must have fairness in the way that individuals are treated. I beg the Government to stand up for my constituents in the way that the right hon. Member for Leeds Central has—and that I hope I have—today," he said.
Mr Hunt's colleague James Cartlidge, the MP for South Suffolk, queried why leaseholders in unsafe blocks with HPL [high-pressure laminate] panels, which have been found to be more combustible than the ACM [aluminium composite material] used on Grenfell Tower, do not qualify for the government fund and have been left simply to fend for themselves:
Kevin Hollingrake, who has been exposed to the issues surrounding the cladding crisis through his work on the Communities Select Committee and is also pressuring government to widen the scope of the fund, pointed out that third-party freeholders cannot reasonably be expected to pay for remediation works since they have no legal obligation to do so.
The Tory MP for Thirsk and Malton made a similar point in the Commons last month, coming eerily close to the LKP line that freeholders have been shown to be utterly pointless in the months and years following the Grenfell Tower fire:
"The only person with a connection—the only landlord he might speak to—might be the owner of the ground rents on that property. They are technically the freeholder, but the freeholder has no maintenance responsibility whatsoever, so there is no legal action he could take to force the freeholder to take remedial action on the block."
If the so-called long term custodians are not paying or caring about their property, what is the point of the leasehold system? England and Wales are unique in having private blocks of flats run and controlled by speculators in the building's income stream.
MPs also had a cladding victim among their ranks, the Conservative backbencher Anne Marie Morris, who spoke powerfully about the challenges she has faced in navigating the ACM remediation fund.
She called for government to waive VAT on cladding bills and to drop its insistence that every single leaseholder of each cladding site must sign the EU State Aid declaration forms in order for money to be released for the works:
Her intervention suggests that government has been so paralysed by the crisis that it has failed to consult even its own MPs.
We also heard from Sir Bob Neill MP, who raised the plight of his constituents at Northpoint. For every extra month of government inaction, leaseholders there have to pay £11,000 in waking watch costs, he said:
Visibly irritated by the minister's vague response and lack of news for MPs, the veteran Tory intervened to make the point again and say that "the conversations … have to be brought to an end, and something must happen soon."
Fielding angry interventions from across the room, the embattled Ms McVey promised "bigger consultation", saying "it is imperative that we hear from the people who are most affected".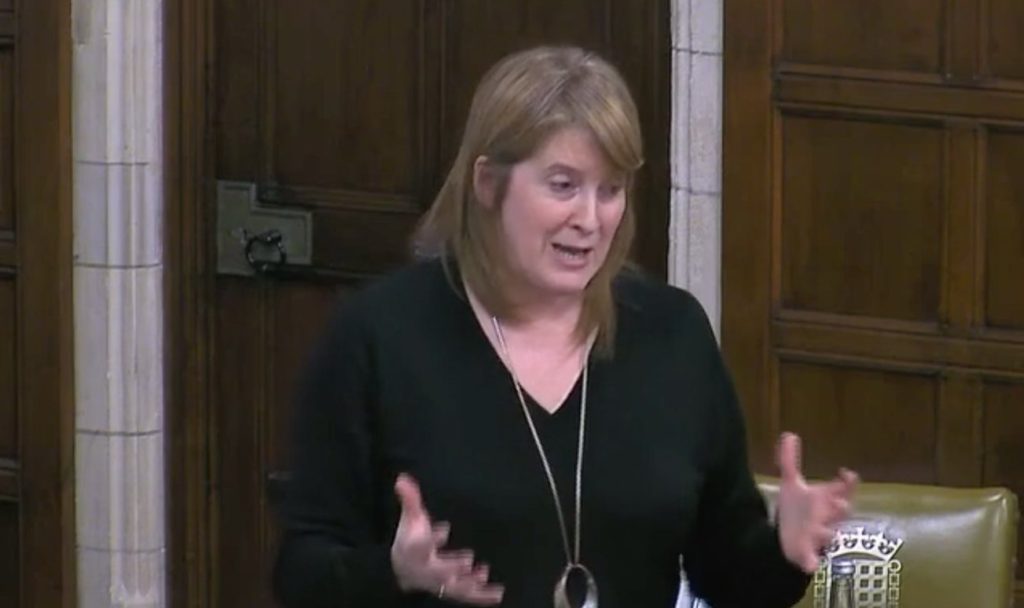 Summing up for the opposition, Sarah Jones MP said that "nearly 1,000 days on, leaseholders are still paying exorbitant costs – thousands of pounds per year – as a direct consequence of the Government's failure to hold building owners to account and make their blocks safe."
She asked the minister whether Robert Jenrick would follow through on his pledge, made last month, to publish a list of all the names of freehold owners who are being recalcitrant, citing that the most recent official figures show 174 private residential buildings with Grenfell-style combustibles are still yet to be remediated.
The shadow housing minister added that Labour has "for years" been encouraging government to pass primary legislation to prevent freeholders from passing on cladding costs to "innocent leaseholders" and expressed her frustration that Communities Secretary Robert Jenrick was not held to account over the cladding crisis "when he was doing the media rounds at the weekend".
Closing her remarks, Ms Jones promised that her party would not oppose for the sake of opposing should government return to lawmakers with a fair and comprehensive solution. "If the Government act and do the right thing, the Opposition would thank them very much for doing so."
Labour's treasury minister Lyn Brown, the West Ham MP, pleaded with the minister to commit to a full debate on the floor of the main chamber as the situation has engulfed her caseload and because there was insufficient time to do her constituents' stories justice.
Her shadow cabinet colleague Marsha de Cordova said that the absence of leaseholder engagement from government had been "glaringly obvious," and challenged Esther McVey to commit to meeting leaseholders and some of her constituents who have been wrapped up in the crisis.
And Lord Younger ousted, too …
Ms McVey cited a meeting held with Manchester Cladiator representatives the day before, which LKP understands took six months to set up and was delegated at the last minute by Robert Jenrick to Lord Younger, another subordinate destined for the sack.
Following the debate, Manchester Cladiators took to Twitter to express disappointment at the way their meeting had been used to deflect criticism away from government, saying they felt "disrespected".
"We don't represent a positive PR opportunity so we won't get a meeting [with the Secretary of State] – we won't stop asking!"
Government was so weak in that debate that there will have to be another one was the conclusion of MPs who LKP managed to catch on their way out.
A transcript of the Westminster Hall debate has been made available here, with footage of the proceedings here. Subtitled LKP video highlights have been put on the cladding crisis YouTube playlist.