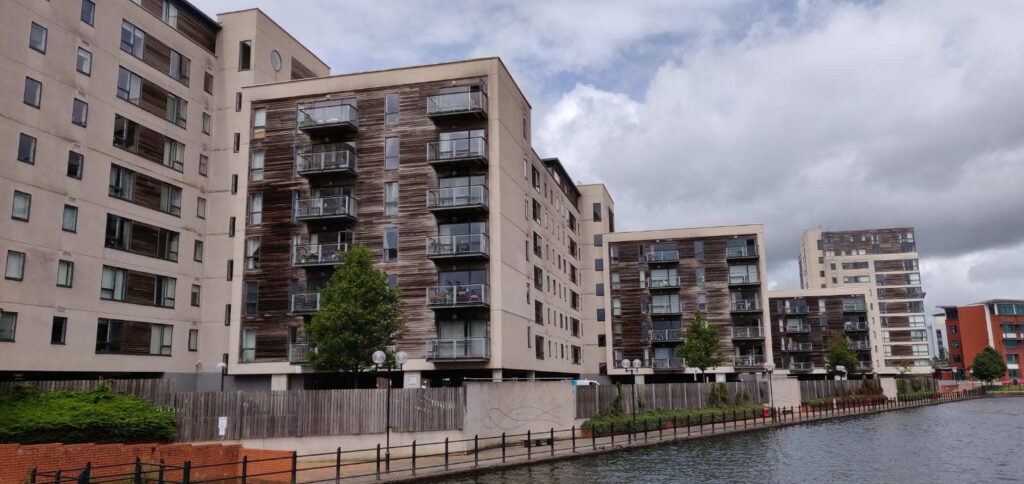 Celestia in Cardiff does not live up to its heavenly name … The Welsh Government has dithered over building safety remediation even more pathetically than the UK one, throwing in the catch-all excuse of devolved powers. Celestia's developer Redrow has signed up to the Welsh Government's "Pact", but Laing O'Rourke, which both designed and built it, has not. Leaseholders see no appetite on the part of the Welsh Government seriously to take on the housebuilders responsible for the building safety scandal
---
By Mark Thomas
Mark Thomas is a founding member of Welsh Cladiators and the Celestia Action Group
Housing in Wales is devolved. This has not benefited long suffering Welsh leaseholders. The Welsh Government has been long on rhetoric, but short on understanding or empathy. Action has been almost non-existent. While pretending to go its own way, the reality is that the Welsh Government is following six steps behind England.
This has major implications not just for homeowners and residents, but the wider Welsh economy. Many Welsh homes continue to be, in plain English and as set out in the Defective Premises Act, "not fit for habitation".
Following the Grenfell Tragedy on 14 June 2017, homes in Wales were soon found to be defective in terms of their fire safety construction. However, fire safety is not the only issue. Well before Grenfell, many developments built this century suffered serious life-threatening defects.
At Celestia in Cardiff Bay, owners had been grappling with Redrow and builder Laing O'Rourke since 2012, when large chunks of render fell off buildings. In February 2014, the side of a 2nd floor flat fell off and crushed a transit van. That van could have been a family. The fall could have been from the 12th rather than the second storey.
Subsequently, in February 2019, builder Laing O'Rourke advised the management company that fire breaks might be missing on the external walls. Further investigation confirmed major internal deficiencies also existed.
It wasn't that essential fire seals hadn't been done well: they hadn't been done at all. This was covered up when the ceilings were installed in the buildings, but would have been obvious to any inspector before then.
Numerous Fire Enforcement Notices were served on the management company by the South Wales Fire & Rescue Service. The internal problems have been substantially repaired, but those FENs remain in place today as fire safety issues relating to the external skin of the buildings and fire service access still must be addressed.
By 2016 (before Grenfell), Celestia leaseholders were experiencing real difficulty in mortgaging or selling flats. They may have been the first in a major development in Wales to experience the mental stress and financial challenges associated with the building safety crisis.
Many other large developments in Cardiff Bay and the Swansea Maritime area soon followed. Many beset with the similar build defects (in one development, entire windows fell from upper storeys), and fire safety flaws experienced across England – wooden cladding and decking, ACM cladding, missing internal fire compartmentation and external wall fire breaks.
However, when it comes to government responses to the crisis the similarity ends. While English leaseholders were left languishing for years by the indifference of the Conservative Government and woeful efforts of Housing Secretary Robert Jenrick, Wales had Housing Minister Julie James. Her response was to repeatedly declare Welsh government impotence. Constantly declaring that there was little the Welsh Government could do to force developers to remediate fire defective homes, Ms James lamented her lack of negotiating power. She expressed her anger and concern that Michael Gove pushed through key reforms only in England, leaving Wales behind.
Welsh leaseholders then became embroiled in a devolution spat between the Conservative UK & Welsh Labour Governments. While leaseholders experienced increased mental health and financial pressures several political rows broke out concerning devolved powers and "consequential" funding.
It also transpired that the Welsh Government had spent some £60 million of its building safety fund "consequential" on the Covid crisis. It was an unedifying spectacle as politicians argued over how much money had been awarded and whose responsibility it was to act in Wales.
A consistent Welsh Government theme at the time was that the UK Government was going it alone and acting in a non-collaborative, unilateral manner. It was clear that a bigger political game involving devolved powers was being played out. It left thousands of Welsh leaseholders in a state of limbo.
So leaseholders were left to listen to Minister Julie James' re-iterating her determination and constant appeals for developers to do the "right and moral thing", while nothing happened – or at least not in the private sector.
The Welsh Government was operating a two-track approach to addressing the crisis. While private sector leaseholders were left to struggle, housing association developments were quietly being remediated by direct Welsh Government funding.
At Celestia, the Welsh Government funded the replacement of wooden cladding to the tune of £1.95m on Aquila House a social housing block managed by Cardiff Community Housing Association. This work was completed by the summer 2022 while the other seven blocks (including one with additional fire safety issues relating to access) remain untouched. Welsh Cladiators are delighted that any development is being remediated, but this blatant two-track approach to public safety has left many people who did "everything right" feeling abandoned and treated as second class citizens.
Welsh First Minister Mark Drakeford is on record as saying that it is not for the taxpayer to bail out solvent developers or builders. But that is effectively what the Welsh Government has done at Aquila House unless it now takes action to recover the £1.95 million of taxpayers' monies from Laing O'Rourke or Redrow. Despite repeated requests by Welsh Cladiators, there has been no response from the Welsh Government on whether it will do so. It has, however, confirmed that it is not seeking to enter into a "Pact" with Laing O'Rourke.
All leaseholders who are involved in the fight for justice will agree that the appointment in November 2021 of Michael Gove was transformative.
Suddenly, the passive and almost subservient UK government attitude towards developers was gone. Instead we had a tough talking Cabinet minister who made clear he would ensure developers take responsibility for remediating their shoddy and dangerous homes.
One Welsh leaseholder described Gove's arrival as like an "avenging angel". In a matter of months, he backed up the rhetoric with a new Building Safety Act that provided some important protections for long-suffering leaseholders. He also ensured that government funding for remediation could be accessed, and enforcement mechanisms put in place.
In Wales, we follow the English crisis closely.
We know full well that the situation is by no means perfect, that the rate of progress is still far too slow, and that many serious problems remain unaddressed.
Yet we also know that developments have been granted monies from the English Building Safety Fund and that remediation is underway. It is hoped that the reappointment of Michael Gove will result in a renewed sense of purpose and energy to accelerate progress and get the job done.
Incredibly, a recent cross-party effort in the Welsh Senedd by supporters and representatives to enact legislation based on sections 116-125 the Building Safety Act was defeated by a Welsh Government whip by 28-27 votes.
We had hoped that providing Welsh Local Authorities and Fire and Rescue Services with statutory powers to issue Remediation and Contribution Orders against building owners and developers would be welcomed by the Welsh Government.
It would certainly have protected thousands of Welsh leaseholders whose only current option is to pursue developers in the courts at their own cost and risk. This is precisely what one high profile group of Welsh leaseholders feel they must do because they have no confidence that the Welsh Government will address their problems on a meaningful timescale. All this when one major development in Cardiff Bay, Victoria Wharf has experienced three potentially serious fire incidents in the last six months or so.
The response of the Minister Julie James and Welsh Government in whipping Senedd members effectively turned Building Safety into a party-political issue in Wales. The Building Safety Act had cross-party support in Westminster including from many Welsh Labour MPs. It was also subject to intense cross-party scrutiny. Julie James' and Welsh Government's response is inconsistent with their earlier comments and complaints. It smacks of a "we want to be different in Wales for the sake of being different!" attitude: another sad re-run of the devolution squabble.
So as it stands today in Wales, we have no Building Safety Act, no functioning Building Safety Fund, no Enforcement Agency and no significant level of private sector remediation taking place. Instead we have a survey programme that is inadequate and seriously behind schedule. We were told the survey programme would take about six months and would be completed by the end of this summer 2022. This projection was never based in reality. Based on current resource, the surveys will take years. The process can only be completed by conducting superficial non-intrusive surveys that simply result in recommendations to carry out more intrusive surveys. The whole approach seems to have been aimed only at identifying buildings that require no further investigation, rather than a comprehensive assessment of the scale of the crisis and extent of the fire risks and hazards.
We also have a failed leaseholder "bail-out" scheme. At the beginning of 2022, Julie James secured much UK wide media publicity for a proposed scheme that would have seen the Welsh Government buy-out distressed leaseholders. Welsh Cladiators said at the time both that it would fail and was a distraction – taking away vital resource and doing nothing to address the fundamental task of remediating defective homes. We take no pleasure in confirming we were right. We learnt in the middle of last year that the much-hyped scheme had only attracted some ten applicants of which one or two were possibly progressing. We understand the whole scheme is now under review.
The Welsh Government's recently announced developers' "Pact" is almost word for word an exact copy of the English Government's "Pledge", yet took six months longer to produce.
In the recent Senedd debate, Julie James promised that her Pact would be turned into a legally binding contract very shortly. Yet we know from England that efforts to turn the "Pledge" into a binding contract are proving extremely challenging.
The idea that one contract will be able to cover thousands of individual developments, all with differing issues and complexities, is a fool's errand. A sight of the English draft confirms that the "binding contract" is merely the top of a large pyramid. An array of contracts will be needed for each development and the developers' "commitment" is limited to "best endeavours" to enter into such contracts. The process is fatally flawed.
Welsh Cladiators are clear: the role of the government is to legislate and provide effective means of enforcing that legislation. We do not believe government's role is to engage in negotiations with commercial organisations who for years have obfuscated and deflected their responsibilities.
Perhaps the ultimate example of this wild goose chase, is to return to the Celestia example. Redrow (Celestia's developer) is on the Welsh Government's list of developers who have signed the Pact, but Laing O'Rourke, who both designed and built Celestia is not!
It's clear that in Wales the amendments to the Defective Premises Act and in particular the extension to the time limitation periods currently affords the best and widest form of redress for developments facing not just fire defects but also serious building defects.
So faced with the passive and slow performance of the Welsh Government in getting to grips with the crisis long suffering victims have two options:
1/ Wait for some indeterminate time in the far future when the Welsh Government will legislate, introduce some form of Enforcement Agency or perhaps release funding from its non-operational Building Safety Fund to help start much needed remediation
2/ Take direct legal action against developers and builders under the revised Defective Premises Act with all the attendant risks and costs
One major development has already opted for option two while the Welsh Government looks on with continued indifference.
So as we enter a new year spare a thought for the forgotten victims of the Welsh Building Safety Crisis.
Finally, we'd like to thank all our fellow English Cladiators & leaseholders who follow-us – particularly on Twitter – and who offer support and encouragement. We hope 2023 brings your more assertive government action and remediation to end this shocking and long running scandal.