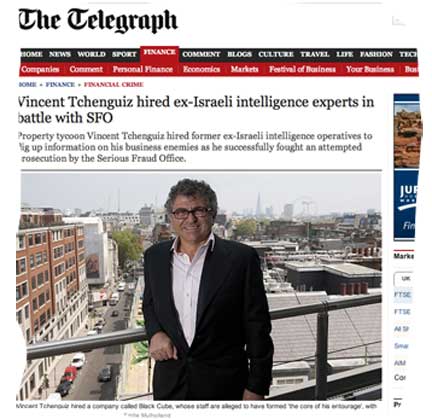 UPDATE April 22: Dispute settled. More here
UPDATE April 13, 18.29 LKP / Campaign against retirement leasehold exploitation  "As mentioned in the court documents which you referred to, Black Cube should be described as a creative intelligence agency run by a group of "ex-Israeli intelligence operatives" or "IDF (Israel Defense Force) intelligence's veterans"."
Black Cube was keen to emphasise that its operatives were not former Mossad.
LKP is happy to publish this clarification
Fast women, fancy cars, yacht in the Med, exotic made-up name, proprietor of retirement freeholds … Vincent Tchenguiz always had the stuff of a Bond movie character about him and now we learn that he has been employing ex-Israeli intelligence operatives.
The former members of the famed Israeli secret service were "core members of his entourage", lived at his home and were giving him a helping hand with his little difficulty over being arrested by the flat-footed British Serious Fraud Office.
Reports of this astonishing case have appeared in the Telegraph, Guardian and … The Lawyer.
Between March 2011 and February 2013, Tchenguiz hired an outfit called Black Cube, a "creative intelligence" agency employing former staff of the "elite intelligence unit in Israel", which is a subsidiary of BC Strategy.
It is suing Tchenguiz and the adviser to his family trust Vincos for £330,000 plus interest for unpaid bills, and has engaged law firm Peters & Peters and Paul Chaisty QC.
Tchenguiz owns one per cent of the residential freeholds in the country, which he has been trying to sell for £3 billion. Through companies that can be traced to the British Virgin islands, he owns the freeholds of most McCarthy and Stone sites and the freeholds and head leases of the prime London Berkeley Group.The dispute is a sad falling-out for Vincent Tchenguiz, who in October 2011 was reported to be setting up a similar business of "Blue Cube" in order, as he put it, "to investigate complex financial risk and economic crime".
BC Strategy also claims Tchenguiz agreed to pay Black Cube additional fees of one per cent of any monies recovered from the various legal actions he was pursuing that he collectively dubbed "Project Athena".
Tchenguiz disputes the claim and has issued his own proceedings in Tel Aviv alleging that Black Cube "engaged in a wholesale fraud".
Black Cube was appointed by Tchenguiz to carry out "open source" research and gather information that could assist him in his legal tussles with the SFO, Kaupthing and Grant Thornton, the administrator of the Icelandic bank.
A witness statement from Avi Yanus, BC Strategy's chief financial officer, claims that "Black Cube was first retained immediately before Mr Tchenguiz's arrest by the SFO and City of London Police".
One of its tasks was to find out who was providing the SFO with its information.
LKP's own undercover operator smoked the agents when he spotted them at the High Court last summer during the judicial review hearings into Tchenguiz's arrest.
Yanus relates how Black Cube set up a UK-incorporated company, with four staff taking up residence in the "office of Vincos in Park Lane". It was "backed up by a small team of researchers in Israel".
"Mr Tchenguiz likes to have an entourage surrounding him and for a long period of time, coinciding with the period when the Kaupthing-related litigation became the main focus of his activities, the employees of Black Cube formed the core of his entourage," Yanus said in his statement.
"Mr Tchenguiz wanted Black Cube workers to be around him constantly and insisted that they be seated next to him in his office and be present in all professional and private events that he went to," Mr Yanus noted, adding: "Several of Black Cube's employees resided in his home."
In return, Tchenguiz agreed a monthly retainer of £85,000, later cut to £55,000. Tchenguiz is claimed to have also agreed in February 2012 to pay Black Cube one per cent as a success fee "from the revenues achieved from Project Athena or from any other project he will decide to instruct the company".
"These proceeds include cash settlements, court case settlements and proceeds of the movie", claims Yanus, referring to a proposed film about Tchenguiz's ordeal at the hands of the SFO.
When the SFO dropped its case last June, Mr Yanus's statement relates: "We had a party to celebrate this in his office. In the course of this party, I said to Mr Tchenguiz words to the effect of 'What about Black Cube?'. Mr Tchenguiz responded: 'You got your one per cent'."
Relations between the two sides broke down as Tchenguiz  questioned the veracity of some of the company's invoices.
A witness statement from Vincos's in-house legal counsel Jamie Drinnan alleges that between December 2011 and February 2013 "Black Cube and its directors, officers and employees engaged in a wholesale fraud on Vincos by issuing false and fraudulent invoices, by dishonestly misrepresenting the nature and scope of the services being undertaken and by taking secret profits or 'kickbacks' from associated Israeli organisations introduced to Vincos".
Tchenguiz has hired barrister Laurence Emmett to fight his case.
Keith Oliver, senior partner at Peters & Peters, said: "It is a matter of considerable regret to Black Cube and its highly trained professionals that it has been necessary to commence these proceedings against Vincent Tchenguiz and Vincos. Throughout the course of their business relationship, Black Cube and its operatives did all they could to assist Mr Tchenguiz and his affiliates and it is obviously unfortunate that their dispute will now have to be resolved by the courts."
Readers are assured that this is not a tardy "April Fool" and further details can be read here:
http://www.guardian.co.uk/business/2013/apr/10/vincent-tchenguiz-battle-detective-agency
http://www.thelawyer.com/practice-areas/litigation-/-dispute-resolution/peters-and-peters-instructed-in-high-court-battle-against-vincent-tchenguiz/3003714.article
http://www.telegraph.co.uk/finance/financial-crime/9985739/Vincent-Tchenguiz-hired-ex-Israeli-intelligence-experts-in-battle-with-SFO.html
http://blackcubeltd.com/board/