… but is the housebuilder going to sting them for £500 deposit?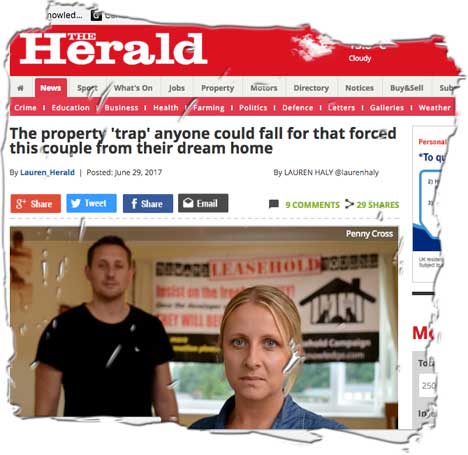 A young couple in Plymouth have walked away from buying a Persimmon leasehold house believing it to be "a property trap".
Zoe and James Naylor were set to buy on Persimmon's Harford Mews, in Ivybridge, and had paid a deposit of £1,500.
According to a report in the Plymouth Herald, the housebuilder will try to keep hold of £500.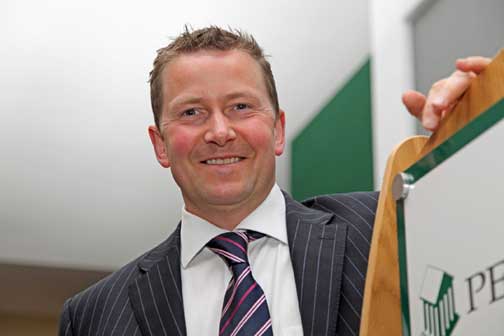 Meanwhile, Persimmon CEO Jeff Fairburn is in line for an incredulous £112 million bonus – not so much a fat cat as a morbidly obese one that has eaten the sofa.
The couple were told they would be buying the leasehold, with the option to buy the freehold … but only after two years.
This is, in fact, their statutory right, although Persimmon can – and does – sell the freehold to leasehold houses at any point.
The couple claim that there was no mention of that agreement in their formal contract.
Photographed in the local paper with the banners of the National Leasehold Campaign, the couple were wise to cheating plc housebuilders flogging off the freeholds to murky and anonymous investors who hide their beneficial ownership behind nominee directors.
They had learned that these freehold investors – Adriatic Land, E&J Capital, Fairwim and the rest – then demand tens of thousands more from leaseholders.
The Naylors are now warning others of what they think is a ploy to deliberately "mis-sell" new homes.
Persimmon told The Herald the deal was "clearly explained".
But the couple claim there was nothing in writing.
Simon Perks, regional managing director for Persimmon Homes South West, is quoted saying:
"The customer paid a £1,000 reservation free and a £500 clean and tidy fee for the Part Exchange property they were trading in.
"The customer is entitled to 50 per cent of the reservation fee and the return in full of their clean and tidy fee."
LKP urges the Naylors to get in touch with us: it is a matter to be raised in Parliament if Persimmon tries to trouser £500 after a sensible couple pull out of a damaging leasehold purchase where the precise terms of the undertaking by Persimmon regarding the freehold were not made in writing.