By Sebastian O'Kelly
(This article is bylined in order to declare an interest as the author is a shareholder in Persimmon and Barratt)
If Taylor Wimpey, Persimmon, Bellway and other developers playing the angles of leasehold thought the row over cheating ground rents would go away, they must be disabused by now.
Today The Guardian website again returns to the issue of the ground rent scandals around new leasehold properties following Sir Peter Bottomley's intervention in the Commons yesterday.
Sajid Javid, the Communities Secretary, agreed with Sir Peter, saying: "We must make sure the kind of abuses he mentioned are stamped out and we will continue to do everything [we can]. We do work with a number of stakeholders and we can certainly see how we can do more."
The Guardian refers to home buyers who were bought with "the promise that a 999-year lease was 'virtually freehold' only to discover that buying out the lease just a few years later was three or four times more expensive than promised".
It refers to the Leasehold Knowledge Partnership revealing that £1.9 billion leasehold houses were sold last year totalling 8,775 houses.
Many were in fact bought with taxpayers' assistance through the Help To Buy scheme.
Why should public money be spent on this game-playing nonsense that ends up enriching shadowy ground rent investors, many of whom hold these assets offshore?
If they are so proud of their business acumen and … ehem … wealth creation, why are they so shy?
Today we had a number of callers poised to buy leasehold houses from Persimmon.
One was tempted to buy in Weldon, Northamptonshire.
"As first time buyers we didn't truly understand what leasehold meant, we are now at the point where all relevant stages have been completed, barring the signing of the contracts …

"Our contract states we have a 999 year lease on the property, with an initial ground rent of £150pa, this figure will increase every decade; the increase will follow the retail price index.

"The sales adviser stated that we would be able to purchase the freehold after two years for around 1% of the property value, we asked our solicitor to include this in our contract …

"Persimmon said no. We then asked Persimmon to guarantee the freehold would not be sold on to a third party company within three years… again the answer was no.

"We are very close to pulling out of the purchase for this reason … In your opinion, is it a safe purchase?"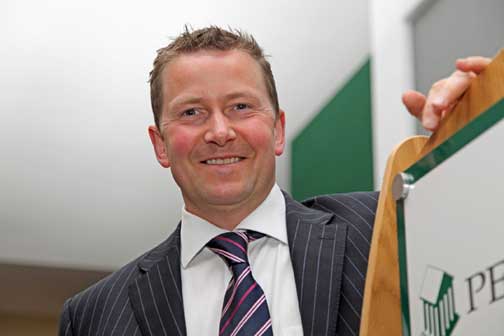 The reply from LKP was: don't buy a leasehold property unless there is absolutely no choice. In Northampton, around Corby, there should be plenty of choice.
Similar advice was given to a buyer of a £410,000 Persimmon five-bed leasehold house at Harborne, in Birmingham.
LKP's view: get the freehold as well for the same price and tell Persimmon to stop trying to embed an long-term income stream into the property at the buyer's expense.
Persimmon has been an enthusiastic builder of leasehold houses, but rather less keen on explaining why it is doing so.
Jeffrey Fairburn said in this year's company report:
"The housebuilding sector is attracting ever greater scrutiny from different stakeholders and for different reasons.

"This is something we welcome as only by creating a shared understanding of the challenges we face will we be able to identify and implement effective and sustainable solutions that benefit not just our industry but the country."
Unfortunately, Mr Fairburn is rather less keen on sharing why Persimmon has set about creating leasehold houses up and down the country.
The very least Mr Javid can do is stop this nonsense being open to the taxpayer-funded Help To Buy scheme.
Mr Fairburn may not be butch enough to make much contribution to "shared understanding", but his company secretary Neil Francis told LKP in September:
"… no consent is required from Persimmon or the freeholder for any internal alterations, provided they are not structural. The only time that an owner would need consent from Persimmon/the freeholder would be where any alterations could affect the structure of the property and invalidate the 10 year warranty issued on the date of first sale.
"Any service charges that are payable on Persimmon Group house sales are paid to a residents management company which is set up by Persimmon Group as a company limited by guarantee. Those companies will be owner controlled by the residents and are put in place for the maintenance and upkeep of shared facilities on each estate, such as open space and play areas. Control of future service charges will always rest with the residents who are free to appoint a managing agent to look after the company if so required."