More than 300 leaseholders from sites caught up in the cladding scandal descended on Westminster yesterday.
The repeated appeal was: make these buildings safe and don't dump the bill on the leaseholders.
This was the message from Andy Burnham, the Manchester mayor, who organised the event with the Manchester Cladiators group, and strongly seconded by Sadiq Khan, the mayor of London, where the bulk of these cladding sites are situated.
Salford mayor Paul Dennett, who is also an elected councillor with responsibility for all Manchester housing, also spoke.
Speeches were made by key figures in the debate, including MPs: Sir Peter Bottomley and Justin Madders, the co-chairs of the APPG on leasehold and commonhold reform and patrons of LKP; Hilary Benn; John Healey and Lucy Powell.
The most powerful speech of all came from Rituparna Saha, co-founder of the UK Cladding Action Group, whose site Northpoint, in Bromley, SE London, has been referenced many times on LKP and all media.
It can be heard here:
MPs and politicans who attended the demonstration:
After the demonstration there was an APPG meeting in Westminster itself attended by leaseholders and MPs and Lords.
Those who attended the demo were:
Andy Burnham, Mayor of Greater Manchester
Sadiq Khan, Mayor of London
Tom Copley AM, Deputy Mayor of London for Housing
John Healey, Shadow Housing Secretary and MP for Wentworth and Dearne
Paul Dennett, Mayor of Salford and Chair of the Greater Manchester High-Rise Task Force
Hilary Benn MP, Leeds Central, Labour
Justin Madders MP, Ellesmere Port and Neston and APPG co-chair, Labour
Sir Peter Bottomley MP, Worthing West and APPG co-chair, Conservative
Tom Hunt MP, Ipswich, Conservative
Matthew Offord MP, Hendon, Conservative
Siobhan Benita, Liberal Democrat candidate for Mayor of London
Baroness Kramer, Liberal Democrat and former minister
Lucy Powell MP, Manchester Central, Labour
Jim McMahon MP, Oldham West and Royton, Labour
Matthew Pennycook MP, Greenwich and Woolwich, Labour
Apsana Begum MP, Poplar and Limehouse, Labour
Fleur Anderson MP, Putney, Labour
Shabana Mahmood MP, Birmingham Ladywood, Labour
Rupa Huq MP, Ealing Central and Acton, Labour
Graham Stringer MP, Blackley and Broughton, Labour
Marsha de Cordova MP, Battersea, Labour
Sam Tarry MP, Ilford South, Labour
Florence Eshalomi MP, Vauxhall, Labour
Abena Oppong-Asare MP, Erith and Thamesmead, Labour
Afzal Khan MP, Manchester Gorton, Labour
Mike Kane MP, Wythenshawe & Sale East, Labour
Navendu Mishra MP, Stockport, Labour
Here are the audio files of the speeches: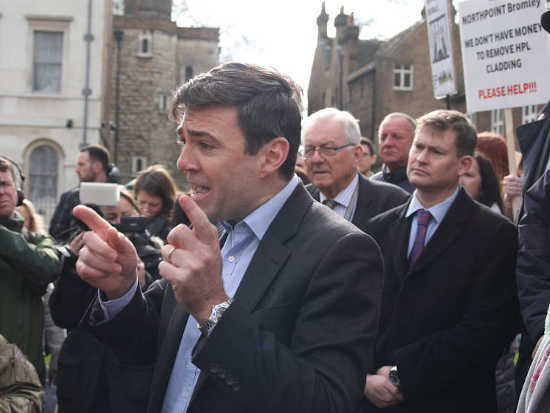 Media coverage
Owners of high-rise apartments wrapped in combustible cladding have demonstrated in Westminster to demand Boris Johnson release billions of pounds to end a national fire safety crisis that continues nearly 1,000 days after the Grenfell Tower disaster.
Residents "trapped in worthless homes" due to unsafe cladding have demanded help from the government. Ministers have pledged £600m to pay for the removal of aluminium composite material (ACM) similar to the type used in the Grenfell Tower. Leaseholders from London and Manchester gather at Westminster to demand that the scheme include other types of potentially dangerous materials.