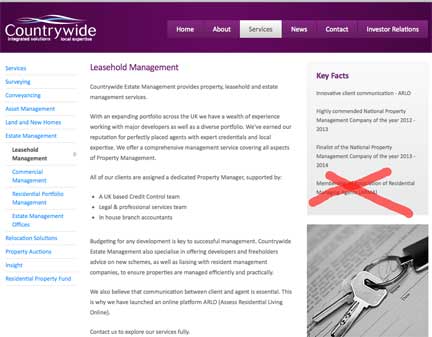 Countrywide Estate Management, second only to Peverel / FirstPort in terms of size, did not apply to join ARMA-Q before the January 1 deadline and is therefore no longer a member of the trade body.
ARMA itself had repeatedly declined to clarify the status of Countrywide, which last month was dumped by Bovis Homes at all sites across the country.
The company – whose group owns prime estate agents John D Wood and Hamptons International – was accused in the Commons on October 22 last year of "ripping off" leaseholders (Hansard) by Justin Tomlinson, Conservative MP for North Swindon.
ARMA said it would not be declaring any of the qualifying companies to ARMA-Q before a formal announcement next month.
Fine. But it then promptly congratulated those companies that have been processed on Twitter.
It repeatedly refused to confirm or deny whether Countrywide had applied to join ARMA-Q – even though the Countrywide website still wrongly claims "membership of the Association of Residential Managing Agent" (see above), to the potential confusion of the 100,000 leaseholders that the company manages.
The application of Peverel Retirement, the subject of an OFT ruling of collusive tendering 13 months ago concerning its subsidiary Cirrus, has been referred to the ARMA regulator, ex-Labour housing minister Keith Hill.
This information emerged in an email to an LKP reader, rather than an ARMA statement.
Mr Hill is considering a complaint concerning Peverel's unexplained portfolio of retirement site house manager's flats and the subsequent sale of many of them.
In a statement to LKP  this morning, Countrywide said:
"In relation to your query regarding Countrywide Estate Management (CEM) and our continued association with ARMA, CEM have not to date made an application to join ARMA-Q, however, given our membership with RICS and the TPO our practices and procedures are closely monitored and these two bodies offer our clients and leaseholders sufficient protections and safeguards.

"We are keen to continue our relationship with ARMA as a body and we are hopeful that we will be able to continue as Associate Member. We plan to make our application at some point during 2015 once the full implications and benefits of ARMA-Q are practically demonstrated."