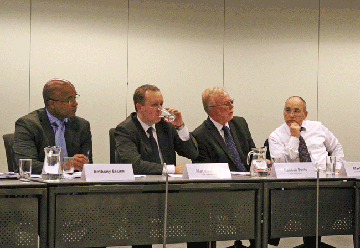 January 24 2012: The weakest performance of all at yesterday's Greater London Assembly meeting on the miseries facing leaseholders was from Anthony Essien, the chief executive of LEASE, the Leasehold Advisory Service.
Asked by London Assembly members how leaseholders can be defended from rapacious managing agents and landlords jacking up service charges, Essien placed his faith in mediation.
This was far preferable to the courts or the Leasehold Valuation Tribunals, which are too complex and expensive for many leaseholders to contemplate.
But LEASE's own mediation service was hardly a resounding success, before being wound up in January last year.
"Despite a lot of effort and publicity, demand for this service has not justified the cost and attention the organisation has given it," said the annual report.
In its last year, there were 78 applications for the service, with 25 sessions held and 20 settlements.
LEASE's board decided, after careful consideration, that "resources should be concentrated on those services, such as our website, email advice, telephone advice and advice surgeries away from the office, that vulnerable customers clearly value".
One issue the London Assembly is considering is whether LEASE should not be an advocate for leaseholders' rights rather than be best friends with all, but that would be a marked change of gear for an organisation that puts most of its efforts into sitting on the fence.
Or, to use its own words, "LEASE is committed to working with leaseholders, professional organisations and others to empower leaseholders to have more control over their property, help our customers resolve their problems and to improve the standard of management in the sector respectively".
How does that translate in practice when dealing with the likes of Vincent Tchenguiz and Peverel? Why is it so difficult to condemn those who hoover up freeholds, appoint themselves as managing agents, CCTV providers, lavatory attendants and the rest, and jack up the service charges?
These have been the subject of LVT rulings again and again.
For some time the government's "bonfire of the quangos" has been smoldering away. It looks like LEASE is one piece of dead wood that no one would miss being tossed on the pyre.