By Harry Scoffin
For the first time a government housing minister has debunked the fiction of the freeholder lobby that commonhold equates to amateur self-management and deteriorating zombie blocks with lots of absentee owners.
Lord (Stephen) Greenhalgh, who has since left government after the end of the Johnson regime and the sacking of Housing Secretary Michael Gove, told the All Party Parliamentary Group on leasehold and commonhold reform on June 30 that he has a commonhold flat in France and the system worked well.
"I am actually a commonhold owner in France," he told the APPG on June 30. "I am a very passive commonholder. We've got this French neighbour who walks around as if he owns the place, very Charles de Gaulle. But he does own it with the rest of us! We all get to vote out the managing agent at the AGM every few years if they're not giving us a good service. We all make sure that we get what we pay for and that's what we are aspiring to achieve here in England. It's precisely why we have this Commonhold Council."
The ringing endorsement of commonhold came from the minister who set out to meet leaseholders caught up in the cladding disaster and who oversaw the Leasehold Reform (Ground Rent) Act 2022 ending new ground rents, which he flatteringly refers to as "LKP's Act".
The measure strips the leasehold game of its sole legitimate income stream, although plenty more comes from insurance fiddles and service charge padding.
The more Lord Greenhalgh saw of the leasehold system the more he appeared to favour the arrangement in France, the co-propriétaires system, a commonhold equivalent, which means no third-party freeholder and an alignment of interest between the flat owners.
He painted a democratic vision of flat ownership, with the paying consumer homeowners controlling the building and management. He and his fellow commonholders care about the capital values of their properties and ensure that the estate is a nice place to live: two considerations that are irrelevant to a freeholder and have no impact on his income streams.
Lord Greenhalgh also acknowledged frustration at the failure of the recent Queen's Speech to unveil the heavily trailed package of reforms to help existing leaseholders.
Speaking before Boris Johnson's resignation on July 7, he referenced the prime minister's Blackpool speech earlier that month "where he committed to 'supercharge' leaseholders' ability to buy their freehold, helping 4.6 million households to genuinely own their home with discounts of up to 90 percent for those trapped with egregious, escalating ground rents and spoke of the 'scourge of unfair leasehold terms'."
"It's good to have a prime minister committing in a key speech on housing show that commitment to delivering the next stage of reforms in this Parliament, although I know everyone in the audience wanted it in this session but there is that commitment that comes from the very centre of government," said Lord Greenhalgh.
A senior official chimed in to confirm that government very much sees the ground rents ban on new-build leasehold blocks to be a "catalyst to a new form of homeownership" in commonhold.
Like Lord Greenhalgh, she was speaking before the resignation of Johnson, the sacking of Michael Gove, the appointment of his successor Greg Clark … and now, of course, a new prime minister on September 5.
The civil servant explained that although a reinvigorated commonhold system is not yet law, many new sites are being built by developers in such a way that "from the off they are run by leaseholders through a resident management company and government is very excited about that".
Moving away from arcane, quasi-feudal ground rent payments means there is now the space to consider flat ownership afresh and embracing a better, more consumer friendly arrangement in this country, she suggested:
"Without ground rents, we can challenge the orthodoxy and ask ourselves 'what could the future look like?' 'What is the best way now to own and manage to run a block of flats where there isn't an external landlord?' The context here is that government wants to deliver true homeownership, where people really feel like owners, not tenants."
She continued: "People have always lived together in shared spaces. Of course, communal living means compromises and that is not going to change. Government is not naïve about that. But it should mean you don't surrender your voice."
"True homeownership is where you can have your say, a real voice in how you want your building to be run. Of course there are going to be costs but, ideally, these would not be imposed on you by an anonymous landlord or handed down through generations of owners before you, set in terms of a rigid lease, perhaps written decades ago when laws were different. Also, the expectations we have of our buildings now have changed, so electric car charging points. Of course, the flat owners will be expected to pay for upkeep and maintenance, but you should be able to understand what you are being billed for and not feel you are being ripped off by service charges you can't even challenge. What I am talking about, of course, is commonhold.

"I think it is fair to say that there is a growing consensus that, following some reforms that are needed, commonhold IS the future … Forms of commonhold are successfully used around the world. They go by different names, condominium in the United States, strata in Australia and, in fact, England and Wales are pretty much the last countries in the world not to have a commonhold-type homeownership system as standard."
On concerns that there have been more books published on commonhold than sites created (twenty), the senior official proposed that consumers haven't actually had a say in this country:
"Some people have quite recently asked that the government is pushing a scheme that people don't even want?

"But I think commonhold hasn't taken off not because the alternative in leasehold is so compelling, it's just that it has had to compete against a very, very entrenched leasehold model. Don't forget that, until today, that model generated additional income streams for developers and investors through ground rents. So, by removing those income streams, the Ground Rent Act levels the playing field."
Lord Young of Cookham, Lord Blencathra, Baroness Fox of Buckley and Lord Truscott were in the audience, along with Meg Hillier MP, the public accounts committee chair.
All expressed unease at the plight of existing leaseholders and urged the minister to unveil a draft leasehold reform bill during the 2022-23 session of parliament so government could "hit the ground running" after Easter.
UK Finance looking forward to reforms
The APPG also heard from Charles Roe, director of mortgages at UK Finance, formerly the Council for Mortgage Lenders, who said that his organisation is looking forward to the phase two reforms, including an online calculator to introduce certainty and transparency to the process of lease extensions and freehold purchase.
Roe added that, alongside the ground rents scandal, it was the "lack of visibility in terms of costs, the insurance and management fees" that led to questions about the leasehold system in general and prompted the government to order the Law Commission to produce reforms including to "reinvigorate" commonhold, a choice of words he said is important "because it has been around for a number of years now." In this view, we should not be debating the pros and cons of commonhold and whether it should be "introduced", he argued.
"Mortgage lenders have been quite clear right from the beginning that the abuses within the leasehold system must be addressed, particularly from the point of view of those individual leaseholders who don't have the capacity to fight back and argue with these unscrupulous landlords.

"Unfair ground rents, of which the 10-year doublers are the most notorious, the unnecessary use of leasehold arrangements for houses, and sharp practices by freeholders on insurance, fees and charges all need fixing."
A member of the Commonhold Council, Mr Roe said he is excited to participate in making commonhold common. He said he could speak from personal experience and understands the consumer perspective, revealing that his family is personally affected by the fleecehold scandal.
His son bought his first property in the middle of lockdown, a house on a private new-build estate in Leicester, to find six months later a £2,500 bill come through his door from the developer for "maintenance" although all that exists on-site is a stretch of mud and soggy land.
He said that his son is withholding payment "until the developer invests in the common ground and make it a communal area, rather than just a mudflap that no one can use at all. The whole area, which is probably about three acres, is cornered off at the moment so no one can access it."
LKP hosts reception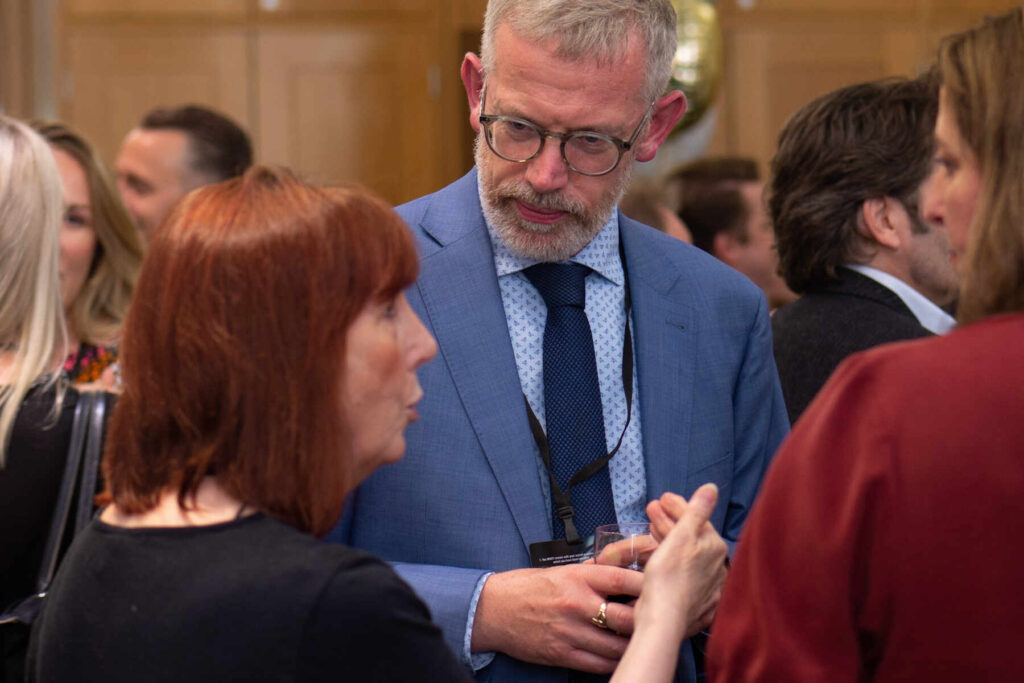 The Leasehold Knowledge Partnership hosted a wine reception following the APPG meeting where tribute was paid to the late Louie Burns, the former LKP trustee and long-time leasehold campaigner whose work in support of consumers was recognised in the 2020 Law Commission reports.
It saw Katie Kendrick, LKP trustee and co-founder of the National Leasehold Campaign, make a speech containing recollections of Louie and reflections on his life's mission, after which she gifted his widow, Di, an award in recognition of his being a stalwart of leaseholders and driving the policy change. She said the word legend is often overused so as to be cliché but that it encapsulates Louie Burns perfectly.
She was joined by APPG co-chair Justin Madders MP.
Di responded with an emotional speech of her own and said that Louie will be cheering on leaseholders.
His belief in the right not to be ripped off in one's own home is an idea whose time has come, she added, with the whole feudal leasehold edifice now finally crashing down.