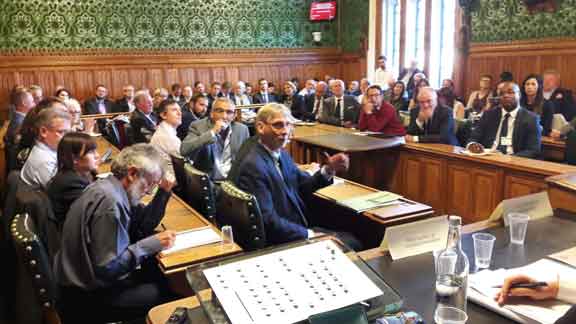 Ground rents should simply be banned; commonhold introduced and made compulsory; developers should be summoned for 'Philip Green' shaming by select committees; and rip-off 'fleasehold' permission fees should be ended.
These were issues discussed at a standing-room only meeting of All Party Parliamentary Group on leasehold and commonhold on Monday, that attracted more than 100 attendees.
These included more than a dozen MPs and peers and housing minister Alok Sharma.
Mr Sharma, who is new to his post, was representing his boss Sajid Javid, the Communities Secretary, whose senior policy advisors were present.
Mr Sharma's predecessor Gavin Barwell, now chief of staff at Number 10, and Mr Javid are seen as the two figures driving the government's reforms of leasehold.
Both Justin Madders, Labour MP for Ellesmere Port and Neston, and Sir Peter Bottomley, Conservative MP for Worthing West, urged the Communities Select Committee to summon developers and freehold owners to explain their practices.
Sir Peter said the solution to freehold game-players holding on to lucrative "consent fee" incomes even on freehold estates – which campaigners are dubbing "fleasehold" – is to give them "Philip Green treatment" by MPs.
Joanne Darbyshire, a Taylor Wimpey leasehold house owner and member of the Facebook group National Leasehold Campaign, explained that freehold speculators were still trying to hold on to permissions fees while feigning to sort out the doubling ground rent scandal.
So, while the leases might be varied from doubling ground rents to RPI, huge fees on subletting and home improvements would remain to the anonymous speculators who own the management companies of the sites.
The fact that these games are still being played at this stage in the leasehold houses scandal shows the utter futility of expecting self-regulation – one of the lobbying strategies presently being deployed to government by freehold speculators – would have any value at all.
Civil servant Rhys Bollen, of the New South Wales Government, said exporting Australia's strata title version of commonhold was one of his country's great exports.
It would be simpler than leasehold, meaning one ownership structure nationwide as opposed to thousands of different leases, and would defend homeowners.
Philip Rainey QC told the meeting that commonhold would never work until both the reversionary values of leases and ground rents were ended.
"Not only is it a good thing: it is essential that these elements of leasehold are removed," he said.

"There is no alternative but to ban ground rents completely. Not reasonable ground rents; ban them utterly. And leasehold if you allow it at all should be not less than 999 years."
Alok Sharma said he was too new to the job to contribute and was there to learn, but he did question why houses are owned leasehold and not owned freehold.
Professor James Driscoll, a solicitor, retired property tribunal judge and academic – who made a major contribution to the 2002 Commonhold and Leasehold Reform Act – said:
"The only thing the present leasehold law is good for is for lawyers like me to make money out of it.

"The case for commonhold intellectually has always seemed to me to be absolutely overwhelming."
The full papers of those who presented at the meeting are given below
---
Time for developers to get the Philip Green treatment
Two MPs called for the DCLG Select Committee to call in developers and housebuilders.
After leasehold house owner Joanne Darbyshire raised the issue of "fleasehold" – fees for permissions continuing even after leasehold house owners buy the freeholds – Sir Peter Bottomley said:
"Fees that aren't justified by the cost of doing any work should be condemned. They should be ruled unlawful. And the people who try to charge them should be given the Philip Green treatment and brought to Select Committee to explain what they doing."
Justin Madders MP has been looking into the ownership structures of the freehold speculators, which so often leads to nominee directors and structures based offshore.
"For me transparency goes hand in hand with accountability and if you don't know who actually owns these freeholds that is a legitimate concern.
"One of the reasons I'm supporting the DCLG Select Committee taking on these issues is because we need to know why the ownership of these freeholds goes elsewhere and who actually is ultimately responsible and accountable."
He also turned his attention to conveyancing solicitors.
"In my constituency, 92% used the developer recommended solicitors and said they have not been fully informed about the ground rent terms or indeed the implications of what they had purchased.
"Some of the developers were insisting on a 28-day turnaround on contract, and only with their own recommended solicitors would the buyers be able to comply with that.
"There are a series of questions that need to be answered here.
"Was too much pressure put on buyers by sales staff? Were solicitors fully informed, and what were they telling clients? Were the clients getting the full picture? What is the exposure of the lenders?
"We need a DCLG Select Committee inquiry so that what has gone wrong here does not happen again."
---
Strata: one of Australia's great exports
Rhys Bollen, of the New South Wales government, explained that strata title – commonhold – is 50 years old in Australia.
"It is one of our exports and there are a number of countries around the world that are now using strata for property tenure.
"Strata title is one of the most common forms of ownership for apartments in Australia, with 700,000 propeties.
"There are some areas to improve concerning transparency, so that people know what kind of fees and charges they are signing up to."
Strata title properties sell at a premium compared with the leasehold ones that remain in the country.
---
Ban ground rents and reversions to make commonhold work, says Philip Rainey QC
Philip Rainey QC told the meeting:
"You'll never get commonhold to work, you will never get it to have traction, as long as there is a very good reason for developers not to create commonhold.
"There are obvious reasons why developers do not develop commonhold.
"First are the ground rents [in leasehold], which they can reserve as an extra income. If you are developer, why would you build a commonhold unit?
"The second thing is reversion. If you have a lease, no matter how long, there is a little bit of reversionary value. Again you have another potentially saleable asset.
"Not only is it a good thing: it is essential that these elements of leasehold are removed."
To loud applause, Mr Rainey said:
"There is no alternative but to ban ground rents completely."

"Not reasonable ground rents. Ban them utterly. And if leasehold is allowed it should be not for not less than 999 years.
"That would level up the playing field, but will you get commonhold to take hold as a result?
"People don't like things that are new, including homebuyers, so you would still need to tilt the playing field at least initially in favour of commonhold.
"One way of doing it, which the Treasury would hate is to introduce more favourable rate of SDLT (stamp duty Land tax) on commonhold units.
"The treasury might lose a little money, but developers would be tempted to adopt commonhold as a competitive advantage.
"But none of this would be sufficient on its own, so the dreaded compulsion is necessary.
"To get commonhold to work it should be compulsory for new developments at any rate.
"Arguably you could pilot it in certain geographic areas. Local solicitors will be trained up in it, and the land registry staff will also become informed.
"When it is seen to be good, it would spread and that's the equivalent of the sunset clause that brings new leasehold to an end."
Mr Rainey pointed out that current attractiveness of residential freeholds was down to quantative easing, "which is causing an inflation in all asset prices.
"That causes low capitalisation rates which causes the capital values of these ground rent income streams to rise. 15-20 years ago ground rents – doubling clauses or not – just weren't worth that much.
"You could buy them out quite easily."
---
We do not build leasehold houses or play games with ground rents, says Gleeson Homes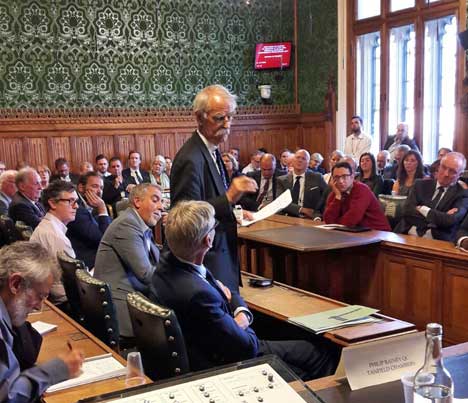 Jolyon Harrison, CEO of Gleeson Homes, told the APPG that his company did not build leasehold houses nor did he believe that they were necessary.
Gleeson Homes builds in areas of social deprivation – "where people in this meeting would not want to live" – primarily in the north.
"I joined Gleeson in 1976 and in all that time I've never seen the point of leasehold.
"I've always made a decent profit building ordinary freehold houses. If a developer is lining its pockets with leasehold then it shouldn't. It should be against the company's corporate social responsibility code."
Asked why some developers argue that they cannot build at all without the ground rent income to sell on, Mr Harrison was dismissive.
"The whole idea of making a profit out of leasehold just doesn't make sense. Sorry, I won't wear that one."
---
Leasehold is only good for making money for lawyers like me, says Professor Driscoll
Professor James Driscoll, a retired judge of the property tribunal and an academic, said:
"One might think that the only thing the present law is good for is for lawyers like me to make money out of it.

"The case for commonhold intellectually has always seemed to me to be absolutely overwhelming. But sadly there are more books about commonhold, including my own, than there are commonhold sites.

"But I don't think I have ever met someone who has looked me in the eye and said 'I think commonhold is a rubbish idea', even if they might be sceptical about how it would work.
"It is a much simpler system than the one that we currently have. It is wedded to the idea of conciliation and arbitration and ways of resolving disputes.
"Why has it been a flop? I don't think the reason has anything to do with deficiencies in the current legislation.
"It is because developers don't want to use it.
"You might say, who can blame them? They've got their tried and tested system of freehold and leasehold. So why give up an additional return on their investment after selling a block of flats by selling the freehold to investors at significant ground rents?
"That would be lost with commonhold. This is the single most important reason why developers have been far from keen on it.
"I cannot remember government getting behind commonhold back in 2002.
"It might be hugely controversial, but necessary, that we introduce a sunset clause after which leasehold properties cannot be built."
---
Freehold speculators and 'fleasehold'
Joanne Darbyshire, a Taylor Wimpey leasehold house owner in Bolton and a member of the Facebook group the National Leasehold Campaign, addressed the meeting "to educate you all about something that we call "fleasehold"
Ms Darbyshire was scornful of the attempts by some developers and ground rent speculators to vary doubling leases to ones linked to RPI.
"Once you actually study the details, you see that the permission fees that exist in our leases continue. So: £100 to get any kind of response from on any issue from the management company; hundreds of pounds to change your mortgage lender; thousands of pounds to get an extension or conservatory consent.

"These things continue yet the property is termed freehold.
"We find out that leasehold house owners who are going through enfranchisement find that the solicitors acting for the developers or freehold owners are refusing to take out these permission fees.
"So effectively, we're finding that by going through a costly enfranchisement process all we're doing is paying the ground rent in advance.
"That's absolutely pointless."
About the Taylor Wimpey assistance scheme – supposedly involving £130 million to compensate ground rent speculators to vary the doubling leases to RPI ground rents – Ms Darbyshire said:
"I find it abhorrent that TW is not prepared to disclose how many leasehold houses and flats are involved, which it must know because it set up the ground rent terms.
"On my estate, there are RPI ground rents. But these houses' freeholds were sold on in the same way as mine. And they are still looking at many thousands of pounds more to buy out the freeholds than would have been the case in the first place.
"That is still a scandal, but it is not part of Taylor Wimpey's review."
---
Incentives needed to get developers to adopt commonhold
Ian Fletcher, the residential property policy director at the British Property Federation, said that developers would need incentives to introduce commonhold.
"Lack of implementation of commonhold must look beyond just tweaking the legislation," he said.
He reminded the audience that reform of leasehold has a long history.
Reform featured in the manifestos of all the main parties in the 1987, 1992, 1997 and 2001 elections. All stem from a 1987 Law Commission report.
But it will need care to get commonhold right.
He cited the Kings Cross site where investors are piling in billions of pounds over a number of decades.
"So stewardship of those buildings is very important."
---
Full papers of the speakers:
James Driscoll Is there a future for commonhold_