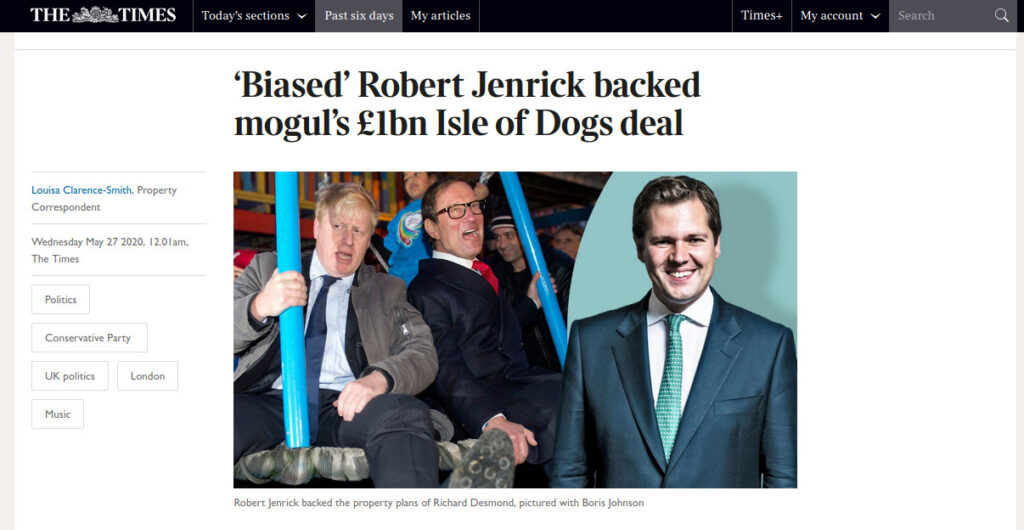 Updates, Tuesday June 16
Communities Select committee asks to see documents …
Updates, Saturday June 13
Updates, Friday June 12
Archant Boris Johnson met with a developer at the centre of a new political controversy three times while mayor of London before approving his planning application for a London build. Become a Supporter Whilst mayor Johnson met the property tycoon, Richard Desmond, on several occasions before giving his plans to build 722 sites the go-ahead, the Times reports.
Updates, Wednesday June 10
Labour has called for Robert Jenrick to make a statement to parliament after it emerged a billionaire developer donated to the Conservatives two weeks after the communities secretary intervened in a planning decision to potentially save the businessman millions of pounds.
London Assembly police and crime committee chair Unmesh Desai has added his weight to calls for a police investigation into communities secretary Robert Jenrick's controversial approval of a 1,500 home development in London's docklands. The decision, taken against the advice of a government-appointed planning inspector, was dramatically overturned last month in a High Court settlement […]
Updates, Tuesday June 9
Richard Desmond donated £12k to Tory party fortnight after plans got go ahead H ousing Secretary Robert Jenrick unlawfully approved Desmond's scheme Tower Hamlets Council previously rejected his plan to build 1,500 homes Only 21 per cent of the development in east London would have been affordable housing, significantly below the 35 per cent typically required A billionaire property developer gave a five-figure sum to the Conservative Party a fortnight after the Housing Secretary unlawfully approved one of his schemes, it has been revealed.
Updates, Friday June 5
The leader of the Labour Party has said there are 'serious questions' about the handling of a £1 billion property deal involving Newark MP Robert Jenrick, after he admitted acting 'unlawfully'.
Updates, Thursday June 4
A leading Tower Hamlets councillor who quit the Tory Party over a top government minister pushing through the controversial £1billion Westferry housing scheme is calling on the police and the Cabinet Office in Downing Street to investigate the whole episode.
Updates, Wednesday June 3
Boris Johnson is facing questions over what he knew about a Tory donor's controversial £1bn east London development that his housing secretary "unlawfully" signed off – after it emerged the PM waved through a version of the same scheme four years ago when he was mayor of London.
Mr Jenrick admitted to 'unlawfully' approving the 1,500-home development Both the local council and Planning Inspectorate had said it should be refused The land, owned by Northern and Shell, is in turn owned by Richard Desmond He's a billionaire Tory donor who gave £10,000 to the Conservative Party in 2017 Police are assessing an allegation about Housing Secretary Robert Jenrick 's decision to sign off a £1billion development by a billionaire Tory donor.
Updates, Tuesday June 2
The housing secretary sat next to property magnate Richard Desmond at a Conservative Party fundraising dinner in November, weeks before his shock decision on 14 January to approve permission for an application by Desmond's Northern & Shell company for the 1,524-home project.
Inside Housing, news, analysis, and comment about the social housing sector in the UK.
Updates, Monday June 1
Police are "assessing" an allegation about housing secretary Robert Jenrick after he signed off a controversial £1bn east London development dreamed up by a Tory donor's firm. The cabinet minister has faced fierce criticism after he admitted "unlawfully" approving the 1,500-home development at the former Westferry Printworks site on London's Isle of Dogs in January.
The developer of a controversial £1 billion housing development lobbied the housing secretary at a political fundraiser two months before the project was approved, it has been discovered. Richard Desmond's application to build 1,500 homes in east London was approved by Robert Jenrick in mid-January, a day before Tower Hamlets council was due to approve a change in community charges which would have cost Mr Desmond's company, Northern & Shell, £40 million.
Updates, Sunday May 31
The Housing Secretary last night admitted that tycoon Richard Desmond and his team raised the subject of their 1,500-home planning application with him Later it emerged he had approved the £1billion application from Mr Desmond's Northern and Shell corporation to rejuvenate part of London's Docklands It can now be revealed
Housing secretary Robert Jenrick gave the go-ahead to a contentious redevelopment project in London just weeks after he was lobbied by the businessman behind the £1bn scheme at a Conservative party fundraising dinner.
Updates, Saturday May 30
The housing secretary is facing calls for an inquiry into his decision unlawfully to approve the property development of a billionaire who once donated to the Conservative Party. Mike Amesbury, the shadow housing minister, said that serious questions needed to be answered after Robert Jenrick gave the green light to Richard Desmond's plans to build 1,500 homes on the Isle of Dogs in east London.
Labour has urged the Cabinet Office to investigate why the housing secretary intervened in a controversial London planning decision that could have saved a Conservative party donor tens of millions of pounds.
Updates, Thursday May 28
Tory leader Andrew Wood, who has quit the party as a result of this issue, explains why and background here at 2hrs 11mins in:
Catch up on your favourite BBC radio show from your favourite DJ right here, whenever you like. Listen without limits with BBC Sounds.
While the country has been getting apoplectic over the lockdown movements of Dominic Cummings, another scandal erupted over Communities Secretary Robert Jenrick unlawfully rushing through approval of a 1,500 home Docklands site that would have saved a controversial billionaire £40 million.
Mr Jenrick accepts that he showed "apparent bias" backing the scheme 24 hours before it would have cost Richard Desmond, former publisher of Asian Babes, OK! and the Daily Express, another £40 million in contributions to the community infrastructure levy.
Against the advice of his own chief planning inspector, Mr Jenrick approved the scheme in January for 1,500 apartments and offices in a 44-storey leasehold scheme.
Tower Hamlets councillor Andrew Wood, 51, has resigned as leader of the local Conservative group after Mr Jenrick's decision. He said:
"The reasons for the minister's decision and his correspondence with the developer should be put in the public domain and investigated by the appropriate authorities."
Mr Jenrick's decision was made just 24 hours before Tower Hamlets's revised community infrastructure levy would have cost Desmond around £40m
The story has been taken up by numerous media since it appeared in the East London Advertiser, with The Times calling for further "scrutiny".
Mace developers The controversial Westferry printworks luxury housing scheme for 1,500 homes on the Isle of Dogs has finally been stopped. Former Daily Express and Telegraph Westferry printworks site now cleared for development, which had caused clouds of dust over Millwall in 2018.
The housing secretary unlawfully approved a property development of a billionaire tycoon who once donated to the Conservative Party. Robert Jenrick has accepted that he showed "apparent bias" when he gave the green light for Richard Desmond to build 1,500 homes in the Isle of Dogs, east London.
A city that does not change is a museum piece rather than a place of commerce, recreation and vitality. Yet renewal always involves disruption for residents and should be sensitive to the historic character of an area. An ambitious scheme for a £1 billion redevelopment project in east London has been beset by controversy and delay.
The Communities Secretary was asked to decide whether to approve the £1 billion plans for the Westferry Printworks, where both the Express and The Daily Telegraph were printed, after Tower Hamlets failed to reach a decision before its legal deadline.
The government's planning inspector advised against the scheme that would damage views of Tower Bridge and did not provide "the maximum reasonable amount of affordable housing".
Mr Jenrick argued that the inspector's concerns were outweighed by the public benefits of the plans, including the overall provision of housing.
But his decision in January was published the day before Tower Hamlets approved a new rate for its community infrastructure levy. The new rate would have increased the developer's financial liability by about £40 million, Tower Hamlets said.
Housing secretary Robert Jenrick has admitted "unlawfully" signing off a 1,500-home development by Conservative Party donor Richard Desmond – in a move that would have saved the billionaire publishing tycoon some £40m. Labour peer Lord Andrew Adonis has called for the Metropolitan Police to look into the matter, and the Conservative Party leader in Tower Hamlets has resigned from the party altogether because it looks "very suspicious".
The council initiated legal action against Mr Jenrick in March. It asked the court to order the government to disclose all correspondence by Mr Jenrick and government officials on the decision, which it argued could show he was influenced by a desire to help the developer save money.
Instead of handing over the correspondence, Mr Jenrick accepted that his decision letter was unlawful as it showed "apparent bias". In pre-action correspondence, he confirmed that the decision letter was issued on January 14 so that it would be before the new infrastructure levy was adopted.
Housing secretary Robert Jenrick is facing calls to resign after he admitted "unlawfully" signing off a 1,500-home development that saved a Tory Party donor millions of pounds. The £1bn project on the former Westferry Printworks site on London's Isle of Dogs was approved in January by Jenrick – a last-minute reprieve after the council and then the independent Planning Inspectorate both deciding it should be refused.
Mr Jenrick conceded that the timing "would lead the fair-minded and informed observer to conclude that there was a real possibility" that he was "biased" in favour of the developer, according to a High Court consent order. He agreed that the planning application should be redetermined by a different minister.
The Times is not satisfied:
"It is an extraordinary admission that requires an explanation rather than just passing the decision on to another minister …

"The skyline of Canary Wharf is as much an emblem of a great city as the towers of New York or San Francisco. Development in keeping with the ethos an area requires a balance of private, profit-seeking enterprises and unbiased public scrutiny. The government needs to give a speedy explanation why it has decided to maintain a veil over its own decision-making, and then should strip it away."
Inside Housing reports John Biggs, mayor of Tower Hamlets, saying:
"We may never know what emails and memos the secretary of state received before making his decision and what influence they had, but his reluctance to disclose them speaks volumes.
"We will continue to press for a scheme that meets the needs of the community on the Isle of Dogs in terms of height and density, the provision of adequate affordable housing and infrastructure delivery."
A consent order in the Westferry Printworks case means that there will be a redetermination of the 1,500 housing unit appeal proposal for the former Daily Telegraph/Daily Express printworks site. Both Tower Hamlets and the Mayor/Greater London Authority had challenged the Secretary of State's decision to grant planning permission, contrary to the recommendation of the inspector, who had held a 3 week public inquiry.
Jules Pipe, London's deputy mayor for planning, regeneration and skills, said he was pleased by the decision.
He added: "The planning inspector agreed with the mayor that more affordable housing could be delivered and that the plans would harm views of Tower Bridge.
"We remain concerned about the scale of the scheme and its proposed development of locally designated open space."
A Ministry of Housing, Communities and Local Government spokesperson said: "While we reject the suggestion that there was any actual bias in the decision, we have agreed that the application will be redetermined."
Richard Desmond, 68, who has a fortune of £2 billion according to the Sunday Times Rich List, is a colourful figure.
Media reports have made much of him being a Conservative Party donor giving £10,000 in 2017. But he gave UKIP £1 million in 2015.
In Daily Telegraph circles he is recalled for berating gentlemanly chief executive Jeremy Deedes at a formal business meeting in 2004 as "a miserable piece of shit" after the newspaper pondered a bid from a German media group. Daily Express executives were ordered to sing "Deutschland uber Alles" and make Nazi-style "Sieg Heil" salutes, according to witnesses.
"It was the most grotesque outburst of a mix of slander and racism that I have ever been subjected to. If it had been in a public place he would have been arrested," Mr Deedes said at the time in an interview on BBC R4's Today programme.
Mr Deedes responded by good-naturedly congratulating Mr Desmond on "seeing the light" over its new-found support for the Tories. Mr Desmond insisted the decision had had nothing to do with him, adding that his editors were independent.
The housing secretary knew that a billionaire former media tycoon had only 24 hours to have an east London property development approved before community charges were imposed that would have cost him over £40m. Robert Jenrick's accepted that his approval of one-time Conservative-supporting billionaire Richard Desmond's project at the Isle of Dogs was unlawful.
Inside Housing, news, analysis, and comment about the social housing sector in the UK.
Housing Secretary Robert Jenrick has accepted he approved a £1bn east London housing development unlawfully. The 1,500-home development on the Isle of Dogs, Tower Hamlets, was approved on 14 January – the day before community charges placed on developments were increased. The timing of the decision meant Conservative Party donor Richard Desmond avoided paying around £40m.
High Court consent order (pdf)