… Speaker slams his junior minister
… Who says Jenrick has 'no relationship' with Desmond while confirming property deal was raised at party fundraiser
… MPs told secretary of state snubbed site visit (a 17-minute hop away) before ramming through billionaire developer's luxury flats
… Betts mulls giving 'unlawful' decision the select committee treatment
… Ex-leader of Tory group says we can't trust Jenrick on eagerly-awaited reforms to planning (and leasehold, too?) after blocking judicial review to keep Westferry Papers secret
By Harry Scoffin
Communities Secretary Robert Jenrick was roundly criticised on Thursday for failing to appear before MPs to face what the Labour party is now calling the "Westferry scandal".
The controversial £1 billion mixed-use development on the Isle of Dogs, in east London, caught national media attention two weeks ago.
Mr Jenrick approved the scheme in January by going over the heads of Tower Hamlets council, City Hall, the government's top planning inspector, and local residents who resent Docklands being used as a dumping ground for unaffordable and gigantic apartment buildings.
The story then disappeared under the haze of Covid-19 and Cummings.
But on Wednesday the Daily Mail reported that the billionaire developer Richard Desmond, a former media mogul, had made a £12,000 contribution to the Conservative party 14 days after Mr Jenrick approved the leasehold scheme. (Mr Desmond has also given money to new Labour and UKIP.)
Richard Desmond donated £12k to Tory party fortnight after plans got go ahead H ousing Secretary Robert Jenrick unlawfully approved Desmond's scheme Tower Hamlets Council previously rejected his plan to build 1,500 homes Only 21 per cent of the development in east London would have been affordable housing, significantly below the 35 per cent typically required A billionaire property developer gave a five-figure sum to the Conservative Party a fortnight after the Housing Secretary unlawfully approved one of his schemes, it has been revealed.
Labour is now demanding the ruling party reimburse Mr Desmond.
Sir Ed Davey, Lib Dem acting leader and co-patron of Leasehold Knowledge Partnership, has written to Sir Mark Sedwill, the UK's most senior civil servant, for an investigation into whether the ministerial code was broken.
"There is an increasingly expanding web of links between Mr Jenrick and Mr Desmond, many of which centre on the planning decision Mr Jenrick took, against advice from the local council," the former cabinet minister wrote.
(null)
The "unlawful" decision has even been flagged to the Metropolitan Police, although they have so far refused to launch a probe into the alleged wrongdoing by the secretary of state.
Mr Jenrick's Labour shadow Steve Reed, MP for Croydon North, argued that his refusal to make public the Westferry Papers risks public confidence in government decision-making.
"The public need reassurance that the integrity of the planning process cannot be auctioned off at Conservative party fund-raising dinners," Mr Reed told the Commons on Thursday.
The Labour politician also claimed that blocking the Westferry Printworks judicial review, initiated by Tower Hamlets council, was an "extraordinary" move since it involved Mr Jenrick admitting "apparent bias" as part of a u-turn.
"That meant that he avoided publishing ​in open court all correspondence revealing the true reasons behind his decision," he said.
Mr Reed then asked for a definition of "apparent bias", suggesting that Mr Jenrick had in fact done more than create an impression of impropriety.
LKP can reveal that Mr Jenrick had originally dismissed the local authority's disclosure request, contrary to his own "duty of candour" as secretary of state.
"He regarded the Council's request for disclosure as a mere 'fishing expedition'," said court documents.
The "fishing expedition" reply came 14 days after Tower Hamlets asked for the Westferry Papers.
By timing the decision in the way that he did, coming just a day before local councillors voted for tax rises, Mr Jenrick helped the developer – wittingly or not – deny Tower Hamlets up to £50 million in CIL money to support infrastructure and public services in what is London's poorest borough.
The housing secretary unlawfully approved a property development of a billionaire tycoon who once donated to the Conservative Party. Robert Jenrick has accepted that he showed "apparent bias" when he gave the green light for Richard Desmond to build 1,500 homes in the Isle of Dogs, east London.
Mr Reed asked the junior minister whether Mr Jenrick was aware of giving this tax break to Mr Desmond.
Court documents show that Mr Jenrick had been advised by officials to get in fast "before the Council adopted its new Local Plan and CIL charging schedule".
Mr Reed also demanded government disclose all the occasions when Mr Jenrick and his representatives had contact with Mr Desmond and lobbyists.
Christopher Pincher, a junior minister, said that Robert Jenrick had avoided travelling to the Isle of Dogs to see the site for himself, which would have been a 17-minute Tube ride from Westminster.
Soon followed a testy exchange between Mr Pincher, deputising for Mr Jenrick, and Speaker Sir Lindsay Hoyle … while Mr Jenrick was reportedly in the Commons tea room.
Mr Pincher opened by suggesting that the opposition's urgent question was a waste of government time:
"The hon. Gentleman's comments remind me of the adage, 'If at first you don't succeed, try, try and try again,' because I think, Mr Speaker, that this is his sixth attempt at an urgent question on this matter. I do not deny …"
The heavy-handed response was given short shrift from Sir Lindsay, who saw it as a challenge to his authority as Speaker, warning the minister:
"Order. We do not discuss urgent questions, and I am the judge of what is right and wrong on the numbers, so we will leave that for today. Mr Pincher, I have the greatest respect for your job, and you need to have the same for mine."
But Mr Pincher pressed on until he was humbled by the Speaker on the second interruption.
"Indeed, Mr Speaker. I was simply going to observe that the hon. Gentleman has shown great persistence, although after listening to his questions I do not think there was much in them that was new or different. He asked four fundamental questions, Mr Speaker," he said.
Sir Lindsay hit back:
"Order. I am sorry. That is questioning the judgment of decisions we take in a meeting on whether there was something different. You were not present at that, Mr Pincher, and I do not believe that you are aware of our discussions—and if you are, you should not be. So I think we can leave that for now."
The Speaker also had no patience for planted questions from the Tory whips office, even throwing out those raised by influential MPs such as Kevin Hollinrake, a former member of the Communities Select Committee, and James Daly, Conservative MP for Bury North, a "Red Wall" victory and Britain's most marginal seat.
Bwok, bwok, bwarrrrk! Chicken alert! Parliament bagged itself a new premier poulet yesterday. This was not just any chicken, a la those grating M&S ads. This was a prized bantam. Free-range, corn-fed, the whole kit and caboodle. Behold, Robert Jenrick, our plump-round- the-chops Housing Secretary, who was summoned to the chamber early doors to answer an 'urgent question' from Labour.
Tory backbenchers also tried to relieve pressure on Mr Pincher by slamming Sadiq Khan for a failure on "house building, of all tenure types".
Mr Pincher said that his boss felt it necessary to sign off on Westferry Printworks precisely because of the London mayor's "paucity of ambition".
Shaun Bailey, Conservative MP for West Bromwich West, cautioned that developers should not be allowed to scrimp on social homes:
"One way we can ensure trust in the probity of the planning process is to ensure that it relates to the needs of people on the ground in communities. I was saved by social housing. Were it not for social housing, I would not be ​here. How can we ensure that the planning process that local authorities follow respects the communities that they represent and, more importantly, that the standards of social housing are improved?"
While Mr Pincher offered warm words to the Red Wall MP, the facts of the Westferry Printworks case suggest something quite different.
Ex-press baron Richard Desmond had originally claimed that his scheme would not be commercially viable if it provided anything more than 11% affordable housing.
Boris Johnson, the then London mayor, tasked his deputy Sir Edward Lister, now in No 10, to obtain a second opinion. The external consultant came back to say that Mr Desmond's 11% figure was far too low and that 20% would be appropriate given the size of the 722-flat site and local demand for sub-market homes.
Boris Johnson had three meetings with a billionaire property developer in the months before he approved a housing scheme on the Isle of Dogs in east London, The Times can report. Mr Johnson, then the mayor of London, met Richard Desmond several times before he appointed an inspector to look at his proposal.
Mr Desmond, however, would come back with a new, more ambitious application for the same 15-acre plot. The former site of the Daily Telegraph and Daily Express printing presses suddenly could support 1,524 homes across five towers up to 44-storeys high, almost doubling in size, but the affordable housing went up by a percentage point.
Critics such as Andrew Wood, the ex-leader of the Tory group in Tower Hamlets, query why Mr Jenrick did not increase the 21% figure, an artificially low amount of affordable housing for the larger development, as Mr Johnson and Sir Edward did when it was 11%, forcing it up to 20% in April 2016.
Court documents show that the secretary of state had two months to cajole Mr Desmond into revising his offer, and thereby acting on the advice of the government's top planning inspector who found it failed to provide "the maximum reasonable amount of affordable housing".
The planning expert also suggested that Mr Desmond was scrimping on accommodation suitable for families.
A city that does not change is a museum piece rather than a place of commerce, recreation and vitality. Yet renewal always involves disruption for residents and should be sensitive to the historic character of an area. An ambitious scheme for a £1 billion redevelopment project in east London has been beset by controversy and delay.
In the Commons, one MP did notice Mr Desmond's perceived sleight of hand over sub-market homes between the original and revised plans for the site.
Richard Thomson, an SNP politician, noted that the mushrooming of the scheme led to not only an "intensification of the housing units by 113%", in an area already denser than Manhattan and where Thames Water warn the drainage system is at risk of collapse from overdevelopment, but cut "the proportion of affordable units by 40%".
He also called out Mr Pincher's choice to reference the Whitechapel Bell Foundry decision as a way of defending the outsized Westferry Printworks scheme which, had it not been quashed, would have led to damaged views of the protected Tower Bridge, according to the government's independent inspector.
Mr Thomson said that Mr Desmond's development would have also "downplayed the heritage impact on the Greenwich world heritage site".
Mr Pincher, deputising for Mr Jenrick, had earlier suggested that Tower Hamlets, "the well-known tribunes of the people", have an agenda to flog "heritage assets" to fatcat housebuilders so they can sell fancy flats.
Indeed, perhaps the most interesting and well briefed of contributions on Thursday came from MPs who want to break away from Westminster.
SNP spokesperson Alan Brown used every second of his one designated minute to deliver an excoriating attack on the government.
Likening the Westferry decision to the Dominic Cummings lockdown affair, Mr Brown said it "simply stinks":
"Worse, the Secretary of State's actions overruled the planning decision of the local council and it was against his own Planning Inspectorate advice. Why did he think he knew better?

"Why was the Secretary of State content with his decision until legal action was raised by Tower Hamlets Council? Why do the Government think it is acceptable for the Secretary of State to remain in place after an unlawful decision, which he admits shows apparent bias?

"Does the Minister understand what these fundraising events look like to the public when other decisions then get made that seem to favour those who attend the events? For a Tory Government, it is one rule for them and one rule for another," he said.
But the SNP politician still found time to blow the bagpipes for Scottish independence:
"Fortunately for us in Scotland, many people in Scotland now see independence as a better option, because nothing the Minister can say gives confidence in this place."
MPs also heard that Clive Betts, the long-serving Communities Select Committee chair, is considering whether the so-called cash for favours scandal warrants a full parliamentary inquiry.
Speaking via video link, Mr Betts said:
"In the interests of transparency, may I say that the Select Committee has not considered this matter? Last night I did receive a letter from the mayor of Tower Hamlets [John Biggs], but the Committee has not given consideration to that.

"Does the Minister agree that such matters as this are best dealt with when all the facts are in the public domain, otherwise judgments will be formed along the basis of supposition and conjecture, and, were the ​Committee to make a request to the Secretary of State, would he be willing to provide us with all relevant documentation so that the Committee could give proper, careful consideration to these matters, based on the facts that are available?"
Mr Pincher suggested that the decision has already been made available "in the usual way".
He did, however, say that government "always take seriously, and consider weightily, requests from the Committee".
If Mr Betts was to proceed with a probe into the "Westferry scandal", it could become very difficult for the government.
Updates, Friday June 12 Starmer: it's unforgivable that buildings still have Grenfell cladding Sir Keir Starmer has said it is "unforgivable" that hundreds of buildings still have Grenfell-style cladding on them three years after the tragedy. According to the latest available Government figures, 307 high-rise towers were still waiting the completion of remediation work for …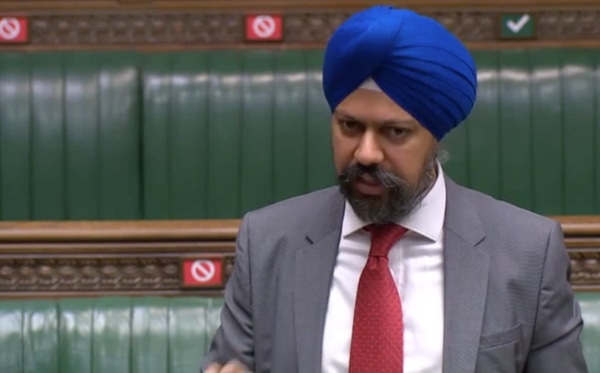 Tan Dhesi, a former member of the Communities Select Committee, asked:
"Did major Tory party donor Mr Desmond ask to sit next to the Secretary of State at the Conservative party dinner, on a table where—by mere coincidence, according to accounts—other developers involved in the scheme were seated? Mr Desmond himself has admitted that they discussed the scheme over dinner, but the Secretary of State says that they did not. Who, out of the two, is misleading the British people?"
Mr Pincher claimed that government ministers have no knowledge of party political donations:
"My right hon. Friend has been absolutely clear: the applicants raised the issue of Westferry with him at that dinner, my right hon. Friend made it clear that he could not discuss planning matters and would not discuss that planning matter, and the issue was closed.

"I have no idea what Mr Desmond asked for at that dinner, where he wished to be seated or who made the decision on where he was seated, because Ministers in my Department and others do not know what donations or funds are being spent by donors on political parties. There is a firewall, quite properly, between the two."
The argument has been rejected by Councillor Andrew Wood, who sits as an independent member of the Conservative group in Tower Hamlets.
He tweeted that while government ministers should not be aware of any donation, he understood that the role of special advisers, or SpAds, is to "protect" ruling party politicians from "embarrassing mistakes".
They should have known who was going to sit at the table and advised Mr Jenrick either not to attend or to transfer the Westferry decision to a colleague, he suggested.
Mr Jenrick has to act in a "quasi-judicial manner" over planning applications.
In a statement to The Guardian, a Conservative party spokesperson said:
"Government policy is in no way influenced by party donations – they are entirely separate. Donations to the Conservative party are properly and transparently declared to the Electoral Commission, published by them, and comply fully with the law."
Following the urgent question in the Commons, Cllr Wood gave a wide-ranging interview to the BBC's The World Tonight.
Asked whether Mr Jenrick should remain in post, he gave this reply:
"I don't think he should. He's going to be making some really important planning decisions if all of the newspaper reports are to be believed on changing the planning system. And if he can't handle this case, and deal with it properly, I don't see how we can trust him to handle fundamental changes to the planning system in the United Kingdom."
Cllr Wood was referencing a report in the Financial Times over a bonfire of planning regulations to get Britain building as it seeks to revive the economy.
Mr Jenrick is thought to be highly supportive of the No 10 plans, having this week endorsed a think tank report damning the current rules – which supporters say encourage transparency, accountability and public engagement – as a "straightjacket".
Ministers are preparing for a major overhaul of the planning system in England to speed up approvals for new developments as part of the government's attempts to kick-start the economy hit hard by the coronavirus crisis. Central to the proposals are the introduction of a zonal planning system and the creation of special development zones, in which private developers will play an expanded role.
The housing policy reset is set to be announced next month by chancellor Rishi Sunak as part of a stimulus package.
No 10 is understood to be considering a revival of secretive quangos like the London Docklands Development Corporation (LDDC) that regenerated the Isle of Dogs and surrounding areas in the 1980s — and to much local opposition.
It is unclear whether developers would have to forgo leasehold for fairer systems of flat ownership under the new permitted development rights.
The question of whether Mr Jenrick is too close to plc housebuilders and property punters, at the expense of taxpayers and consumer homebuyers, have implications for leasehold and commonhold reform.
Inevitably, Mr Jenrick will have to pick a side when it comes to the Law Commission recommendations, which are imminent.
Richard Desmond and the Westferry Printworks are at the centre of a scandal The developments may yet cost Housing Secretary Robert Jenrick his job PM had drinks with Desmond before approving a housing scheme on the printworks site The Westferry Printworks on the Isle of Dogs, in the heart of London 's Docklands, played a starring role in Tomorrow Never Dies.
Westferry Papers so far …
The London Borough of Tower Hamlets: the consent order
The London Borough of Tower Hamlets: statement of facts and grounds
The Mayor of London and Greater London Authority (GLA): statement of facts and grounds