LKP is sad to announce the death of its trustee Louie Burns, who died on Sunday following a heart attack aged 54. He is survived by his wife Di, and three sons Danny, Jed and Charlie.
Louie's death has caused deep pain to LKP, the National Leasehold Campaign founders and throughout the leasehold sector.
Louie was an indefatigable and pugnacious critic of the leasehold system – and the only commercial practitioner in it who genuinely wanted it to end.
He had a serious interest in the injustices of land tenure, and the book shelves of his office, with histories of property holdings and the English aristocracy, were unusual for someone whose day job was sorting lease extensions.
Louie was extremely well informed about centuries old Hansard debates, copyhold, rebuilding of London after the Great Fire, modern leasehold and the origins of wealth inequality through land tenure.
He wrote frequently on these issues both on LKP and on his own blog, https://barcode1966.com/
The day before he died, he published the following essay:
"Thus, our system of landed property is a structure of the most complex and heterogenous kind …. That within the special studies of the legal profession, the study of them is a specialism in itself. Among accomplished lawyers, the number who are well versed in real law (leasehold) is but small.
With Louie, there was no ambiguity. He believed leasehold at heart to be a dishonest scam, keeping the already-monied on top, exploiting the less-well-off. It was a means that ensured that the less affluent and disempowered did not wholly own their homes and had to keep on paying for them to richer people.
He saw the injustices of leasehold stretching back over centuries, taking in the impoverishment of the English working class, evictions of Irish peasantry, the carve-up of London to aristocratic owners and a landlord mindset with roots in feudal times.
It confirmed all his views that new players in leasehold – William Waldorf Astor, Tchenguiz, Count Paduli – are playing the same shtick with leasehold pioneered by the Dukes of Westminster, the Earl of Cadogan, Howard de Walden and the rest centuries ago. It just has a corporate face these days.
And, like us, Louie did not believe for an instant that the highly secretive investors in the leasehold sector were blameless pension funds.
"The thing I have always loved about LKP," he told me in our last conversation, "is the fact that you do not give a damn."
Nor did he, of course.
Although we might make a case for more nuance, our views and those of Louie more or less mirrored each others.
Of Irish Catholic background, Louie was assertively Mancunian in his cultural make-up and his use of language, which was very powerful, drew on this linguistic arsenal.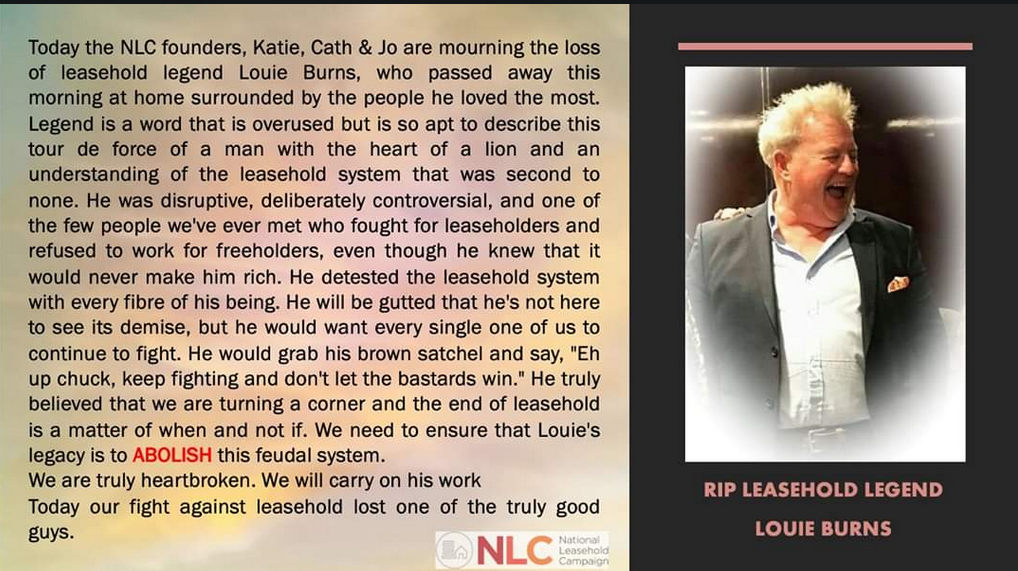 His talents would have found a natural home in campaigning journalism. Instead, he worked in communications companies, like Virgin, before becoming the MD of Leasehold Solutions in 2009.
Serving only the leaseholders in enfranchisement cases, Louie had an encyclopaedic knowledge of landlords in the sector.
He had seen at first hand all the games played by freehold owners to extract a final tranche of money through the enfranchisement process – refusal to communicate; ridiculous compensation demands; bogus development potential arguments; inflated professional fees etc ad nauseam … until final settlement on the eve of a court hearing.
He was well aware of the misery this system causes to people, often of modest means, who have struggled to unite and mount a collective enfranchisement application.
To see it frustrated time and again by freehold owners, and their ever-obliging little helpers in the legal and surveying professions, disgusted him – and he did not hide his feelings.
Louie shared his hard-won knowledge generously. He provided advice to those who contacted LKP and he held his own hugely successful Leasehold Roadshows around the country.
More recently he was taking to podcasts and Zoom to educate leaseholders about different aspects of the leasehold system that had no bearing on the enfranchisement work of Leasehold Solutions.
He also headed the LKP contribution to the Law Commission's recent report on enfranchisement. This prevaricating, evasive work was a disappointment.
But it was not through lack of trying on Louie's part. There was seldom an All-Party Parliamentary Group meeting at which Louie failed to make a deflating and blunt contribution.
As well as being MD of Leasehold Solutions, Louie was a partner in the associated companies Leasehold Valuers and Leasehold Law. In 2017 he launched the Leasehold Valuers Relativity Graph – a mathematical model to represent leaseholders' perspective in enfranchisement cases.
In the multi-billion pound enfranchisement business, the courts have been over-eager to accept mathematical valuation models commissioned by commercialisers in the sector. It was no surprise to see Louie at the Court of Appeal hearing that saw the leaseholder-friendly Parthenia model bite the dust:
In June 2018 Louie launched his e-book, 'The Leaseholder's Simple Guide to Leasehold', with all proceeds donated to the National Leasehold Campaign and LKP, of which he became a trustee in September 2018.
Louie – Luigi at these moments – spoke an impressive Neapolitan dialect and is one of the few British people in our patch, along with myself, who has lived in this remarkable and deeply unfashionable city, of which Italians are so embarrassed … and proud. Its resolute determination not to conform to the modern world, except on its own terms, was part of the attraction, one imagines.
Louie was a giving, generous man, and it is no surprise that outside leasehold he was involved in helping the homeless in his home town, Folkstone. He helped the Winter Shelter Charity's 'Big Sleep Out', a sponsored event providing people with the opportunity to experience homelessness by sleeping out for a night. Louie raised funds for the charity through his Bluesky Pie music record label and took part in the event with his family.
Louie was also a consultant for the charity, 'Last Night a DJ Saved My Life', a foundation creating fundraising initiatives for the electronic music industry to support of children in crisis.
Louie founded the Bluesky Pie record label (https://blueskypierecords.com) in 2009, an ethical, not-for-profit label aimed at working with young people and giving them much needed positive experience in the music industry and opportunities to get their music out to a wider audience. The label has helped 100s of young people get into university, start careers in the music industry and get jobs.
The following tribute has appeared in the Kent Live newspaper:
Tributes are pouring in for a well-known Folkestone record label owner after his death over the weekend. Louie Burns, who set up the Bluesky Pie record label, died of a heart attack yesterday morning (June 21). He is survived by his wife, Di, and three sons, Danny, Jed, and Charlie.
Tribute to Louie Burns from APPG co-chairs Sir Peter Bottomley, Justin Madders and Sir Ed Davey Co-Chairs of the All-Party Parliamentary Group on Leasehold and Commonhold reform

Sir Peter Bottomley MP, Justin Madders MP and Sir Edward Davey MP are saddened to learn of the loss of Louis Burns.

A leading campaigner for leasehold reform, Louie was a stalwart supporter of the APPG. He spoke numerous times at Group meetings about the failings of our feudal leasehold system and its impact on leaseholders and their families.

Louie's expertise, particularly surrounding lease extensions is well regarded within the sector. His extensive work included the Leasehold Valuers Relativity Graph 2017 which he co-authored and is now being used in property tribunal cases.

Louie's work is also respected across main stream media and his support for good campaigns and organisations including the National Leasehold Campaign, Leasehold Knowledge Partnership and the Association of Leasehold Enfranchisement Practitioners is well known. We are grateful for the significant contribution Louie made towards leasehold reform.

We would like to offer Mrs Burns and Louie's three sons Danny, Jed and Charlie including his extended family, friends and colleagues our deepest condolences at this time of loss.