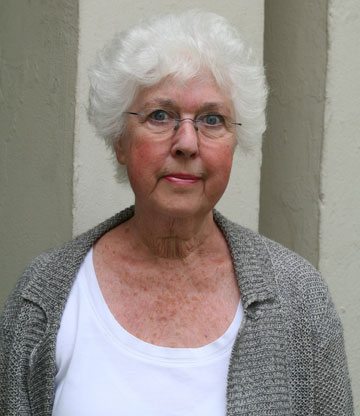 This is the full statement of Angela Saul, 78, that she read to the First Tier Tribunal in January.
It is a powerful and passionate appeal that will resonate with leaseholders who have faced a freeholder determined to resist right to manage.
However, the tribunal did not agree with Mrs Saul. It stated: "the tribunal do not accept that the applicant [freeholder and its legal team] acted improperly in the conduct of these proceedings".
My name is Angela Saul and I have been a director of the RTM Company since it was incorporated.
Brixton Hill Court has been my home for 18 years.
I wish to express to the Tribunal my utter disgust, anger and frustration at the ease by which our legitimate claim for the right to manage our homes has been derailed through complicated legal technicalities. 
Not only have we had to suffer the ordeal of a rejected application, but are now facing the prospect of paying grossly high fees for the privilege.
We are not required to prove negligence on the part of Springquote and their managing agents OCK.  Nevertheless, we could give a long list of instances of lazy management and wilful neglect, as evidenced by the dire state of the roof and fabric of Brixton Hill Court, which, even as we speak, finds residents living in damp and mould-ridden properties, much of which occurred years before the current bad weather.
At the outset of this claim, Springquote consulted with Mr Justin Bates, more of whom later.  Mr Bates was not available on the day so we were treated to the services of Mr Adrian Carr.
Brixton Hill Court comprises 143 flats, a significant number of which are part of the freehold.
Of the remainder, we had to recruit seventy-two qualifying tenants.
This involved spending night after night, day after day, for months on end knocking on doors, explaining to leaseholders and contacting absentee leaseholders, some of whom live all over the UK and some overseas.
The fact is, we have the numbers.  Brixton Hill Court qualifies.  Yet nearly a year after our original claim was served, we still have to fight for the right given to us by Parliament.
Mr Compton has just served our third RTM claim.
Our first claim was defeated because Mr Carr argued that Brixton Hill Court comprises two separate buildings and Without Prejudice notices cannot be served in a RTM claim.  Arguments which we understand have been rejected by the Upper Tribunal.
Our second claim was frustrated because Springquote's legal team opined our Articles contained a clause which contravened the Mental Health Discrimination Act 2013.
At the Leasehold Reform Debate in Westminster Hall on 4 December 2013, Jim Fitzpatrick MP spoke eloquently and passionately on the scandalous behaviour of opportunist lawyers and freeholders frustrating genuine RTM claims.
We have brought this case to the attention of our own MP, Mr Chuka Ummuna, Mr Fitzpatrick and Sir Peter Bottomley.
During the debate, Sir Peter said, and I quote:
'I would like to invite the barrister Justin Bates … to say out loud the ways in which opportunist managing agents and freeholders can frustrate an application to the Leasehold Valuation Tribunal … where … the fee is fixed at £500, yet a lawyer can explain to the respondent, the managing agent or the freeholder, "You can make applications to delay the hearing, you can apply to go to the county court or you can bounce between the two.
"And, by the way, if you take the advice of some lawyers and apply for the right to manage, it can take up to 18 months for the courts to dispose of the fact that you do not have to have the letters RTM in the name of the proposed management company that would replace the managing agency appointed by the freeholder."  End quote.
Mr Fitzpatrick has asked to be kept apprised of every aspect of our RTM claim, including the outcome of this iniquitous claim for costs.
The fight to secure our statutory right has been emotionally draining.  We are exhausted.
What I find scandalous is that from the outset we were advised that a landlord can only recover reasonable legal costs, and that the RTM procedure is a low cost, straightforward way to obtain the right to manage our homes, in this building we care for so dearly. 

I cannot comprehend how this system would allow £42,000 of costs to be claimed. 
Mr Carr will know very well that the legal term for this is oppressive behaviour.
We would like an explanation today of how this behaviour can be allowed within the law.
This outrageous costs application has led to leaseholders becoming anxious and fearful.
It is a constant battle to maintain the spirits of people who have put their faith and trust in this system. Monumental effort has been undertaken to keep up the membership.
Forcing the leaseholders to pay these extortionate fees would be a kick in the teeth.
I ask you to ponder the human impact caused by a demand for more than £42,000.
There is no sight more venal than that of someone making money out of other people's misery.
If there is any justice, I plead with the Tribunal to make an example of this landlord and see through this vexatious behaviour. 

Not only for the residents of Brixton Hill Court, but for others all over the country who are also facing aggressive opposition to deny their statutory rights.