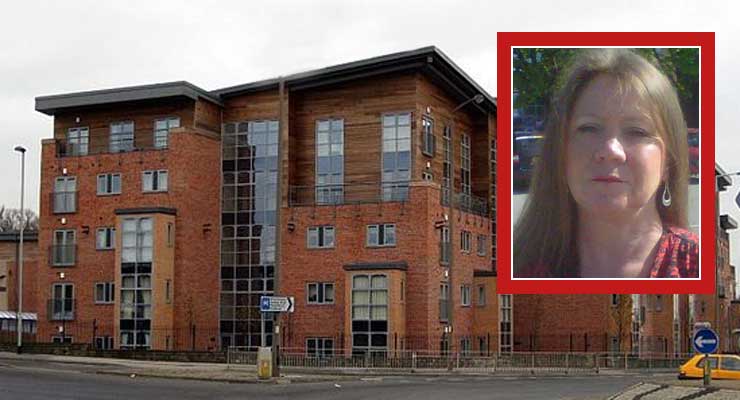 A leasehold campaigner has overcome enormous odds to boot out the Adderstone Group from the management of her investor-owned building with a brilliant RTM success. And now she is poised to take over the freehold as well.
The next few weeks will see whether Karen Peel (above), 54, a businesswoman, succeeds in her efforts on behalf of residents at The Pinnacle, in Wakefield, West Yorkshire, to enfranchise the site of 137 flats in the city centre.
If she does so it will be a tremendous vindication of 18 months of effort – not least because barely five per cent of The Pinnacle is owner-occupied.
Karen's painful research project into the miseries of leasehold began in October 2007 after she bought a £144,000 flat for her son Lewis, now aged 30, who had started work in computer design in Leeds.
The freehold of The Pinnacle had been hoovered up by the Newcastle-based Adderstone Group in the form of UK Ground Rent Estates Limited.
Adderstone then decided, after careful reflection, to appoint itself as managing agent.
Karen became involved when she queried why she had not been served an invoice for the £250 ground rent, as well as a £700 service charge demand.
After repeated inquiries, it emerged that the demands had been sent to Lewis's previous address, rather than to his flat at The Pinnacle.
"Although the mistake was theirs they sent us a bill for £700 in legal costs, which I refused to pay," says Karen. "I should have challenged this in the Leasehold Valuation Tribunal, but I did not know anything about leasehold at that stage."
To her annoyance, Lewis's mortgage company hastily paid the sum after a threat of forfeiture while she was on holiday, so the matter never came to court.
It then emerged that other residents fell into default after Adderstone moved the management on to another property management company in the group, Avoca. This had a different bank account, and several overseas owners paying by direct debit fell behind with service charge payments and incurred costs. There is no suggestion that the residents were misled.
"When I heard of similar issues with other residents, I was determined to do something about this," says Karen.
She spent six months tracking down all the leasehold owners at The Pinnacle, who lived in Canada, Abu Dhabi, New Zealand and China.
"I paid for the information from the Land Registry and then tracked people down through social media," she recalls. "In the end, I got in touch with all but about four."
Karen was determined to exercise right to manage "to protect my son's property if nothing else".
Property values in the Leeds area were in free fall after 2008 and repossessions at The Pinnacle for similar flats to Lewis's were selling for £65,000.
Helped by a local managing agent, Andrew Edgerton, of RBM, Karen served her right to manage application with 90 per cent support from the leaseholders in August last year. It was not contested and the residents took over control on December 1 2012.
Having persuaded the other owners to opt for right to manage – Karen has only personally met five of them – she has now raised 70 per cent support from qualifying members for enfranchisement.
"So many of these property management companies and those who bought the freehold always gambled on leaseholders being too disorganised to fight back, especially on sites dominated those who had bought flats as investments," Karen says. "But we have proved them wrong."
Those wanting to enfranchise have paid up £225 into an account controlled by RBM, which now manages the site. Karen reckons that the ownership of the freehold will pay for itself in eight years.
"After enfranchisement, it will be a property where the residents are totally in control," says Karen.
The beneficial effects of right to manage are already apparent and property prices at the site have increased, with Lewis's flat now worth around £120,000.
Attempts were made to contact the Adderstone Group in connection with this article, but its telephone numbers and website details are not functioning at present. We are happy to include a statement.