Sir Ed Davey, chair of the APPG on leasehold reform and co-patron of LKP, today criticises the Consumers' Association Which? for publishing a report (on Thursday) into the ground rent scandal that bears a striking resemblance to work already done by LKP.
Sir Ed, LibDem MP for Kingston and Surbiton, also urges the generously funded organisation to join efforts to mount a legal challenge against the abuses.
Sir Ed says:
"I'm glad Which? has at last joined the long running campaign by cross-party MPs against shocking abuses of leaseholders.
"Now they are using a summary of the research by the excellent Leasehold Knowledge Partnership in their input to this campaign, I hope Which? will also now consider using their super-complaint powers, as they were requested to do last year.
"Millions of leaseholders need Which? to use their powers and significant wealth and without further delay."
What is a super-complaint?
A super-complaint is a complaint made in the UK by a state-approved 'super-complainant'/watchdog organisation on behalf of consumers, which was fast-tracked to a higher authority such as the Office of Fair Trading (prior to its dissolution on 1 April 2014). The official body now in charge of general consumer protection super complaints is the Competition and Markets Authority.[1]
A super complaint, as defined in section 11(1) of the UK's Enterprise Act 2002, is a complaint submitted by a designated consumer body that "any feature, or combination of features, of a market in the UK for goods or services is or appears to be significantly harming the interests of consumers"[2]
Super complaints have also specifically been introduced for the financial markets in the UK under the Financial Conduct Authority FCA.[3] The Financial Services and Markets Act 2000 (FSMA) provides that certain consumer bodies may complain to the Financial Conduct Authority (FCA) about features of a market for financial services in the UK that may be significantly damaging the interests of consumers. The Government first issued guidance for bodies seeking designation as super complainants and then received and ultimately approved the newly appointed bodies which can make super complaints to the FCA:[4] Consumer Council Northern Ireland, Citizens Advice, The Federation of Small Businesses and Which?
Some of the super complainants under the Office of Fair Trading scheme were:
Which?
National Consumer Council
Citizens Advice
Energywatch
Consumer Council for Water (formerly known as Watervoice)
Postwatch
CAMRA
General Consumer Council for Northern Ireland
The Which? report is embargoed until Thursday.
Homeowners are being charged up to £60 to install a doorbell and £250 to own a pet as freeholders exploit contracts sold by British housebuilders.The consumer group Which? claims that people who bought new-build leasehold homes are being hit with unreasonable "permission fees" for anything from mino
You're sitting in the pristine marketing suite of a new-build housing development, beaming with pride at having saved enough money to buy your very first home. But there's something the slick sales team aren't telling you. You may be able to buy one of their properties, but you won't ever truly own it.
It is available from the Which? press office. Here's a sample:
---
Loosen the leasehold noose – Which? investigation exposes leasehold crisis
New-build leasehold homeowners in England are trapped in a cycle of rising fees, punitive clauses, and unsellable homes, according to a Which? investigation.
After receiving almost 200 letters from leasehold property owners regarding 19 different housebuilders and housing associations, Which? launched an investigation into the deepening leasehold crisis.
Leasehold properties require homeowners to pay ground rent on their property, usually at a fixed price for an agreed duration before it can be increased …
The Which? reports quotes a Money Expert saying:
"We found families facing onerous clauses from developers, being badly advised by lawyers and hit with spiralling ground rents that effectively rendered their homes unsellable.
"In some cases they were ordered to pay extortionate retrospective permission fees under threat of losing their home.
"We look forward to seeing firm action from the Government to protect homeowners and ensure that no-one loses out as result of these unfair practices in the future."
---
The Consumers' Association has been the subject of disobliging consumer scrutiny itself for its gargantuan salaries: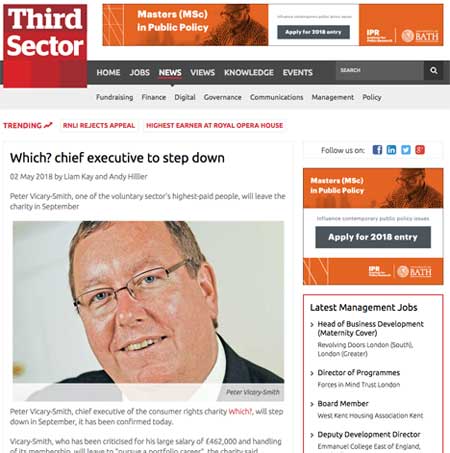 Peter Vicary-Smith, one of the voluntary sector's highest-paid people, will leave the charity in September Peter Vicary-Smith, chief executive of the consumer rights charity Which?, will step down in September, it has been confirmed today. Vicary-Smith, who has been criticised for his large salary of £462,000 and handling of its membership, will leave to "pursue a portfolio career", the charity said.