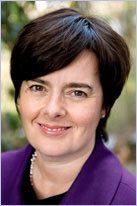 Battersea MP Jane Ellison (left) has been told not to interfere in the Plantation Wharf dispute where pensioner Dennis Jackson, 73, faces the forfeiture of his £800,000 flat on Wednesday.
There is a real possibility that this will happen. He is fighting the action alone and his mortgage company, owed £175,000, to date has not indicated it would be involved.
Ellison wrote to Bryan [Howard] Lewis, the ex-solicitor with an appalling professional record including a criminal conviction involving dishonesty, who chairs Plantation Wharf Management Limited. The residents have nominally controlled the company since October last year.
But Ellison has received a reply from Mike Benton, a director of PWML, but also an employee of Cube Real Estate, the freehold owner at Plantation Wharf.
"You will appreciate that this is a contractual dispute between Mr Jackson and this company [that is, PWML], which is currently the subject of ongoing proceedings in the Wandsworth County Court. Accordingly, it would be inappropriate to correspond with you on a matter that is the subject of judicial proceedings," he writes.
But the wider question is why the residents' management company should assist Cube Real Estate pursue this action, running up what an LVT has described as disproportionate "colossal" sums in legal fees in doing so?
Even the most phlegmatic Plantation Wharf resident might be concerned that their management company is doing the freeholder's bidding and running up huge legal fees.
Furthermore, some residents are demanding to know how the decision was taken to instigate forfeiture proceedings against Jackson at the company's AGM on October 9.
Lewis's claim that "all shareholders [the residents] were invited; very few chose to attend" is strongly disputed by residents at the site.
Jackson himself claims he and several neighbours were unaware of the meeting. Those who were present disagree that the issue of forfeiting Jackson's flat was put to a vote.
"Although there may have been some discussion of the claim against Dennis Jackson at the AGM, there were no votes on any of the matters discussed," one claims.
Lewis had informed LKP that the board could stop the proceedings against Jackson at any point before the county court hearing on November 28. But he has since told residents that the action is being taken by Cinnamon (Plantation Wharf) Limited, a subsidiary of Cube Real Estate, and it is "out of our hands".