---
The first-time buyer of a Bellway leasehold house is furious that the housebuilder has sold off the freehold to her property to ground rent investment company Adriatic Land adding thousands to its cost.
Heather [who does not want to give here surname], 36, had been told in writing in 2015 by Bellway that it would cost £3,750 to buy the freehold of her £250,000 leasehold house in Ellesmere Port, in the Wirral.
She had bought the property new on a 150-year lease in 2010. Ground rents are £125pa, rising with RPI every five years.
But in February 2016 Bellway sold the freehold to Adriatic Land 4 (GR 1) Limited / Homeground Management Limited, part of the Long Harbour residential freehold group set up by William Waldorf Astor, Samantha Cameron's half-brother and heir to the viscountcy.
Derek Blank, finance director of Bellway, told Heather last April 27: "Unfortunately as you did not come to contract after our contact with you in April 15, we were under no obligation to offer it to you again. No offer can be open ended."
Heather, who has three children with her partner aged six, three and 12 weeks, contacted Adriatic Land 4 (Gr 1) Limited in March 2016. She was aghast to discover that it wanted £12,750 for the freehold, including legal fees. (Even getting the quote from came with a fee: £108.)
After many months of negotiation, involving the engagement of solicitors, the total came down to £7,680: £6,000 for the freehold and £1,680 in legal and surveyor fees.
"On the 1st October we accepted the £7,680 offer from Homeground /Adriatic as I was due to have my third child on the October 24 and really had had enough of the stress."
The freehold purchase has been further delayed because it is still registered in Bellway's name on the Land Registry, not in the name of Adriatic Land (Gr4).
The reason Heather and her partner were so keen to buy the freehold was that they wanted to build an extension to the property, which Bellway said would cost £300 for the full consent.
Under the new freehold owners, Adriatic Land 4 (GR 1) Limited – which hides its ultimate beneficial owners behind nominee directors – the proposed cost was £333 consent fee plus surveyors fees £2,440 for the licence.
Heather paid the £333 when she understood this to be the final fee for the building consent.
After threatening to take the issue to tribunal, Homeground Management Limited, which manages freehold revenue streams for Adriatic Land 4 (GR 1) Limited, re-paid the fee as "a gesture of goodwill".
Heather adds: "This has been the most stressful year of my life!

"We had absolutely no idea Bellway could sell our freehold, and that this would cost us so much money to resolve.

"At no point has Bellway, or our initial solicitors, ever pointed out the disadvantages that we faced by buying a leasehold house where the freehold would be sold on."
Earlier this week, Bellway and Taylor Wimpey leaseholders in Ellesmere Port were interviewed by BBC TV.
Local MP Justin Madders made a powerful contribution to the Commons debate on leasehold on December 20.
A spokesman for Homeground said that some difficulties arose because homeowners in the UK are not used to negotiating over the initial price suggested.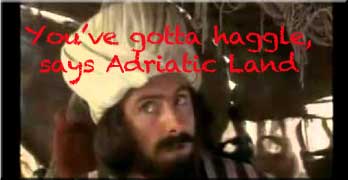 The directors of Homeground Management Limited are given as:
William Waldorf Astor
James Stacy Aumonier
Richard John Sherry
---