– Select Committee deluged with complaints about taxpayer funded organisation
– It failed to alert government to scandals over ground rents and proliferation of leasehold houses
– Why did it hold seminars advising freeholders how to exploit leaseholders?
– 'Huge credibility problem' for LEASE among leaseholders, says MP: it is working against them
– Why is it the monopoly government-funded advisory body?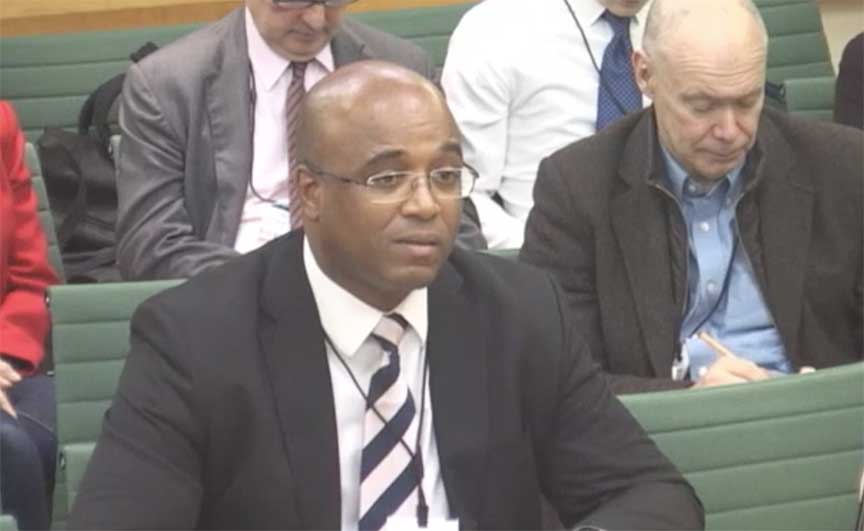 The Leasehold Advisory Service was eviscerated by the Select Committee on Monday, as part of its inquiry into the leasehold scandals.
Questions faced by chief executive Anthony Essien included whether it should continue as the monopoly-funded government advisory service in the leasehold sector.
The Select Committee hearing can be viewed here:
Housing, Communities and Local Government Committee
MPs also raised the issue of the Leasehold Advisory Service hosting seminars for freeholders on how they could make more money out of leaseholders – who the service was supposed to be protecting.
Its inaction over the doubling ground rent and leasehold houses scandals, now being addressed by government, was also questioned.
The taxpayer-funded body was the subject of numerous leaseholder complaints sent to the Select Committee as part of its consultation.
The widespread evidence of dissatisfaction with the public-funded quango, which costs £2 million a year, inevitably raises questions about its future.
The Select Committee had already heard serious allegations by witnesses at the hearing on November 5, where LKP patron MPs Sir Peter Bottomley and Jim Fitzpatrick expressed their "disappointment".
Martin Boyd, LKP chair, had told the committee: "LEASE has been a monopoly service for far, far too long and it has done huge damage to the sector."
Yesterday Helen Hayes, Labour MP for Dulwich and West Norwood, raised with Mr Essien "some pretty damning criticism of LEASE itself and the services that leaseholders receive from your organisation".

She added: "One said the service they received was 'honestly, quite appalling'."
Mr Essien replied that "Anyone who says they are dissatisfied with the service first and foremost that would concern me greatly."
Miss Hayes asked:
"Should the funding that you receive be distributed across a range of organisations so that leaseholders have a choice of organisations where they can go for advice?"
Mr Essien replied: "That is a matter for government completely. We want to grow other organisations, whether funded by government or not, to help leaseholders.
"We have had a robust meeting with the APPG and the Leasehold Knowledge Partnership, where they expressed their views about what we are doing. I want to meet with them again so that we can progress our relationship so we can see how we can progress things for leaseholders."
[NOTE: The relationship between LKP and the Leasehold Advisory Service has been appalling: one former chairman – apparently a serial quango-crat – threatened the charity with defamation, with another resigned after LKP revealed conflicts of interests with monetisers in the sector.]
Mr Essien also referenced Katie Kendrick, co-founder of the National Leasehold Campaign, who "was kind enough to say at the last APPG that she was willing to meet me in the New Year".
This is very generous of the NLC, which has refused to meet the Leasehold Advisory Service in the past.
On November 5, Miss Kendrick told the Select Committee:
"The campaigners feel that LEASE has been fully aware of what has gone on for several years. They have advised on the law, but we all know that the law is broken in this area.
"… they have done very little to present it in front of Government, to be honest. I feel that that was the job of LEASE, to see trends and to see where the law is broken, and to advise. If it was not for LKP and the like highlighting this issue, I feel they would have been looking the other way for even longer … We have lost faith in them, to be honest."
Jo Darbyshire, also an NLC co-founder and LKP trustee, added: "There is a huge credibility problem with LEASE among leaseholders … It then ended up in that bizarre situation where it was running paid conferences for freeholders, advising them how to maximise income from leaseholders. It is just nonsense."
Shula Rich, a veteran leaseholder activist who runs the Brighton Leaseholders Association, told the meeting of November 5: "LEASE was just one body that was supposed to be financed … We wrote asking for funds and we were then told that the funds were confined only to LEASE, which means that LEASE is seen as a representative of leaseholders, when, in fact, it is staffed entirely by professionals.
"LEASE should not represent leaseholders, and the funds should certainly be more spread out."
Tanmanjeet Singh Dhesi, Labour MP for Slough, yesterday told Mr Essien: "LEASE has had very mixed reviews from the evidence that we have received.

"There is a huge credibility problem with LEASE among leaseholders. With, in effect, that LEASE was working against them. So what is going wrong and how can you address that?
Mr Essien replied: "That is very concerning indeed."
He added: "Until Febriuary 2017, our role was to advise everybody in the sector whether lessees, landlords … and that is what we did. That is at an end. Our focus since then has been on leaseholders and park home owners completely."
Mr Essien is referring to the annual conference of the Leasehold Advisory Service attended by enthusiastic commercialising attendees such as Martin Paine: a freehold owning game player who lands ordinary families with £8,000 a year ground rents and who has been called a "crook" in the House of Commons.
The conference was a disaster for the Leasehold Advisory Service, with then housing minister Gavin Barwell telling it to "be unequivocally on the side of leaseholders" and Sir Peter Bottomley telling the sector insiders present: "if I fail to insult anyone, I will come back next year and try harder".
Housing minister says LEASE must be on the side of leaseholders, and promises more money
'If I fail to offend anyone, I will do it next time,' Bottomley tells appalled LEASE annual conference
Martin Paine 'is a crook who is turning sleaze in leases into an art form', MPs told
Mr Dhesi asked about the Leasehold Advisory Service running seminars on how to draft leases to maximise the income for freeholders. "That is in direct contradiction of what LEASE would be about," he said.
Mr Essien replied: "That is very regrettable indeed. It doesn't reflect in any way the nature of our service."
Miss Hayes noted that the Leasehold Advisory Service was "slow to raise onerous ground rents and that other organisations did the most to bring this to public attention and support leaseholders. When did LEASE first raise these concerns?
Mr Essien replied: "After LKP and other bodies certainly. The focus of our services has been on the provision of advice … "
Clive Betts, Labour MP for Sheffield Attercliffe, noted that the Leasehold Advisory Service's role had gone "from being a recipient of complaints to a champion of change?"
Mr Essien replied: "We cannot just provide technical advice we have to get our data out there. Be there for leaseholders and be their champion."
Mr Betts: "Have you brought in staff to do that?"
Mr Essien: "We do not have new staff, no."
Mr Betts also asked Mr Essien to define what he considered an onerous ground rent
Mr Essien replied that while RICS states that above 0.25% is an onerous ground rent, his view was anything above 0.1% was onerous.
Mr Betts asked: "That is a clear view from your organisation is it?"
"Yes," replied Mr Essien. If it increases beyond that with regular reviews it is "punishing".
"Punishing?" asked Mr Betts. "That is a new definition. We have not heard that one before."
Mr Essien also expressed the view that if freeholders of doubling and onerous ground rents "do not do something about these leases, government should intervene". He emphasised it should do so with existing leases.