By Harry Scoffin
A row has broken out over building safety inaction following an appearance by Communities Secretary Robert Jenrick on BBC Question Time last night.
The fourth and final question of the current affairs programme, broadcast from Bolton, centred on whether the government "has done enough to tackle unsafe cladding".
Audience member Alex Gill told the panel that it has been over two years since the Grenfell tragedy and referenced the inferno in Bolton that engulfed nearby student accommodation The Cube last Friday.
When Jenrick said "we've done a lot, but need to do a lot more," presenter Fiona Bruce pressed him to confirm a report that leaseholders on Greater Manchester cladding sites had to wait three months before being rebuffed by MHCLG officials.
He said he did not "know about that particular letter," to laughter from the studio audience.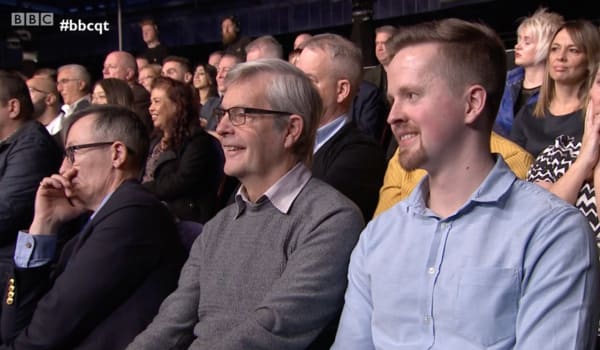 Manchester Cladiators, the group representing cladding sites across Greater Manchester, subsequently tweeted that "we sent a letter in August to which MHCLG replied to in November – and all of our individual blocks also sent a letter – we will resend!"
They called his performance "shocking" and provided proof of their email where they asked for a meeting with the Secretary of State.
The campaign group is pushing for government to change its current position, where it will only fund the remediation of dangerously-clad buildings that happen to have Grenfell-style ACM, leaving other leaseholders in unsafe properties to fight it out with their freeholders over who should pay the cladding bills.
Manchester Cladiator's efforts received a boost today from Inside Housing, who have re-launched their campaign for "a fresh approach" to the cladding crisis.
The End Our Cladding Scandal campaign has relaunched for the general election and calls on the next government to take action to address the "national crisis" of dangerous cladding #EndOurCladdingScandal #ukhousing The two steps to #EndOurCladdingScandal: 1. A building safety fund. 2.
Backed by assorted groups, including LKP, the National Housing Federation, the UK Action Cladding Group and Grenfell United, the trade magazine's election-themed initiative calls for the new government to "set up a task-force, with the involvement of residents, capable of inspecting buildings, prioritising and ordering work and ensuring leaseholders are protected from unnecessary costs".
Speaking to the audience in Bolton last night, Jenrick said that "fundamental change" is coming to building regulations.
He added that "one of the first acts of the next government, if we're lucky enough to be back after the general election" will be new legislation to implement the recommendations by Dame Judith Hackitt to create a post-Grenfell safety regime.
LKP has in the past raised concern over whether the reforms have sufficiently engaged with issues of residents' voice and leasehold tenure:
Reviewer of building regulations admits post-Grenfell safety regime open to abuse by rogue freeholders
When asked by presenter Fiona Bruce to confirm how many residential buildings in the country have the same HPL cladding (high pressure laminate) that was used on Bolton's The Cube, Jenrick said his department do not "have the exact number," but "that it will be over a thousand … a very large number of buildings".
Labour's Richard Burgeon criticised the government's handling of the cladding crisis, saying:
"It goes back to a bigger question, really, about what government is for.

"We are one of the richest countries in the world and look at the amount of time it's taken – not even to properly house the families from Grenfell – it's also the case that, as Robert has said, there could be a 1,000 buildings with this type of [HPL] cladding on.

"The government has asked – not compelled – private owners of these blocks to remove the cladding. Asked, not instructed."
"I think what happened at Grenfell and what happened in Bolton showcases that in one of the richest countries in the world, things are not as safe as they should be – why? – because people aren't put first, profit is put first," he added.
Telegraph columnist: this is a cover-up
Sherelle Jacobs, of the Daily Telegraph newspaper, weighed in on the cladding crisis, saying "for me, this reeks of a cover-up, potentially on an industrial scale":
"I think that after Grenfell two and a half years ago, the government made a deliberate decision to only focus on auditing ACM cladding, which is the cladding that was used in Grenfell tower – despite the fact that HPL is more combustible and is used 3 times more than ACM."
Jenrick rejected the allegation, repeating the line that ACM "is by far and away the most dangerous form of cladding on people's buildings today."
He also stressed that so-called building owners are responsible for the safety of their residents.