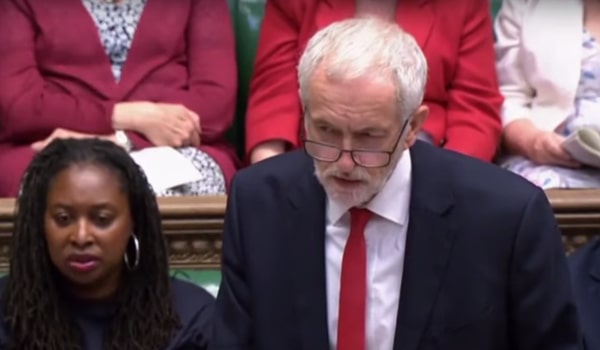 By Harry Scoffin
Labour leader Jeremy Corbyn today waded into the leasehold scandal at prime minister's questions.
Mr Corbyn's surprise intervention suggests that concerns around controversial leasehold contracts have finally entered the political mainstream.
Referencing the comments Theresa May made about "burning injustices" on the steps of 10 Downing Street, Mr Corbyn asked whether the prime minister agrees with him that "access to justice is vital in tackling burning injustices".
In a series of questions centred around cuts to the legal aid budget, Mr Corbyn referenced the leasehold scandal and the Labour party's newly-announced policies aimed at dismantling the archaic property system.
He also brought attention to the case of Marcus, a low-income pensioner mired in a leasehold dispute.
Mr Corbyn said the 71-year old is currently facing eviction, which LKP understands to mean forfeiture.
The prime minister said she sympathised with Marcus, but refused to be drawn on the wider issue of leasehold and commonhold reform.
The government has recently faced criticism for failing to take meaningful action to help consumers already subject to unfair leasehold practices, such as ground rents which exceed £250 per annum.
The Government has been accused of "fence-sitting" when it comes to leasehold reform as Labour sets out its stall on how it would change the market. It comes as the Government responded to the Housing, Communities and Local Government Committee's leasehold inquiry last week, but appeared to have not taken many of the suggestions forward.
The government has also been slammed by campaigners for refusing to condemn the windfall element of forfeiture.
In its response last week to the Communities Select Committee's seminal report into the leasehold sector, the government returned to the cant of balancing the rights of landlords and leaseholders.
Leasehold experts say forfeiture was never about balance. Guy Fetherstonhaugh QC, the much-celebrated landlord and tenant barrister, has called the device "fantastically draconian".
Mrs May did not respond to the leader of the opposition's call for legal aid provision to be made for financially vulnerable leaseholders.
The prime minister also failed to comment on forfeiture, the most powerful bit of kit in a landlord's armoury.
LKP recently reported the story of a Chinese national who was set to lose her £800,000 London flat because of an unpaid ground rent bill of just £400.
That Mr Corbyn and his advisers chose today to lead on a forfeiture case for a Commons showdown with the prime minister signals how leasehold has become a symbol of the broken housing market.
Leasehold is a symbol of our broken housing system, with millions of England's homeowners feeling like they've bought their home but still don't own it. Yesterday, Labour announced our plans to end this scandal and drag a feudal property system into the 21st century.
It is clear that the outrageous racket of leasehold housing will be a hot-button issue at the next general election.
And millions of leaseholder votes will be up for grabs …
Jeremy Corbyn:
"Some people have very short memories; the Tory-Lib Dem coalition cut legal aid but also brought in fees for employment tribunals. The then Minister for employment relations, the hon. Member for East Dunbartonshire (Jo Swinson), piloted that through the House. Since that time, my union, Unison, took the Government to court and won, and, as a result, employment tribunal fees were cancelled.

"The cuts to legal aid affect people such as Marcus, a 71-year-old on pension credit, a leaseholder who is threatened with being evicted.

"He says: "I've paid taxes and national insurance all my life. How is it right that when I'm being bullied and threatened with homelessness, the state won't protect me?"

"He goes on to say: "I've been working to 2 am every night for the past six months collecting evidence…I've got no idea if I've prepared my evidence correctly".

"Doesn't Marcus, trying to save his own home, deserve legal aid, in order to get proper representation in a court and be fairly heard?"
Theresa May:
"Obviously I recognise the concerns that Marcus has about taking his case, but the right hon. Gentleman might reflect on the fact that a quarter of the Ministry of Justice's budget is spent on legal aid. We spent £1.6 billion on legal aid last year. We are committing to ensuring that people can access the help they need into the future, but that is only one part of the picture.

"We have published a plan for legal support, to maintain and improve access to support for those in need, and we are conducting a fundamental review of criminal legal aid fee schemes, which will consider criminal legal aid throughout the life cycle of a criminal case. So there are aspects of this issue that we are indeed looking at, but it is important that we ensure that we are careful with the provisions we make for legal aid, and as I say, a quarter of the MOJ budget is spent on legal aid."
Jeremy Corbyn:
"Just so that everyone is aware of this, Labour is committed to restoring legal aid funding for family law, housing, benefit appeals, judicial review preparation and inquests, and real action on immigration cases. And, as we announced yesterday, we will end the leasehold scandal.

"The Department for Work and Pensions is failing disabled people. The MOJ has spent tens of millions of pounds each year defending appeals, over two thirds of which were won by the claimants. Rather than spending millions defending incorrect and often immoral decisions, would that money not have been better used increasing poverty-level benefits and providing legal aid to disabled people wrongly denied their basic dignity?"
Theresa May:
"I am not going to take any lectures from the right hon. Gentleman on what this Government have done for disabled people. We are committed to tackling the injustices facing disabled people, so that everyone can go as far their talents will take them. Our spending on support for disabled people and people with health conditions is at a record high. We are seeing many more people—over 900,000 more disabled people—in work as a result of what this Government have done. If he is really interested in tackling injustices, let me tell him that the biggest injustice he should tackle is in his own Labour party—he should deal with antisemitism."