By Harry Scoffin
In what is likely to be James Brokenshire's final housing questions, the shadow housing secretary used the Communities Secretary's "swan song session" yesterday to slam the government for being "too slow, too weak" on the leasehold scandal.
While welcoming the ongoing Competition and Markets Authority leasehold inquiry, John Healey also took aim at James Brokenshire for having "totally overlooked the needs of current leaseholders locked in unfair leasehold contracts".
Mr Healey made the point that the ban on new-build leasehold houses has yet to be implemented, despite having been announced by the Secretary of State's predecessor Sajid Javid in December 2017.
Nearly 3,500 leasehold houses have been sold throughout last year, he claimed.
LKP has reported that taxpayer subsidy for leasehold houses will continue until 2021.
An MHCLG official said to the Communities Select Committee in February that government is unable to change the regulations until the current iteration of Help To Buy ends.
Taxpayer subsidy via Help To Buy for leasehold houses to run until 2021, MPs told
The Communities Secretary rejected his opposite number's argument on government inaction over leasehold houses, saying that the market has self-corrected with "the fall that has been seen where the proportion of new-build leasehold houses has fallen from 11 per cent in Q4 of 2017 to 2 per cent in Q4 of 2018, the lowest quarter so far with the leasehold houses on the Help To Buy Equity Scheme."
Taxpayer to prop up broken leasehold system beyond 2021
Mr Brokenshire went on to claim that he has tasked "Homes England to look at how we renegotiate some of those contracts because, I was clear, that no new government funding for schemes which promote leasehold, so therefore that remains a commitment".
LKP can confirm this is NOT the case.
In a letter seen by LKP, minister for housing and planning Kit Malthouse has said that although commonhold has become a newly supported tenure on Help To Buy, leasehold products will continue to be sold using taxpayer money on Help To Buy 2021.
Mr Malthouse's leasehold intervention can be read in full HERE
The communication was addressed to Crispin Blunt MP, the Tory backbencher who wrote to the Communities Secretary in June to register his disapproval at having "taxpayer subsidy applied to support the antiquated and iniquitous practice of selling flats as vulnerable leasehold tenancies across England and Wales".
He had challenged Mr Brokenshire to "personally oversee the prescribing of the eligibility criteria for qualifying homes in the next round 2021 HTB:EL to guarantee funding is restricted to new homes bearing only freehold (or share of) and commonhold title (to the exclusion of leasehold title)."
Seize 'golden opportunity' offered by Help To Buy 2021 to end taxpayer-funded spread of toxic leasehold, urges Tory MP
Mounting Tory anger over government support for leasehold as 'legitimate home ownership'
In his correspondence with Mr Blunt, the minister for housing and planning mounted a staunch defence of leasehold property. Mr Malthouse wrote:
"leasehold is a legitimate form of home ownership. While leaseholders own the right to occupy a property for a fixed number of years, as set out in the lease, they are homeowners and have different rights and obligations to those who rent. Alongside having a home to live in, leaseholders have bought an asset which they can sell on in future."
This contrasts sharply with the LKP view and, seemingly, a growing caucus of Conservative lawmakers.
Whether a leaseholder's asset maintains its value or appreciates is highly dependent on who the freehold landlord is, as well as the conduct of that entity and their appointed managing agent.
High or spiralling service charges, controlled by the third-party landlord, erode capital values and rental yields.
Poor block management is also known to negatively impact the value of residential leases as buyers are less keen to pay to live in flats in rundown buildings.
Some freehold landlords may be inclined to "sweat" the asset and pocket the fees if their tenants are on especially long leases (minimal reversionary value) and there is no income to be made from lease extensions.
Leaseholders also have a wasting asset, although this is less of an issue for those with 999-year contracts. The Law Commission has acknowledged this is a different situation to outright land ownership in perpetuity with commonhold title.
In his original letter, Mr Blunt provided perhaps the most incisive explanation of leasehold:
"Leasehold is not ownership. It gives the occupier the right to live in the property, as with any tenancy. Leasehold is an inferior and lesser title to freehold and commonhold, an objective reality that impacts all major aspects of living; operational, functional, legal, financial, and monetary and social capital."
Mr Blunt is not alone in his opposition to leasehold tenancies.
In the Commons yesterday, Conservative MP Mark Garnier demanded government stop selling leasehold property as home ownership "once and for all, before this scandal affects millions upon millions of future homebuyers".
The MP for Wyre Forest said it was necessary to do so as "buyers of new-build properties in my constituency still believe they are being misled in terms of leasehold contacts".
He stressed that immediate action is required before more leaseholds are created by developers, who are already under pressure from the government's target of 300,000 new homes a year by the mid-2020s.
Mark Garnier was joined by colleague Antoinette Sandbach, another Conservative who is not yet a member of the APPG on leasehold, who said that "a number of constituents are trapped in unfair leases".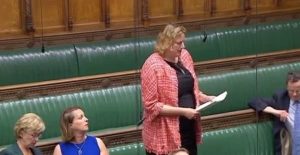 Ms Sandbach queried Heather Wheeler, the minister for housing and homelessness, on what the government is doing to ensure leaseholders can buy the freehold at a fairer price and with greater ease than currently.
The Communities Secretary also came under pressure from Eddie Hughes, who urged the government to back his private member's bill on capping existing ground rents at £250 per annum, as per the select committee report.
Although Mr Brokenshire refused to make a commitment on the floor of the Commons to taking legislative action to regulate ground rents in live leases, he did praise Mr Hughes's work on ground rents "to bring the leasehold market into an appropriate space".
Mr Brokenshire also hinted that government policy on existing ground rents could still change, saying to Mr Hughes that he is "sure that with his ingenuity, he will be able to scrutinise" the bill on peppercorn ground rents for new leases … and "no doubt, come up with further proposals to ensure that legislation is effective".
Tory MP Eddie Hughes moves private member's bill to cap existing ground rents at £250
Shadow housing secretary suggests Conservatives are conflicted on leasehold
Labour's housing secretary suggested that the ruling party has failed to take decisive action on leasehold because it is in hock to the vested interests who make their money out of the leasehold system:
"Lots of warm words, fresh reviews, and no action, Mr Speaker. I mean, nineteen government announcements on leasehold in the fifteen months he's been Secretary of State. But still no sign of change for current leaseholders or the legislation to make it happen.

"Isn't it the hard truth that Conservatives can't help leaseholders because they won't stand up to the vested interests in the property market?

"And don't homeowners looking for justice and radical, common sense changes have to look for Labour?

"Look to Labour to set a simple formula for people to buy their own freehold, to crack down on unfair fees and give homeowners the right to challenge high costs or poor performance from management companies and to put an end, finally, to this broken leasehold system?"
Mr Brokenshire denied the charge and said that the shadow housing secretary was unaware of the government's record on leasehold.
He speculated that this could be due to "the turmoil in his own party… plenty going on on that side of the chamber".
The Communities Secretary ended the exchange by saying that the government is "championing the cause of leaseholders and confronting some of these really, really unfair practices".