Benjamin Mire, the chartered surveyor and CEO of Trust Property Management, was to have been sacked had he not resigned his position on the property tribunal.
The news came this afternoon from the Judicial Conduct Investigations Office, but it coincided with the announcement that Trust is the finalist for FOUR News On The Block property management awards next month.
The statement from the Judicial Conduct Investigations Office reads:
"Following a number of complaints made against Mr Benjamin Mire, a part-time Valuer Chair of the Southern Residential Property Tribunal, a conduct investigation recommended Mr Mire's removal from judicial office.

"The matter was referred to a Review Body to consider the complaints further. The Review Body found Mr Mire had failed to observe the standards that could reasonably be expected of a judicial office holder and that this failing was sufficiently serious to justify his removal from office.

"Mr Mire resigned from judicial office before the disciplinary process could be concluded. His resignation took effect from 16 July 2013."
For weeks, LKP and two complainants, Colin Dennard and Karen Darvell have been pressing for the report to be made public.
So has Sir Peter Bottomley, Conservative MP for Worthing West, who told the annual conference of the Federation of Private Residents' Associations on November 12 that he would be demanding a statement.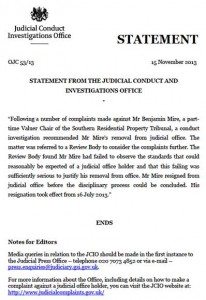 Mire has long been a controversial property manager employed by Lakeside Developments, a freehold company owned by David Glass, in north London.
There is a string of criticisms against Trust Property Management, which claims to manage 16,000 residential and commercial properties, in the LVT records (see below).
Yet, astonishingly, his company is a finalist in the News On The Block property management awards, shortlisted for "London Property Management Company of the Year".
The winner will be announced at a "glittering Winter Wonderland awards ceremony" at The Troxy restaurant in London on December 5. Tickets can cost £200.
An employee of Trust Property Management is also a finalist for "London Property Manager of the Year", and another for "Concierge of the Year" and again for "Young Property Manager of the Year".
News On The Block states: "The purpose of the awards ceremony is to recognise and celebrate excellence in the UK Property Management industry. All the awards are judged by our Independent judging panel in advance of the ceremony, basing their judgements on the materials received by entrants."
Trust Property Management also appears on the Leasehold Advisory Service website. LEASE chief executive Anthony Essien has been contacted for a statement.
Sir Peter Bottomley wrote to Essien earlier this week: "If LEASE takes money or advertising from Benjamin Mire or any business with which he is associated, I think you should end it without delay."
This evening, Essien replied: "We have received other complaints and allegations recently and are now beginning the process of examining them. If at the end of that process it shows Mr Mire has not met any of our conditions or criteria then all options remain available to us, and this includes removing his firm's entry from the Professional Directory.
"As part of this process we have to inform Mr Mire of the details of the complaints."
A selection of LVT decisions involving Benjamin Mire, who was a frequent attender of the tribunal, can be read here