One of the leading barristers in landlord and tenant law questioned the purpose of ground rents and urged legislators to be bold in the wholescale reform of leasehold law.
Philip Rainey QC, addressing the All Party Parliamentary Group meeting on December 14, quoted his historically minded colleague Philip Wood, whose book "The fall of the priests and the rise of the lawyers" was published to acclaim earlier this year:
"Modern domains of law, if badly framed or badly executed, can have devastating consequences on people's lives and can a cripple whole societies."
Mr Rainey said: "Unfortunately it seems to me that the law of landlord and tenant could be said to fall within that.
"It is effectively the law of people's homes and there is nothing more close to people's hearts than their home. If you end up with a law where there are disputes and unfairness then it strikes at the very heart of people's lives
"We have heard examples [from LKP] of where arguably land law isn't working, and so reforming it should be a number one priority."
Mr Rainey then asked the key question in modern leasehold: is it a means to organising the ownership of flats, or are we trying to create an asset class?
"Ground rents and the money that can be made from them is a story about an asset class. If you are selling an income stream, you are selling something that you can trade.
"Ground rents, short leases, the entire industry of enfranchisement: none of that is in line with creating flats as places for people to live in."
Mr Rainey emphasised that developers have to make a profit: but are ground rents and the income from leases – extensions, enfranchisements – essential to this?
"The answer may well be no: that the profit should come in the sale price."
Mr Rainey referred to other countries which have been bold in reforming leasehold law – such as Scotland (which never really had it) and Wales (where the Welsh Assembly has introduced completely different rules of short residential tenancies).
"There is an Act to control activity on the moon, the Out of Space Act, so if that is not beyond us we can sort out this out.
"Prohibiting new ground rents is one of the simplest and easiest pieces of drafting that you could do."
Philip Rainey QC referred to the Rent Charges Act 1977, which prohibited rent charges on freehold houses: "by substituting ground rent for rent charge the job is half done".
The lawyer added: "If anybody wants to be radical: more radical changes are actually easier ones to bring in."
Mr Rainey considered the issue of commonhold, which was introduced to England and Wales in the Commonhold and Leasehold Reform Act of 2002.
"Commonhold was supposed to be the answer and because it was supposed to be the answer, a lot of other reforms have been blocked.

"Commonhold needs to be fixed, or it needs to be got rid of. I personally would say it should be fixed because it works everywhere else.
"There is no reason why it can't work here. Everybody says what a wonderful example of Australia is [which introduced strata title in the 1960s], but every state in Australia made several attempts to get it right. In this country, we made one attempt and then we just sat on our hands.
"If you are a developer, why do common hold if you can do leasehold instead and reserve the ground rent and lease reversion income?
"Everything is mixed up together. If you want to do commonhold, then arguably you need to remove the reason not to do commonhold."
Mr Rainey then returned to the issue of ground rents.
"It is difficult to disagree with the point that ground rents are a payment for nothing; a payment for the privilege of owning the thing that you have already bought.

"There is a level of ground rent that is thought to be palatable. A few hundred pounds, say. But it makes no difference to the capital value. You can sell a flat for the same price with a peppercorn ground rent of, say, £10 .

"Ground is a payment for nothing. There is cross party support, I would suggest, for getting rid of it.

"The Rent Charges Act got rid of ground rents in freeholds in 1977. That was a Labour measure. You can't have a ground rent on commonhold in 2002. That was a Labour measure.

"You can't have a ground rent in a new lease under the Leasehold Reform Act of 1993. That was a Conservative measure.

"Every one of these acts has said no to ground rents, or their equivalent. Yet nothing has been done about the creation of new ones. One might question why."
Mr Rainey agreed with retirement housebuilder Bob Bessell that doing away with ground rents would not mean the price of new-build property would rise.
"The reality is that the price of a new flat is governed by the price of a flat down the road.
"But some developments that may have been marginal in terms of profitability might not get built, at least not in the short term. But I suspect in time that it will all iron out."
Where housebuilders defend building new-build leasehold houses in the North West and other specific regions in England and Wales, Mr Rainey said:
"The northwest is the same area where there was a tradition of having chief rent on freehold houses and that tradition has been brought to a halt by legislation.
"Leases are getting worse as the art of drafting leases has come on. With the Internet lawyers are sharing information and word gets around more quickly.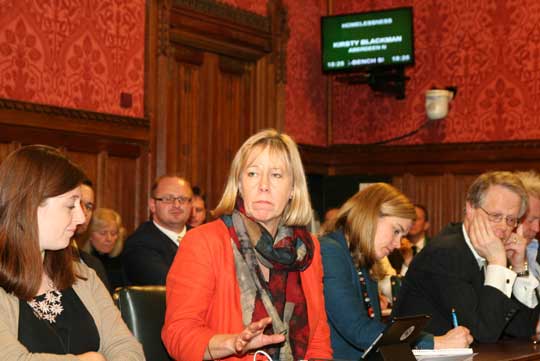 While Mr Rainey believed that fixing the creation of new ground rents would be quite easy, the problems of existing ground rents are more complicated.
"For better or for worse, the right to receive the ground rent is a valuable asset. Because it is an asset, if you want to take it away then there has to be compensation …
"But there may be things that could be done that are not as drastic as simply expropriating them.

"For instance, rent control is something which we have had and a lot of other countries have had. That is something that could, perhaps, be attempted.

"It could be possible to cap these doubling clauses so that they can't exceed a certain proportion of the value of the flat.
"The problem is not the amount which is being paid. It is the amount in proportion to the value of the property, and therefore the income of the person who lives there.
"£500pa ground rent for a person who lives in Mayfair is nothing. It is a vast amount of money if it is a small flat in a less valuable location.
"It could be possible to say that the doubling ground rent clauses do not have effect after, say, three times, so that you don't get this theoretical point that in 900 years the rent will be £16 trillion pounds or whatever.
"This takes away the fear factor that the ground rents can go to an unaffordable level.
"Or, you could put some kind of control on ground rents so that they could not exceed RPI plus 1% or whatever
"There are all sorts of things you could do to dampen down ground rents and, although this is a judgement for someone else, you would not have to compensate for the loss of these rents.
"You could also make it cheaper to enfranchise them away. A lot of people have been told that it's going to cost tens of thousands of pounds to buy these ground rent out.

"But a lot of that is the yield. You could prescribe the yield on these things so that landlords are not able to quote unrealistically large figures.

"You could also make it cheaper to go through the enfranchisement process to buy out ground rents.
"A lot of people want to get a new lease not in order to extend the lease, because it may already have 999 years for example. But in order to get the peppercorn ground rent.
"You could have a prescribed fixed cost regime at the tribunal so that you wouldn't have to pay thousands and thousands of pounds to the landlord in on top of buying it out.
"I think there is a lot which could be done to deal with the existing ground rent problem."
Mr Rainey then addressed leasehold houses pointing out that while there are leasehold houses which in most normal circumstances would be freehold sale, there are circumstances where leasehold houses have to exist.
For example, with the Crown Estate and National Trust, or on development sites where the developer does not own the freehold.
"But if you are going to grant a residential lease, arguably it should be a very long one."
Leases with 99 years make a lease extension in a fairly short space of time inevitable.
Mr Rainey warned the audience: "I could bore you to tears with 20 things that are wrong in this or that Act."
But he urged legislators to look again at right to manage, where leaseholders set up their own management company to run the block, which was introduced in the 2002 Act.
"Time has not been kind to it and you might say that the lawyers have been at. But there are more and more holes with it and landlords are challenging RTM companies successfully."
One lawyer who has been at it is … Philip Rainey, who was responsible for persuading the Court of Appeal to rule against multiblock right to manage in the Triplerose decision.
"I will only take half the responsibility because it was made clear in the consultation papers of 2002 but there would not be right to manage for multiple blocks of flats and that the subject would be revisited.
"Well, after 14 years it is time to revisit it."