In an address to the ARMA conference last week, Philip Rainey QC (right) did nothing less than urge the whole-scale reform of landlord and tenant law that has provided him with a comfortable living.
Although prefaced with the lawyerly proviso – "it should not be assumed that I agree with all or any of the ideas we can discuss" – the ideas themselves included:
"Reform of the law is a duty. Laws that are badly framed or badly executed can have devastating consequences on people's lives, and can cripple whole societies.

"Unfortunately, I don't think I can defend the law of landlord and tenant in this country. It is very badly in need of reform and nothing really has been done to it since 2002."
After the speech to the ARMA conference, he did concede to LKP that he wouldn't mind sitting down and re-writing it all, if anyone were ever to ask him.
The key question he asked an audience of 550 managing agents, senior civil servants, lawyers and members of the property tribunal was:
"Is it [leasehold] a means to an end because we have not got a better system? Or are we trying to create an asset class?"
This gets to the heart of the issue of leasehold reform.
Does government and society want to continue creating leasehold with extraordinary income streams – ground rents, lease extensions, enfranchisement, imposed management, shadowy freeholders (often offshore), commissions and assorted fiddles?
Or does it want to create secure homes for a new generation who, for a number of reasons of which housing is a principal, is likely to be considerably less affluent than the preceding one?
Mr Rainey's address was similar to the one he made to the LKP Westminster round-table in January 2015, in which he outlined what might be desirable reforms.
But this went further.
As it was made without notes, we must rely on our contemporaneous record. Any errors are ours, not Mr Rainey's.
He began by making the point that the law is there to be a useful tool: "user-friendly and accessible. It should work."
He referred to the book, The Fall of the Priests and the Rise of the Lawyers, by lawyer-historian Philip Wood, that was published earlier this year to favourable reviews.
"It does have this very important point: reform is a duty. Laws that are badly framed or badly executed can have devastating consequences on people's lives and can cripple whole societies …
"Unfortunately, I don't think I can defend the law of landlord and tenant in this country. It is very badly in need of reform and nothing really has been done to it since 2002 …
"We do have to stand back and ask why do we have it? Is it a means to an end, because we have not got a better system? Or, are we trying to create an asset class?"
Mr Rainey pointed that "there is obviously value in leasehold properties that is not in the hands of the tenants" and asked: "Why is that?
"Does there have to be a landlord value in a block of flats at all?
He asked whether we can be bold in reforming the law: "Yes, we can be bold, but we're not very good at it in England. But the UK is more than just England.
"In Scotland they have introduced radical reform. They had feudal tenure of until very recently with crofting and so on, but in many cases the old law has been abolished.

"The assembly in Wales has been very active in changing the way that residential tenancies are governed. They now have different forms of tenure across the border in Wales.
"If we can have an Out of Space Act 1986 which regulates the moon and other celestial bodies … If you can deal with that, why, on earth, can't we sort out blocks of flats?"
He addressed the failure of the commonhold, that was "supposed to be the biggest land reform since 1925".
"But there are fewer commonhold flats than there are unsold copies of books about commonhold that were written in 2002.
"This should not be a cause for despondency. Everybody thinks we got it completely wrong, and people say 'Look at Australia, which is just fantastic as everyone has strata title. And it works wonderfully. If only we could manage it as well.'
"This is grossly unfair. Strata title has required repeated amendment.

"The difference is that they didn't get it right first time, but they kept going at it. We didn't get it right first time, and everything has just stopped.

"We need to do one of two things to fix it and to encourage it, or we need to get rid of it altogether.
"This is an important point not to get overlooked, because it is like a clock in the statutory machinery.
"It causes problems. In 1984 there was a Law Commission report on land obligations on easements, rights of way and restrictions on use of land. This was not enacted upon by Parliament because it was going to change mixed-use sites such as flats with commonhold.
"In 2011 another Law Commission report concerned land obligations. This time the report said we are not going to deal with covenants in respect of flats and so on because we have commonhold. That is all very well. And it is true that we do have commonhold. But it does not actually exist.
"The fact that there is this dead statute in the middle is holding up the reform of the law."
What should we do if we were going to do something?
"Consistency in policy is something to think about. A lot of the problems we have is that people go in different directions, or things get started by different people at different times for different purposes without looking at the bigger picture."
Mr Rainey referred to the Leasehold Reform, Housing and Urban Development Act 1993 giving the right to a new 90-year lease with a peppercorn ground rent.
"But if that's the policy that applies to all flats on long leases, why is it lawful to create new ground rents in the first place?
"I suggest that in due course the tenants have to pay to buy them out. And this goes back to the idea of: are we creating an asset class, or are we trying to make a law for homes for people to live in?
"Why is it lawful to have ground rents in leases, but not in freeholds or commonholds?
"There used to be a rent reserved on a freehold because you could have a rent charge. They were very popular up to 1977 when they were discontinued.
"You could sell a freehold and reserve yourself the rent but you cannot do this now. But if rent charge was abolished in 1977, what about leases?
"What about the lease itself a wasting asset which investors from overseas do not appreciate. They do not always understand that there is a big difference between buying a 60 year lease or a 160 year lease. If we are going to have leases, should they be indeterminate in length?
"The law currently says that you cannot have an indeterminate length of lease."
Mr Rainey referred to the "little industry of extending leases which is good for surveyors but not so good for leaseholders".
He then introduced another thought:
"New leases are often sold on 999 years. But the buildings won't last that long. They probably won't actually last 99 years, frankly.

"Are we bequeathing a future redevelopment problem for future generations?
"Vast tracks of metropolitan areas in London and Manchester have been built under 999-year leases with no redevelopment break. How are we going to redevelop are cities in 100 years time?
"Singapore has a law addressing this which has the effect where you can collapse leases if there is a statutory over-ride."
Then he came to enfranchisement:
"Enfranchisement should be overhauled completely, even though it makes me a very good living.

"It is too complicated; it is full of traps for the unwary."
Mr Rainey suggested the 1967 Act was broken.
"It is a statute that defines a house as "a house reasonably so called" – ie it is a house if you think it's reasonable to call it a house. We should be able to do better than that."
Consolidating the legislation would be a good idea.
"A single procedure for all these different kind of rights that we've got for houses, flats, collective enfranchisement, right to manage. These are all different Acts and different procedures, with slightly different tribunals. Bring them all together and make them all into one Act."
He addressed right to manage.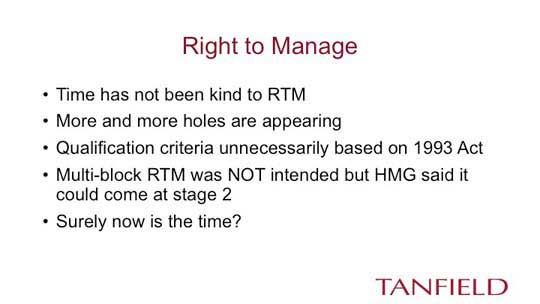 "Right to manage, which is close to the hearts of many people, came in with the 2002 Act. I would suggest that the time has not been kind to right to manage. There is a lot of it, but the more there is the more holes are appearing.
"I was responsible for what many people consider was a dreadful decision in the Triplerose case [which stuffed applications for multi-block RTM], but you can't get right to manage over multiple blocks.

"Not the court's fault; not my fault."
Then there are the problems around embedded management companies.
"These are seemingly a good idea: leaseholder control. But once you have embedded the management company into the lease there is no statutory framework for changing control of it.
"I have seen cases were the original management company has folded and there is no means to replace it.
"There is a fabulous case where some genius decided 'Let's just incorporate a new company with the same name. No one will notice.'
"And to be fair, for a very long time nobody did notice. But eventually they did, and that company had no right to manage this block or to raise service charges
The right of first refusal to buy the freehold should be abolished.
"The right of first refusal is something we could get rid of. It sounds great, but you don't really need it now because it was brought in in 1987 when you didn't have collective enfranchisement.
"It is badly drafted; it discourages mixed-use development, which we all want. Wary landlords avoid it; unwary ones get trapped by it."
Retirement housing