The annual conference of ARMA held yesterday in central London was the most rigorous and clear-eyed discussion of leasehold and its many defects yet held by a trade body in the sector.
At one point in the proceedings, the audience of 550 managing agents, lawyers, senior civil servants and … two trustees of the Leasehold Knowledge Partnership were asked the following question:
Raise your hand if you share the concern that there is a growing number of leasehold houses, and that you are worried that developers are taking advantage of potential purchasers?
A sea of hands shot into the air at the ARMA conference. Only a fraction of the audience opposed the hypothesis.
It was the clearest disapprobation, even among leasehold sector insiders, that the epidemic of leasehold houses and leases with doubling ground rent multiples created by plc housebuilders, such as Taylor Wimpey, is beyond the pale.
(The original question was posed by Robert Dean, of Braemar Estates, with additional concerns expressed by Anna Bailey, of the Association of Leasehold Enfranchisement Practitioners. LKP warmly thanks both.)
LKP has highlighted this issue, which was taken up by the Guardian newspaper. Land Registry figures show that £1.9 billion new leasehold houses were registered last year amounting to 8,775 units.
The vote was taken after speeches by Jim Fitzpatrick (left), the Labour MP for Poplar and Limehouse and an LKP patron, and Philip Rainey QC.
Mr Fitzpatrick called for reform and highlighted the work of the new All Party Parliamentary Group on leasehold and commonhold, of which he is joint chairman. Its first meeting is on November 16.
He referenced the legal war of attrition at Canary Riverside, in his London Docklands constituency, as a glaring example of bad landlordism.
He deprecated the £1.9 billion worth of new leasehold houses recorded by the Land Registry last year, and urged participation by managing agents who have some sense of service to leaseholders in the new APPG.
"We are trying to raise leasehold issues whenever and wherever we can: in debates, through parliamentary questions and raising issues in the media.
"I don't agree that post-Brexit there is no appetite for the government to look at this sector. I sense a different attitude from government: ministers are more interested and accessible, and are giving more resources to the issue.

"We are having a better reception than we have had for some time."
Mr Fitzpatrick praised ARMA for its improved code of practice ARMA Q, and urged ARMA members to attend the APPG meetings and round-table discussions through LKP.
He also thanked FirstPort for organising a visit to two sites in Docklands, where he saw evidence of improved management.
Philip Rainey QC (right) gave the ARMA conference what amounted to an argument in favour of whole-scale reform of existing landlord and tenant law.
This was a more powerful appeal for change than his neutral presentation of leasehold's failings to the LKP round-table at Westminster in January 2015.
"Reform of the law is a duty," he told the ARMA conference "Laws that are badly framed or badly executed can have devastating consequences on people's lives, and can cripple whole societies.
"Unfortunately, I don't think I can defend the law of landlord and tenant in this country. It is very badly in need of reform and nothing really has been done to it since 2002.
"We do have to stand back and ask why do we have it? Is it a means to an end, because we have not got a better system? Or are we trying to create an asset class?"
LKP would argue that we have already allowed an asset class to be created, often owned offshore, and exploitative efforts of the housebuilders to turn their customers into revenue-yielding tenants are disgraceful.
We will report Mr Rainey's speech in a separate article
---
Who would have guessed developers would prefer highly remunerative leasehold to New Labour's commonhold?
The ARMA conference also saw the debut of Sally Keeble, a former New Labour junior minister, who takes over as the new ARMA regulator from Keith Hill.
She told the conference: "In 2002 it was expected that commonhold would take over as the tenure of choice for flat ownership, and that leasehold would wither on the vine. Right to manage would be a sort of consolation prize for a problematic, but residual form of home ownership.
"Who would have thought then that commonhold would fail so completely, and that it would be leasehold that is the fastest-growing form of ownership?
"So it falls now on ARMA to make leasehold work for property managers and their clients."
Except … most of ARMA members' clients are the freeholders who appoint them, not the leaseholders.
---
Justin 'Crusher' Bates on right to manage, and how to stamp on it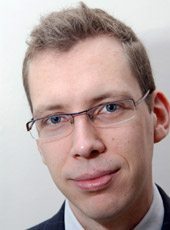 Another point of wider interest at the ARMA conference was a presentation by barrister Justin Bates and his colleague Amy Just, both of Arden Chambers, discussing right to manage and how to derail it.
In a light-hearted double act – "we crush people" (well, OK it was a joke) – they discussed a number of RTM cases.
Mr Bates said that as right to manage is a no-fault process it has to be opposed by highly technical objections. (Translation: an endless succession of often trivial points such as timings of day when company articles and memoranda can be examined etc … ad infinitum et nauseam.)
"You should be very slow to relax the need for full compliance with the statutory scheme. What is happening here is that you are taking the property right off someone: the right to manage of the landlord," said Mr Bates.
"If you are taking property rights off people you would generally expect there to be pretty strong compliance with the terms of statutory scheme.
"So the further you deviate from absolute perfection, the less likely it should it be that you be given any kind of leeway."
Mr Bates then referenced the case of the retirement site Elim Court in Plymouth, whose RTM application heads to the Court of Appeal in February, having failed in the upper and lower tribunals.
The application is being handled by an RTM facilitator called the Right To Manage Federation (which is not a federation and only has one director).
It has undertaken to pay all the legal costs, including the freeholder's, in the event of defeat, which are at present estimated at £25,000 – £30,000.