– CMA soothes leasehold managers by repeating its skimpy MORI poll findings
– 25% of ARMA membership still not signed up to ARMA-Q
– ARMA does NOT manage 60% of sector
– How relevant are the happy leaseholders of Liverpool in disputes elsewhere?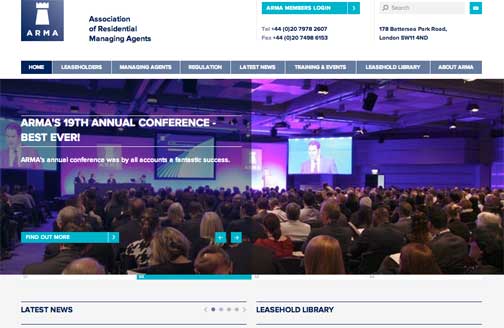 With just over two months to go before the self-regulatory code ARMA-Q comes into force, 25 per cent of the trade body's membership has still to sign up.
That 75 per cent have done so is broadly a positive step from leaseholders' point of view. Those who have chosen not to be accredited should be asked why.
In the absence of independent statutory regulation, the ARMA-Q accreditation system provides a number of positives welcomed by LKP. There should now be more standardisation in management contracts and there should be greater transparency on certain issues.
We would recommend all readers to look through the code to understand what is expected of agents from the start of next year.
Also worth reading are some of the free ARMA guidelines available to leaseholders.
The new regulation system also has an independent regulator headed by ex-Labour housing minister Keith Hill.
We will be watching to see how ARMA copes with some of the agents who talk a good story about compliance, but who also generate a number of the articles that appear on this website and Campaign against retirement leasehold exploitation.
We hope government does not use the excuse of allowing the ARMA-Q system to "bed in" as a reason not to consider a statutory system rather than one overseen by a trade body whose members manage only 25 per cent of the leasehold sector.
It would be an error for government to take ARMA entirely at its own estimation: it says its members manage 900,000 properties, or 60 per cent of the market.
This figure assumes – entirely wrongly – that there are only 1.5 million leasehold properties in the country.
The correct figures are those supplied by LKP figures, which went on to form part of the work which DCLG has undertaken to show that there are 4.1 million privately owned leasehold properties in England.
In an otherwise interesting speech, Liz Peace, of the British Property Federation, repeated the 1.5 million figure, which may have flattered her hosts at ARMA, but is almost universally accepted as far too low.
Peace told the conference that over the next 10 years governments hoped we will build 2.5 million new homes, of which 1.5 million will be flats. 450,000 of these will be built with leasehold tenure.
BPF muddling the figures of residential leasehold is a minor matter, and LKP and this organisation have excellent relations.
The next speaker was Douglas Cooper, project director of the Competition and Markets Authority, who is heading the inquiry into leasehold management.
Worryingly, his presentation painted a mostly rosy picture of the sector working well – a statement diametrically opposed to almost all the evidence we are aware has been submitted by leaseholders, decent managing agents, lawyers, insurance companies, surveyors, national bodies, MPs etc.
Although Cooper acknowledged more problems in his speech than were suggested by his presentational slides, it was a disappointing presentation.
The CMA still seems happy to place too much reliance on a small and flawed survey by Ipsos MORI, which suggested most leaseholders do not have problems.
After all this time the CMA still do not seem willing to accept that even when a site has severe problems only a few of the leaseholders will know the details of those problems.
LKP begins to worry about the CMA's thinking. AgeUK, LKP and even the trade journal for the sector News on the Block have offered information to help provide the CMA with more accurate data.
The CMA has been directed into believing that the problems in leasehold are based on a lack of understanding by leaseholders.
Perhaps they should have thought a little more about just who has encouraged that position.
Perhaps the lawyers who draft the leases, the developers who sell the property and maybe the managing agents are less than keen for a leasehold buyer to know how their costs are calculated?
To say that leaseholders are lazy, ignorant and need to read a little more seems an easy way out of a complex set of problems.
The CMA has made clear in its report that it rejects the argument for compulsory regulation of the sector, or even that there should be a single code that applies to all providers.
As one delegate pointed out it seems odd the CMA is willing to recommend statutory changes on many issues, even where the sector has doubts, so why will it not support statutory regulation which is supported by all.
The tone of the speech can be judged by the first two lines of a slide setting out what the CMA thinks:
Many leaseholders are content with service and value for money they receive.
We are cautious about measures which will increase burdens and costs.
Similar platitudes have been offered many times in the past.
We would have hoped that the CMA would recognise it offered in the same sort of steady-as-she-goes statements in its review of the Scottish Market in 2009. That also failed, and Scotland had the sense to use its own initiative to introduce the Factors Act in 2011.
The audience then heard from Daniel Burkinshaw, of BBM, on managing expectations which set out problems faced by agents in communicating with leaseholders.
He outlined how to do a better job of communication and how much of a problem there is in leaseholders not always understanding what is required of an agent.
As tends to happen at these sorts of conferences, some of the more extreme and illogical demands of leaseholders were outlined.
While we would accept on some occasions leaseholders do misunderstand, there were no corresponding stories about the more bizarre behaviours of some property managers.
Perhaps one day the tables will be turned.
The sole representative of leasehold interests – yet again – was Gerry Proctor, of Engage Liverpool.
Over the last 10 years leaseholders in Liverpool have worked together to help overcome some of the problems faced in that area.
While ARMA still has some way to go in ridding itself of some of the problem agents things are a lot better than they were five years ago.
Sponsorship from dubious utility buyers offering "incentives" to managing agents has declined.
ARMA–Q is here and their disciplinary decisions are being published.