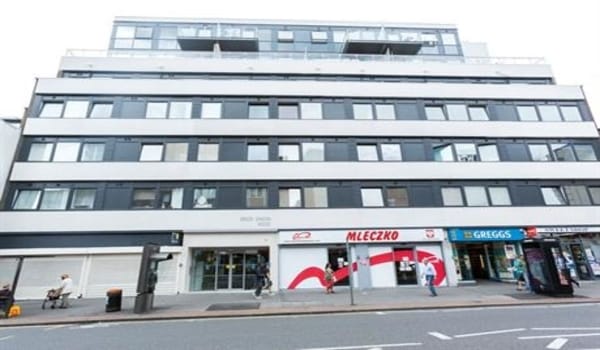 By Harry Scoffin
Housing journalist Vicky Spratt revealed last week that the controversial permitted development rights (PDR) policy is being supported by taxpayer money.
In an investigation for i, Ms Spratt showed how developers have been converting former office blocks into 'rabbit hutch' flats using PDR rules.
The research has found that the micro-homes, some just 9m² small, have been sold as vulnerable leasehold tenancies through the government's flagship Help To Buy scheme.
An investigation by i into a controversial planning exemption which allows offices to be converted into flats has found plans for studio flats as small as 9m², buildings with ventilation issues, residents concerned over the quality of conversions and microflats being sold under Help to Buy.
PDR rules allow for minimum space restrictions to be circumnavigated. Developers are also thought to enjoy an opt-out of right to light regulations.
In 2013, the coalition government authorised offices and industrial buildings to be converted into residential property without planning permission.
The rationale was that the change would help developers respond to the housing crisis.
The Labour Party has now committed to scrapping the policy, with outgoing premier Theresa May last month commenting that she "cannot defend a system in which owners and tenants are forced to accept tiny homes with inadequate storage … and where the lack of universal standards encourages a race to the bottom".
The leasehold dimension
Ms Spratt's report suggests that investors have been buying up the freeholds to the newly converted sites.
Green Dragon House in Croydon is referenced.
In June 2018, Inspired Homes sold the scheme on to Ishguard Limited.
According to Companies House, one of Ishguard Ltd's three directors is William Kenneth 'Bill' Procter, the Tchenguiz organisation's head of property.
Ms Spratt spoke to a 35-year-old leaseholder who "bought" her flat for £285,000. She is worried about her eroding capital value.
The leaseholder has struggled with faulty boilers and a lack of opening windows that she says has made being in the property in the summer months feel like "living in an oven".
"You just couldn't be in [the flat] because it was so hot. I started to feel faint and unwell," she added.
It has been claimed that the boilers at Green Dragon House stopped working in March, cutting off the heating and hot water.
There is now a row over who should fund the major works:
"Adrina and other leasehold owners in the block are currently in a dispute as to who should pay for the costs of the boiler  – leasehold homeowners, the original developer (Inspired), management company Warwick Estates or Ishguard. Residents fear they could be asked to pay costs running into thousands of pounds.

"Adrina already pays Warwick Estates a service charge of £167 a month. She said this increased from £100 in January. Warwick Estates attributed this rise to "inflation". She also pays  Ishguard £300 a year in ground rent on top of her mortgage and is concerned about extra costs. "I'm just not sure [the boilers] have ever been up to the demands of a residential building," she says."
Ms Spratt's Friday exclusive for the i newspaper is the first piece of journalism that has made explicit the link between tiny "slums of the future" and the leasehold property scandal.
The Help To Buy revelation is also embarrassing for the government, which has been unable to disclose the number of PDR properties sold with taxpayer subsidy.
There was no statement from the Tchenguiz Family Trust or Warwick Estates published in the article. We would be happy to include them.