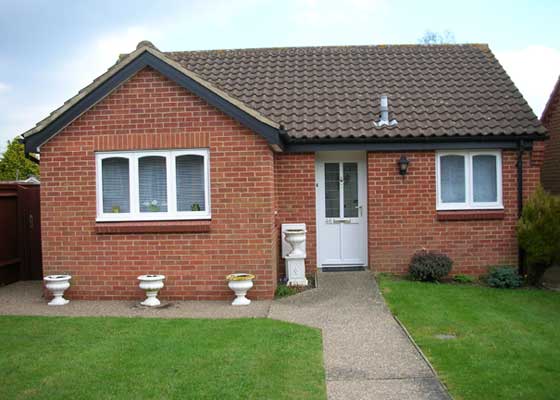 A couple who own a retirement bungalow with a conservatory face a demand for £5,000 from the Tchenguiz Family Trust freeholder.
And the money might not need to be paid at all if the Peverel house manager were permitted to confirm the date when the conservatory was built – but she has been instructed not to get involved.
The £5,000 demand presented to Simon and Susan Tookey is for retrospective consent to erect the conservatory at Sheraton Close, in Northampton.
"But my mother lived here for 17 years and the conservatory was already built when she bought the bungalow," says Mr Tookey, a lorry driver.
There were two previous owners before his mother, and the Tookeys say the conservatory was built by the first owner as far back as 1989.
The Tchenguiz Family Trust only purchased the freehold to the site in 2008, it is stated.
The issue came to light because the Tookeys were trying to sell the bungalow for £140,000 last November. The sale fell through as the buyers' solicitor wanted evidence of the freeholders' consent for the conservatory.
"We contacted Estates and Management and the result was a demand for retrospective consent amounting to £5,000," said Mr Tookey.
It is claimed that the house manager at the site, Alice Kearns, who has been employed there since it was built in 1988/9, has stated verbally to the Tookeys that the conservatory was, indeed, built in 1989.
But she has been stopped from confirming this in writing by Peverel, most of whose business comes from managing freeholds owned by the Tchenguiz Family Trust.
This is because the interests of the Tookeys clash with those of Peverel's principal client.
"Although Alice was commendably looking to help you, we have a general duty of care for both yourselves as lessees and for your landlord," the Tookeys were told by Chris Owens, Peverel's head of customer relations on December 9th.
"As your respective interests clearly differ here, I am afraid that it would not therefore be appropriate for us to get involved on behalf of either party, which is why her Area Manager regrettably had to decline her suggested action."
The Tookeys are appalled by this "fence-sitting". Mr Tookey cannot afford the sum as he only earns £380 a week. In addition, he is ill with prostate cancer.
The Tookeys have offered to pay £870 to obtain the consent.
As the conservatory did not require planning consent the Tookeys lack a paper trail confirming when the structure was built.
But they can rely on affidavits from two friends of Mr Tookey's mother, who will confirm that this property had a conservatory for the entire 17 years that she owned it.
Many other bungalows at the site also have conservatories that were built at the same time. Two properties were sold last year, without solicitors questioning the consents, or the issue being brought to the attention of Tchenguiz.
Campaign against retirement leasehold exploitation has contacted Northampton council for aerial photographs of 20 years ago that will show the site.
It has also contacted Estates and Management for an explanation for its £5,000 fee.
Correspondence has been copied in to the local MP Michael Ellis, as well as Sir Peter Bottomley and Labour MP Barry Sheerman, who has spoken in the Commons about similar demands from Tchenguiz in Huddersfield.
Peverel has indicated that its house manager could reply to a request for information from the freeholder, but this has not been done.
Campaign against retirement leasehold exploitation has urged Estates and Management to seek a statement from Miss Kearns, who has worked at the site since it was built, as it would surely not wish to profit wrongly from this matter.
On December 4 2013, Mr Suhail Qureshi of Estates and Management informed the Tookeys that "a letter from Ms Kearns would not be sufficient, and it is not our responsibility to contact her".
An alternative if this is not settled is for the Tookeys to withdraw their offer of £870 and to obtain a tribunal ruling.
If successful, they could then seek costs from the county court from Estates and Management for the loss of their house sale.
Campaign against retirement leasehold exploitation has contacted both Tchenguiz and Peverel and will publish responses.