… and Taylor Wimpey backs down on building more leasehold houses
More than 70 stakeholders, MPs and peers attended last night's meeting of the All Party Parliamentary Group on leasehold reform.
The meeting, chaired by Jim Fitzpatrick (Labour, Poplar and Limehouse), was called at short notice following the upsurge of anger at Taylor Wimpey.
The plc housebuilder introduced doubling ground rents into its sales of leasehold houses and flats between 2007 and 2011.
Many former customers claim that the properties are either plummeting in value or are unsellable as mortgage lenders will not lend on these assets.
Taylor Wimpey has now ceased the practice but denies that the properties are unsellable.
In a statement to the APPG chairmen MPs Sir Peter Bottomley and Jim Fitzpatrick, the company said:
"We have also examined trends on sites where these leases were used, and observed that has continued to be normal patterns of sales, mortgages and remortgages over the last 10 years and to date, plus some instances of customers purchasing the freehold. We do not believe that there is evidence of a widespread issue of saleability or mortgageability, although of course the lender will always take into account lease payments in the affordability criteria on a case by case basis."
The ground rent scandal has been extensively covered on the Leasehold Knowledge Partnership website and in the Guardian newspaper, which has made the issue a campaign.
Some articles on the Guardian website have received more than 900 comments from readers.
Justin Madders, Labour MP for Ellesmere Port and Neston, has called for doubling ground rents to be banned.
He attended the APPG with a number of his colleagues, including Ruth Cadbury, Labour MP for Brentwood and Isleworth, who will speak in the three-hour debate on leasehold on Monday.
The controversy has shaken Taylor Wimpey, which is carrying out a review into ground rent terms that will conclude in the New Year.
Taylor Wimpey declined to attend the APPG, but at least responded.
The following housebuilders were invited but declined to make any reply: Jeffrey Fairburn, CEO of Persimmon plc; Steve Morgan, founder of Redrow; and Ted Ayres, CEO of Bellway homes, who has yet to make any response to former customers of leasehold properties in spite of numerous efforts.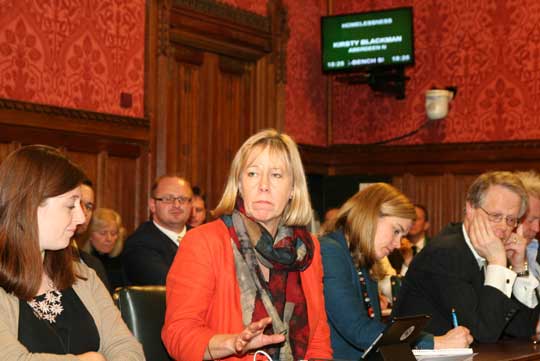 The only CEO who attend was David Thomas, of Barratt Developments, who explained his group's policy on ground rents.
The housebuilders did, however, lobby the government on the day before the APPG in a private meeting with civil servants at the Department of Communities and Local Government.
Along with onerous ground rents another heated controversy is the question why houses are being built leasehold rather than freehold.
Taylor Wimpey in its statement to the APPG chairmen said that it had only built leasehold houses in the North West and sites in Yorkshire where leasehold houses have historically been sold, or on sites where it does not actually own the freehold.
"However, whilst we believe that the practice is normal and reasonable, standing back, we are able to change our practice so that we will make future sales of houses on a freehold basis on any new sites that we develop, except in a very small number of cases where Taylor Wimpey does not and the overall development site on a freehold basis. Whilst we expect that this may mean a small increase in sales prices on previously leasehold sites, it will enable us to offer a consistent, simple product to all customers.

"We will be making this change from the beginning of 2017."
The issue will doubtless be discussed further in the Commons on Tuesday.