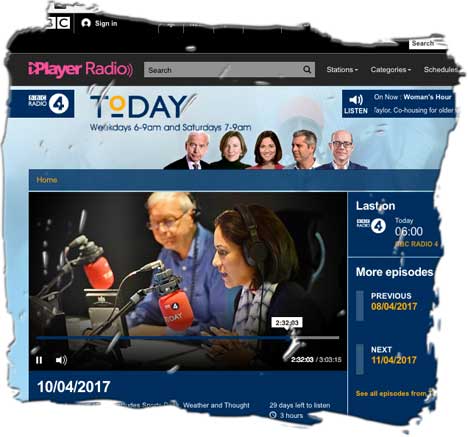 The influential BBC R4 Today programme this morning devoted five minutes discussing the ground rents housing crisis.
It featured a report of leasehold house owners in Clitheroe, Lancashire, who had bought their properties from Taylor Wimpey.
Leaseholder Andrew Henderson told the programme that the ground rents doubled every ten years and were now difficult to sell.
Sales of neighbouring properties had fallen through.
"If you ever want to sell the house this is an onerous lease and it might put potential buyers off."
Property sales had fallen through as a result of the lease terms.
Mr Henderson added: "It is more likely we are renting rather than homeowners."
In fact, leaseholders are simply long tenants and are referred to as tenants in all legislation.
Taylor Wimpey told some leaseholders that buying the freehold would cost around £4,500, but then sold them on to unknown investors.
As a result the price quoted for buying the freehold has shot up 10-fold compared to estimates originally provided by the developer.
"This is not Knightsbridge," Mr Henderson said.
Astonishingly, neither Taylor Wimpey nor the British Property Federation would field a spokesman for the programme, which is almost certainly the most influential current affairs programme that exists.
However, Sebastian O'Kelly, trustee of LKP, was interviewed by presenter Sarah Montague.
She asked whether the buyers should have simply not bought these leasehold houses in the first place.
"Well, that would be true were it not that buyers have also used the developer-recommended solicitors and very likely the developer-recommended mortgage advisor as well. So the whole process of buying these new-builds has been made as seamless and easy as an impulse purchase at the end of a supermarket queue.
"There is absolutely no justification for a developer selling leasehold houses unless the developer does not own the land in the first place.

"There is not much justification for the leasehold of a flat, either.

"And you have got to remember that there are thousands of leasehold flat owners around the country who are paying very onerous ground rents as well.
"These onerous ground rents are a new development. This is a case of murky and anonymous investors, often based offshore, hitching a ride at homeowners' expense through owning the freehold.
Sarah Montague questioned Mr O'Kelly saying that the justification for flats being leasehold was in order to manage them collectively.
"This is not true really. England and Wales uses leasehold for the ownership of a flat. But the rest of the world, including Scotland, doesn't. England and Wales are out of step."
What should be done about it, asked Miss Montague.
"Well, in the case of leasehold houses the government should stop the Help To Buy scheme and cease the purchase of these leasehold houses with onerous ground rents.
"These people are trying to buy homes, instead the developer is creating an enriched freehold which he is then flogging off to these anonymous investors. That could stop straight away.
"It is interesting that mortgage providers are not issuing loans on these properties.

"So, actually, the developers in their greed and venality have created a mini housing crisis here which might involve 100,000 people."
Is this not a historical issue now that the government has said it will intervene and Taylor Wimpey has said it would stop leasehold house sales, Miss Montague asked.
"Well, it is not that historical. Loads of other developers are selling leasehold houses.
"But it is very bad that the government was not alerted to this by their civil service, or indeed by the government quango the Leasehold Advisory Service. It has taken a minnow like us who have had to blow the whistle on this."
So, what should be done, Miss Montague asked.
"Leasehold houses should not exist. People are trying to buy a home. It should not be the sneaky creation of an investment asset class at their expense.
"The wider issue of whether leasehold should continue and be perpetuated in this country is another question. But the rest of the world manages the ownership of flats in a far more harmonious and less exploitative way."