---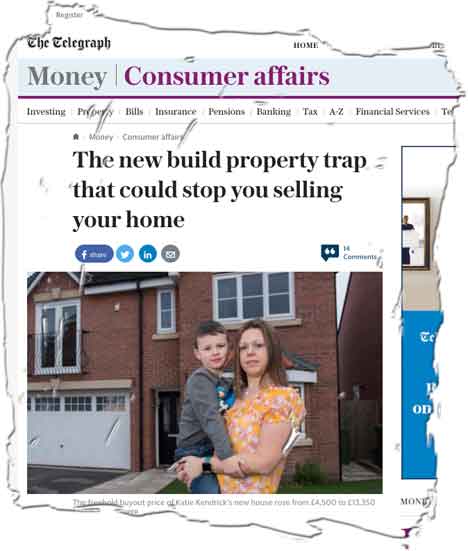 Yesterday the Daily Telegraph waded into the on-going scandal of housebuilders eroding the wealth of generation with leasehold homes.
"A generation of home buyers is set to live under the shadow of complex, onerous leasehold terms – paying rapidly-escalating ground rents, high "freehold buyout" prices, or both," writes Telegraph journalist Sam Brodbeck.
The article reports that the government is likely to "crack down" on leasehold houses in its housing white paper expected next month.
The Telegraph names homebuilding giants Taylor Wimpey, Bellway and Persimmon selling on freeholds and dumping their customers into the mercy of shady freeholders many of which are ultimately owned offshore.
Adriatic Land is named, which hides its ultimate beneficial ownership behind nominee directors.
It is administered, and possibly owned, by Will Astor's £700 million Long Harbour / Homeground ground rent fund.
The article interviews Katie Kendrick, 37, a nurse, a Bellway customer who lives in the Ellesmere Port constituency of Labour MP Justin Madders, who made a powerful speech against leasehold houses in the Commons on December 20. https://www.leaseholdknowledge.com/justin-madders-hell-taylor-wimpey-bellway-redrow-ground-rent-scams-leasehold-houses
She also featured on the December 18 BBC Radio Five Live interview with Sebastian O'Kelly, of LKP. She stepped in after a lawyer's letter, on behalf of conveyancing solicitors engaged in a Taylor Wimpey transaction, intimidated Clair Scott, of Silver Birch Close, in Bolton, not to take part. https://www.leaseholdknowledge.com/shaken-ground-rent-whistleblower-pulls-bbc-radio-interview-lawyers-letter
Mrs Kendrick understood that Bellway would have charged her £4,500 to buy the freehold, or roughly 30 times the annual £150 ground rents.
But it sold the freehold to Adriatic Land, which now wants £13,350 for the freehold to Mrs Kendrick's house, or 89 times the ground rent.
"If I pay the £13,350 that's a hell of a profit for holding the freehold for less than 12 months. I feel I have to do something now, it's only going to go up – it's just extortionate," Mrs Kendrick is quoted saying.
A spokesman for Homeground is quoted telling the Telegraph: "The investors in the freeholds managed by Homeground hold these assets as part of their long term investment strategy.
"They ascribe a value to each property and would only wish to sell it at that level. There is a tribunal process which a leaseholder can turn to if a mutually agreeable price cannot be reached."
In fact, the same spokesman told LKP that these homeowners do not seem to understand that they must negotiate for the freehold.
To which the answer is: these home buyers had not the slightest idea that Bellway was creating an investment asset class at their expense owned by shady and sophisticated investors.
Investors, incidentally, who are so courageous and proud of their wealth-creating business acumen that they choose to remain anonymous.
Sam Brodbeck is eager to write more on this subject and he can be contacted here: sam.brodbeck@telegraph.co.uk