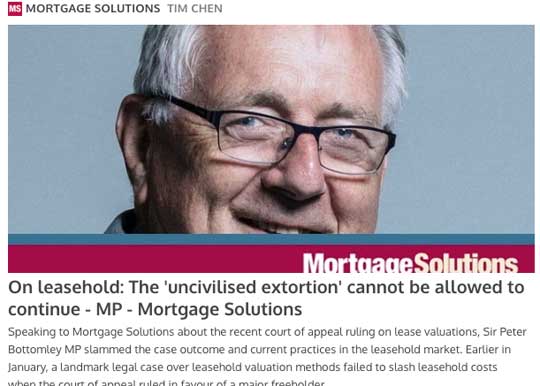 The defeat of the Mundy case is a cue for Parliament to right the injustice of "uncivilised extortion" in the lease extension racket.
"It will cost every leaseholder in the country," Sir Peter told the Mortgage Solutions website.
"Whenever a lease needs extending, there's a potential impact of this judgment in a way which parliament never intended, and which parliament cannot allow to continue."
He added:
"On the particular point about the price of leasehold extension in England and Wales, these problems don't happen in Northern-Ireland, and they don't happen in Scotland."
In these countries, leaseholders can buy out freeholds for a government imposed multiple of annual group rent.
A similar scheme is proposed in a Bill by Justin Madders MP, which was to be called on Friday – now delayed until October.
"I can't think of any other country in the civilised world where such uncivilised extortion is allowed to continue."
Speaking to Mortgage Solutions about the recent court of appeal ruling on lease valuations, Sir Peter Bottomley MP slammed the case outcome and current practices in the leasehold market. Earlier in January, a landmark legal case over leasehold valuation methods failed to slash leasehold costs when the court of appeal ruled in favour of a major freeholder.
By ruling in favour of the freeholder, the court of appeal upheld a previous Upper Tribunal decision – meaning that an alternative relativity graph developed by James Wyatt of Parthenia Valuation cannot be used in leasehold calculations.
Experts say this model, had it been adopted, could have significantly lowered costs in cases where the remaining lease length had dropped below 80 years.
The Gerald Eve model was developed in the mid-1990s at the instruction of the Grosvenor Estate, but property management company, Leasehold Solutions, said the model overcharges leaseholders by an estimated £480m a year.
An estimated 2.1m homes in England and Wales have leases of fewer than 80 years, with 490,000 in London.
"My view is that the Parthenia model is more right [than Gerald Eve]," said Bottomley, who added that while the Parthenia alternative may not be the best conceivable method, it would have been a considerable improvement upon the Gerald Eve model.