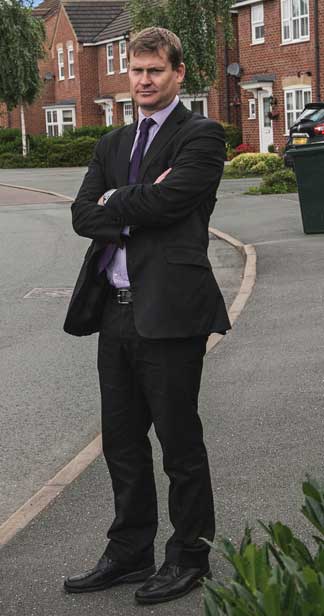 An attack at the heart of the monetising opportunities of the leasehold sector has been launched by MP Justin Madders today.
He is moving a ten-minute Bill to deliver justice for leaseholders by adopting a simple formula set out in law to buy freeholds without the need for protracted tribunals.
If adopted, England and Wales will come into line with Scotland and Northern Ireland in having a centrally imposed formula to decide the value of freeholds and lease extensions.
It would end the incessant horse-trading – and legal and surveying costs – which at exist at present to establish correct valuations.
The process is paid for entirely by the leaseholder, who has to pick up the freeholder's legal and surveying costs as well as his own.
Mr Madders said today: "Abuses of the leasehold system have made huge profits for developers, while causing misery to thousands of people.
"Many owners of leasehold houses were led to believe that they were buying their dream home, but instead they were providing a revenue stream for an offshore company operating from a tax haven.

"The current system allows freeholders to delay and put off people who want to buy their freehold. The whole process is extremely costly, archaic and lacks transparency.

"Great expense is also incurred in just proceeding to a Tribunal to purchase the freehold due to the practice of freeholders using surveyors and lawyers to argue for unrealistically high costs to purchase the freehold.

"The system I am proposing removes the opportunity for them to do that: by creating a simple formula set out in law to purchase a freehold there will be no need to resort to expensive and time consuming tribunals.
"I hope that MPs from all parties will back these reforms, which would make a huge difference to large numbers of their constituents."
A straightforward, cost effective and fair system would help the owners of leasehold houses to purchase the freehold of their home, and owners of flats where a majority of leaseholders within a block wish to purchase the freehold.
The new system for would be based on a simple calculation with a cap on the total paid for a freehold, and would replace the lengthy, complicated and expensive system of enfranchisement currently in operation. Similar systems exist in Scotland, Northern Ireland and a number of other countries.
Property tribunal upholds lease extension 'scandal' that pays millions to freeholders
The enfranchisement and extension racket has been exposed in the courts by chartered surveyor James Wyatt, of Parthenia, who has described it as "the biggest rip-off in leasehold".
Last year he demolished the mathematical model dreamed up by chartered surveyor giant Gerald Eve that has established values for 20 years.
It was commissioned by the Grovesnor Estate of the Duke of Westminster. But Mr Wyatt failed to get his own leaseholder-friendly model accepted by the courts.
As a result, the issue is going to the Court of Appeal.
But were Mr Madder's legally enforceable formula adopted, arguments would cease and freeholds would have to be sold to leaseholders for a sum without argument.
The new Bill also seeks to establish a new compensation scheme for those who have been misled into leasehold agreements and to change the rules around the award of legal costs in Property Tribunal cases, which Madders claims are "unfairly weighted in favour of the freeholder."
The Leasehold Reform Bill is to be introduced through the 'Ten Minute Rule' procedure, which allows an MP to make their case for a new law. The process will start with a ten-minute speech by Justin Madders in the House of Commons on 7th November 2017.
The Government consultation, "tackling unfair practices in the leasehold market" closed on 19th September and proposed a number of measures including banning the sale of leasehold houses in future and limiting the ground-rent levied on other leasehold properties.
While Mr Madders, who is also the Deputy Chair of the All Party Parliamentary Group on Leasehold Reform, welcomed the Government's proposals, he expressed concern that they did nothing to address the issues being experiences by existing leaseholders.
Mr Madders MP said:
"While I welcome the Government's proposals, they do nothing to address the injustice that current leaseholders face, many of whom feel trapped in properties with escalating ground rents because of the complexity and expense of the current system for purchasing freeholds."
LKP says:
"Justin Madders is storming the citadel of the corrupt leasehold system, which allows murky and anonymous interests to make cash cows out of people's homes and provides a gravy train for legal and property professionals, sometimes of dubious calibre and integrity."