'He lived among his victims with no apparent shame or remorse'
The respected finance director of a residents' management company at Bryanston Court in central London was exposed as a thief after a £1.8 million cheque bounced.
Brian Copsey, an accountant from New Zealand, plundered his neighbours of £1.1 million "to pay for his children's education" … and to fund an "extravagant lifestyle".
On Tuesday, Copsey, 60, was jailed for eight years at Southwark Crown Court, and banned from being a company director for 12 years.
He stole the money at the 57-flat block, near Marble Arch, by forging bank documents authorising money paid in service charges by residents. The funds were transferred in £100,000 tranches to companies that he controlled.
Because he was a chartered accountant, Copsey was appointed to finance chairman and director of Bryanston Court Management Limited and Bryanston Court Freehold Limited.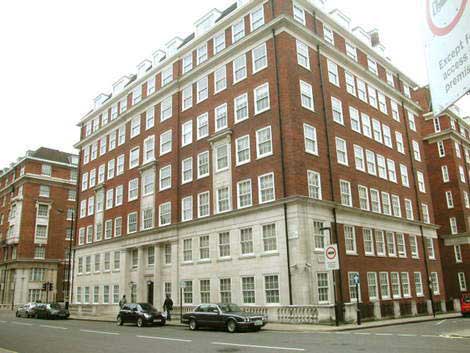 He was responsible for gathering in the service charges at the flats, and manage funds for a substantial planned refurbishment of the building.
Instead, he decided to spend defrauded funds totaling £1,160,525 on himself.
Copsey was arrested on October 28 2012 by Westminster CID investigation after the horrified board learned that a cheque for £1.8 million had bounced.
For two years and nine months, bank transfers were made from the two companies to companies over which Copsey had sole control.
The cash was then doled out to recipients who included his wife, his two sons and to their private school in New Zealand. He also made payments towards his own personal bills.
Copsey attempted to hide his fraud from his neighbours by emailing board members to say the funds were safely invested in the money markets to achieve some "additional yield".
Unsurprisingly, nothing was returned.
Copsey had been spending the money as if it were his own, and for the benefit of himself, his associates and his family.
"Brian Copsey abused the trust placed in him repeatedly for almost three years," said Detective Constable Julie Jode of Westminster CID.

"The victims in this case were neighbours and friends whom he saw on a daily basis. Despite the revelations of Mr Copsey's actions he continued to live among his victims with no apparent shame or remorse.

"These transfers appear to have been made in order for Brian Copsey to spend the money and in effect run these accounts as if they were his 'pocket money' accounts at an extortionate loss to multiple victims in this case.

"The victims were Brian Copsey's neighbours, some of which were friends all living in the same block as him, some being elderly and retired, some who had to take loans out to pay their contribution to the service costs and refurbishments of the building.

"Money which Brian Copsey appears to have disposed of on his own personal bills and commitments.

"Hopefully this conviction will send a strong message to others that the Metropolitan Police Service will seek to arrest and put before the courts anyone engaged in this type of criminality to keep our communities safer."
COMMENT
There is no denying that a jailed director of a residents' management company sounds a cautionary note for those who campaign to empower leaseholders.
Especially when the sum involved, £1.1 million, was so vast. This total dwarfs the £120,000 stolen by managing agent Simon Van Houten, employed by Rendall and Rittner, who was jailed last year.
Leaseholders must be vigilant and demand to see evidence of accounts – bank statements and actual invoices, for example – rather than simply rely on breezy assurances.
Brian Copsey has demonstrated that that is equally important, whether dealing with a Rackman or your charming neighbour who lives on the fourth floor.
There will be no shortage of finger-wagging among the usual stooges of the status quo who will use this case as an example of why leaseholders should not manage their own affairs.
It will be argued that property management is best left to "professionals" who are regulated by codes of practice, vigilant trade bodies and have meticulous standards, confirmed by a slightly unfamiliar jumble of letters after their name.
They will be employed, of course, by freeholders of irreproachable character, whose offshore holding companies should cause no alarm at all …
The truth of the matter is that while the leasehold system can and should be reformed, there is little anyone can do to prevent outright criminality.
On this occasion, the man going down was a leasehold resident director of an RMC. But it could be the turn of a property manager, a freeholder, a bent lawyer, surveyor or auditor.
It is an open question what the next leasehold scandal will reveal.
The only certainty is that there will be one.