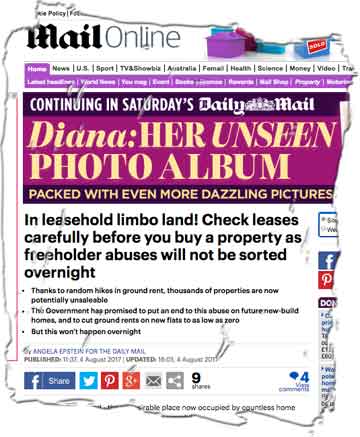 The Daily Mail makes a good point today: tens of thousands of leasehold house owners – and a fair few thousand potential buyers – are in limbo land.
They do not know what is going to happen to this form of tenure.
LKP's advice is: do not touch a leasehold house with a barge-pole.
They are a scam and the housebuilders have acted disgracefully and need to put right matters with their wronged ex-customers.
If you want to buy a house, insist on it being freehold and don't pay much for it, either.
Many of the valuations of the leasehold houses do not stand up to close scrutiny.
And always, always, ALWAYS your own lawyer and valuer and pay for them. If you cannot afford to – and so are tempted by the sellers' freebies – ask yourself a) why are they free?; b) can I afford to buy anyway?.
The leasehold house racket is now done for, whatever the detail of Sajid Javid's policy.
He has a whip hand: developers' shared plunged five per cent today on news of a threat to the Help To Buy scheme, by which taxpayers help first-timers buy new-build homes.
45 per cent of Taylor Wimpey's business depends on this taxpayer funding.
Ditto Persimmon.
This story still has legs …