… But it wants further feedback, so let them have it!
… Oh, and oldies are happier than those in non-retirement flats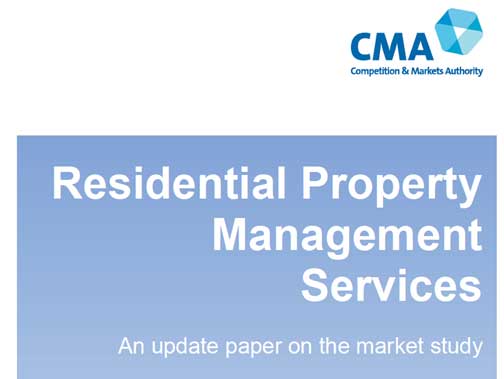 The Competition and Markets Authority (CMA) has today issued an update on its market study (see below) into the provision of residential property management services in England and Wales.
LKP / Campaign against retirement leasehold exploitation applauds this study and the work of those behind it. The CMA has understood many of the issues and does not seem to have been hoodwinked by the sector, its assorted trade bodies, hastily issued codes of practice, customer charters, PR blow-hards and similar.
It was very welcome that the CMA dismissed a favoured nonsense of Michelle Banks, of ARMA, and the bilius Jeff Platt of the Institute of Residential Property Managers:
"… we found limited and mainly anecdotal evidence to support the allegation that non-trade-association property managers are responsible for the majority of problems that occur in the RPMS market."
In January, Platt, an apologist of the status quo, promised to supply evidence to the CMA of bullying by right to manage activists in retirement developments.
That utterly piffling and dubious point does not seem to have seen light of day in the CMA report.
We will study this in depth, but there is an alarming reference for Campaign against retirement leasehold exploitation readers: those in retirement flats are more content with their lot than those in non-retirement sites, according to a poll the CMA ran.
In what will bring tears of joy to retirement housing managers and those philanthropists who have bought up retirement freeholds at auctions, the CMA reports:
"We noted that some concerns expressed at the outset of the study have not been supported by the evidence we have collected:

● We have considered whether residents of leasehold retirement properties may be particularly vulnerable to adverse outcomes, and whether the provision of specialist services could raise the potential for additional harmful practices (such as aspects of charging in relation to alarm and security systems or the provision of accommodation for on-site managers).

However, we received few complaints specific to retirement property issues, and according to our leaseholder survey, leaseholders in retirement properties had higher levels of satisfaction than other leaseholders with property management services.
LKP / Campaign against retirement leasehold exploitation was a bit surprised when forewarned of this, but not unduly.
Only a minority in retirement housing have the will and capacity to understand the leasehold game – often played here by sophisticated corporate interests – and even fewer are in a position to do anything about it.
This means that when a retirement site opts for right to manage, something has usually gone spectacularly wrong.
There is plenty of evidence about retirement leasehold in the court records, the two OFT reports and Campaign against retirement leasehold exploitation itself, for the CMA to be going on with.
But you must ensure that your concerns are heard, so please do write to the CMA here:
propertymanagers.study@cma.gsi.gov.uk

The CMA study, which was launched in March 2014 by the CMA's predecessor the Office of Fair Trading (OFT), is looking at whether the market is working well for leaseholders and whether there is effective competition in the sector.
Broadly, The CMA has identified a number of causes for concern about how the market works. Some leaseholders appear to suffer from a lack of control over aspects of property management, and may experience excessive or unnecessary charging for services arranged by property managers, poor service quality, insufficient transparency, poor communication and ineffective redress.
At the same time, other leaseholders are satisfied with their property management services and the CMA has found evidence to suggest that the existing checks and balances in the market can work well.
In light of this, the CMA has set out some views on possible remedial action to improve the performance of the market and secure better outcomes for leaseholders, on which it is seeking views.
Rachel Merelie, Senior Director of Delivery, said:
'Whilst the market works well for some leaseholders, our emerging findings suggest that improvements may be needed in a number of areas. Given the broad range of issues we are considering, we have decided to seek views at this stage on a range of possible remedies to the problems we have identified. This will help us to develop recommendations that are both effective and proportionate.'
All comments should be sent by September 19 2014 to:
Residential Property Management Services Study Competition and Markets Authority
Victoria House
37 Southampton Row
London,
WC1B 4AD
propertymanagers.study@cma.gsi.gov.uk
The CMA will publish its full report by the end of 2014.
The full update report can be read here: