The Competition and Markets Authority was given LKP's insight into the leasehold houses mis-selling scandal yesterday.
The meeting was hosted by LKP patrons and APPG co-chairs MPs Sir Peter Bottomley and Jim Fitzpatrick and Justin Madders, the deputy APPG chair on leasehold reform.
Mr Madders, a solicitor, has spoken out many times about the mis-selling of leasehold houses, of which he has an abundance in his Ellesmere Port and Neston constituency.
The Competition and Markets Authority term were:
George Lusty – Senior Director, Consumer Enforcement
Simon Jones – Director of Litigation and Project Director for Leasehold
Niki Sharp – Assistant Director, Consumer
Gill Street – External Relations
LKP told the CMA that developers gaming the leasehold system had blighted lives and introduced toxic leases in to the housing market.
None of the secretive developer-initiated redress schemes adequately address the issues, with RPI variations to ground rents barely less scandalous than the 10-year doubling ground rents that opened the scandal to public concern.
There was discussion about the Persimmon out of court settlement in the action initiated by Trading Standards in Cardiff, where Persimmon offered leasehold house buyers their freeholds and reimbursed ground rent that had been paid.
This initiated an email dump last week to the CEOs of plc house builder firms by the National Leasehold Campaign demanding that the same is done by others across the country.
We also highlighted the lack of consistency over freehold valuations, with plc house builders telling MPs that the difference in value between a leasehold house and a freehold house was around £3-5,000.
This completely undermines the arguments of the freehold owning speculators who have spent a fortune in the courts and with "professional" witnesses to argue up freehold valuations considerably.
So what a developer might value at £6,000 becomes £30,000 once it is transferred to a ground rent speculator, invariably anonymous and hidden offshore.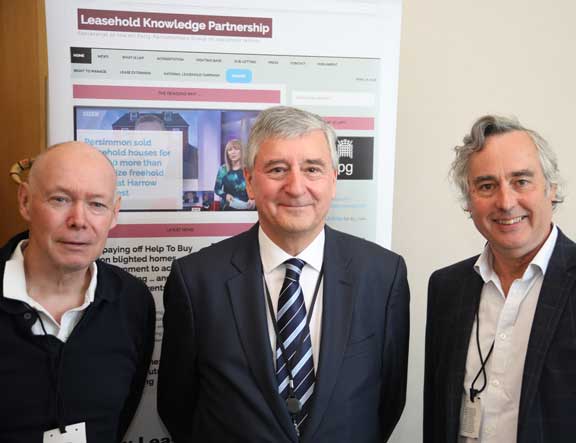 The CMA were also told that many desperate leaseholders had had to extend their leases paying these sums in order to move on with their lives.
Pensioner Trevor Nowell, 81, paid £42,000 to extend his lease and end the ground rent on his Taylor Wimpey house at Oakdale Drive, Whalley, Clitheroe.
Mr Nowell paid up the money to the secretive fund E&J Capital Partners, based in Winchester.
Because he paid up, he is ineligible for any help from Taylor Wimpey, which dumped him in a property with toxic lease terms in the first place.
Pensioner paid £38,000 for Taylor Wimpey freehold to ground rent speculators E&J Capital Partners
The CMA was told of ambulance chasing law firms signing up desperate leaseholders in professional negligence actions against their conveyancing solicitors. This will be a cherry-picking exercise, with only the best cases advanced – often with untransparent processes by the law firms.
LKP is aware of 17 successful settlements against developers' stooge solicitors who so dismally failed to represent the buyers' interests.
At Sir Peter's insistence, LKP was asked to pass on the details of the Martin Paine leasehold activities, as background to the investigation.
Affluent freehold-owning couple's lease terms bring ruin to families who bought flats that are virtually worthless