… and now we are "working with" the CMA inquiry (or, rather, being investigated by it, as others might put it)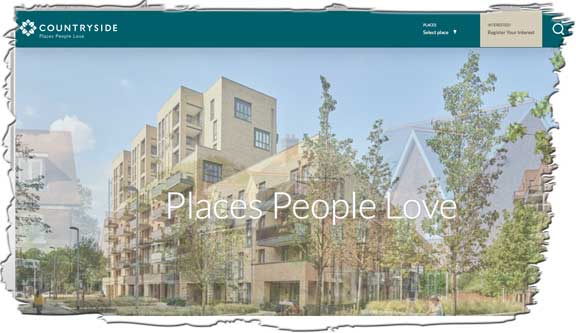 Countryside Properties plc has responded to leaseholders who wrote in last week demanding the freeholds to their homes.
Here is the PR-crafted response. But to save you the effort, it could be precis-ed like this:
We've signed the developers' pledge, concocted with the help of that champion of consumers' rights the Home Builders Federation;
We've investigated the matter thoroughly and exonerated ourselves (perhaps giving a bonus to the exec responsible);
We're "working with" the CMA investigation prompted by our greediness and stupidity.
"We shall of course be guided by the CMA's conclusions …" Very good of you, but you might on the other hand be instructed to pay out millions if there is a mis-selling finding.
Here is the Countryside Properties plc version in full:
We write in reply to your September 2019 email requesting the 'return of the freehold to your property'.

Over the last 2 years we have worked closely with the Government and the Home Builders Federation to address the concerns of home owners with regard to leasehold tenure and the freehold reversions. The outcome of that work to date, the Public Pledge for Leaseholders, has been published on the website of the Ministry of Homes Communities & Local Government: https://www.gov.uk/government/publications/leaseholder-pledge/public-pledge-for-leaseholders. The Pledge sets out the obligations of the freeholder and the obligations of the developer. We can therefore only refer you to the holder of your freehold reversion to address the request that you make for return of the freehold.

We have conducted a comprehensive review of the sale of leasehold properties, which included carefully reviewing our past sales files and interviewing relevant staff (where they are still employed by us). Our review found that our processes complied with the Consumer Code for Homebuilders and that the tenure of the property (leasehold) was made clear to purchasers during the sale process. Whilst we do not have evidence of the specifics of any oral representations made by individual sales staff about purchase of the freehold, a review of all training materials and available evidence refutes any basis for them to make a statement beyond outlining the rights contained within the Leasehold Reform Act 1967 (see: http://www.lease-advice.org/faq/i-own-a-leasehold-house-how-do-i-buy-the-freehold/). Later in the sales process, all purchasers will also have received independent advice from their chosen solicitor/conveyancer, whose role it is to explain the type of ownership (including the difference between freehold and leasehold) and the terms of any leasehold.

Finally, as has been widely publicised, Countryside, along with all other major homebuilders, is working with the Competition & Markets Authority (CMA) to provide them with all relevant materials to facilitate their review of the marketing and sale of leaseholds and reversions. In line with our homebuilding peers, we shall of course be guided by the CMA's conclusions.

Andrew J Loveday
Countryside Properties plc