Hopes of a breakthrough for householders trapped in the leasehold scandal are rising after a major developer agreed to buy back some freeholds and axe controversial ground rent clauses. Countryside Properties, which sold some of the freeholds on its houses to ground rent company E&J Estates, has agreed to buy a number of them back with a view to releasing homeowners from clauses where ground rents double every 10 years.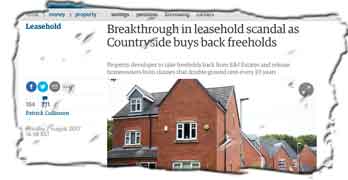 Countryside Properties plc's buying back freeholds with 10-year doubling ground rents and offering them to leaseholders puts pressure on Taylor Wimpey to do the same.
The announcement was immediately reported by The Guardian, and the Daily Mail, putting further pressure on Taylor Wimpey to revise its inadequate handling of the issue.
LKP points out that the Countryside Properties plc deal excludes doubling ground rents of every 15 years – which would not be mortgageable by Nationwide and other lenders.
We understand that the deal only involves four-five sites with leasehold houses.
Countryside Properties plc has not yet secured agreement with Adriatic Land to buy back the freehold at Silver Point, in Edmonton, north London. It is a block of flats where ground rents double every ten years, meaning that they are now unsellable.
Adriatic Land is part of the Long Harbour group run by William Waldorf Astor, half brother-in-law of Samantha Cameron.
It has residential freehold assets estimated to be worth around £1.3 billion.
Canadian billionaire Frank Sixt, a telecommunications entrepreneur at Hutchison Whampoa in Hong Kong, was a director until 2014.