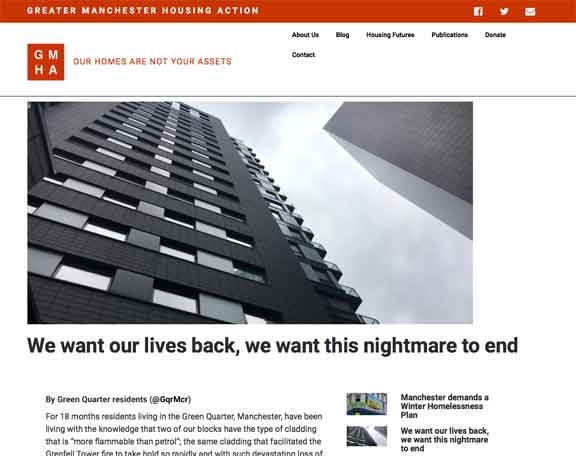 ---
"For residents in private sector buildings identified as having this accelerant-type cladding we were often hopeful and encouraged by Government assurances from James Brokenshire and Kit Malthouse, that the cost will be met, not by leaseholders, but by the freeholder or developers.  In a statement regarding this issue, Brokenshire threatened that if they did not "do the right thing", they may be banned from public sector contracts in the future – the threat stated that if developers did not do the right thing sooner, they would face the consequences later.
"This hope turned to despair as we were taken to a First-Tier Tribunal by our freeholders so that they could seek to confirm if they could legally claim back, from leaseholders, the cost of any remediation works. 
"For us, the frightening confirmation that we would liable to pay the cost of making our homes safe arrived with the Tribunal's legally binding decision in late July 2018. The ruling, citing the sweeping clause contained in most leases, informed us that cladding replacement costs (and associated costs of waking watch) could legally be reclaimed via the service charge provision.  It was legally justifiable, but morally indefensible …"
---
By Green Quarter residents (@GqrMcr) For 18 months residents living in the Green Quarter, Manchester, have been living with the knowledge that two of our blocks have the type of cladding that is "more flammable than petrol"; the same cladding that facilitated the Grenfell Tower fire to take hold so rapidly and with such devastating …
A powerful article from leaseholders in Manchester's Green Quarter, with the Grenefell cladding sites Vallea Court and Cyprus Place, build by Australian giant Lendlease.
Here is Professor Susan Bright, calling for government intervention on Twitter today:
Those living in unsafe blocks are in an impossible situation. The government has to intervene. It is a major safety issue. We cannot have another Grenfell. This blog shows how all consuming it is trying to get help @GqrMcr https://t.co/LRrrFYlPoj

— Sue Bright (@suejbright) January 20, 2019
£3m Grenfell cladding bills fall on residents at Lendlease's Cypress Place and Vallea Court