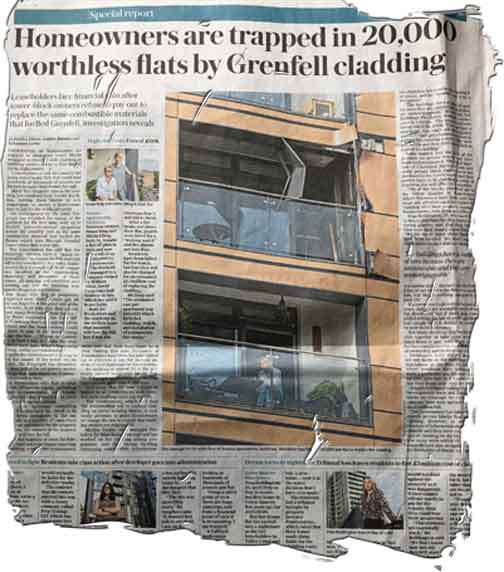 The Grenfell cladding disaster for private flat owners got another airing last Saturday, this time in the Daily Telegraph.
It claims that 143 private blocks have failed the governments fire safety tests involving 20,000 leaseholders.
"The Government has said that the building's owners have a "moral responsibility" to ensure that the bill does not fall on the leaseholder," the newspaper says.
"But many homeowners face a complex web of companies involved in the construction, ownership and insurance of their homes, all denying responsibility and pointing out that the building was signed off against regulations.
"For those who live in properties completed more than 10 years ago, all they can hope for is the goodwill of the freeholder. With bills that they cannot afford, many face losing their homes."
The "goodwill of freeholders" is not a quality much in evidence in the leasehold sector, especially where freeholds are owned in murky corporate structures and often held offshore.

Heysmoor Heights in Liverpool is an example, where the freehold Abacus Land 4 Limited is based in Guernsey and is part of Will Astor's Long Harbour group.
The assiduous lobbyists for the freeholders tell government that blameless insurance companies and pension funds own residential freeholds. But private equity speculators have been piling into this market for more than 15 years.
The Tchenguiz Family Trust, based in the British Virgin Islands, which taught Mr Astor about the commercial possibilities of leasehold and owned one per cent of all residential freeholds, is hardly a pension fund.
Thousands of homeowners are trapped in dangerous tower blocks wrapped in Grenfell-style cladding as building owners are refusing to foot the bill for it to be replaced. Leaseholders across the country are being asked to pay bills which could total hundreds of thousands of pounds per flat just to make their homes fire safe.
Sir Peter Bottomley, LKP patron, told the Telegraph:
"Cladding that's not safe should be removed and the leaseholders should not have to pay. If the law is wrong change the law … It is up to Government to find a way [to make the owners fulfil their duty. What's happening os wrong, unfair and intolerable."
The cladding issue, as with onerous ground rents which affect 100,000 leasehold flats and houses, has a serious consequence for the government's Help To Buy scheme.

Many of these blighted properties were bought with taxpayer-backed loans and there is no prospect that they will be repaid while the properties are unsellable.
The Telegraph singled out the Green Quarter in Manchester – Cypress Place and Vallea Court – which were built by Lendlease and where freehold speculator Pemberstone established the leaseholders' liability to pay the cladding removal costs last month.
£3m Grenfell cladding bills fall on residents at Lendlease's Cypress Place and Vallea Court
Fran Reddington, a leaseholder who used Help To Buy, tells the Telegraph that she has no idea how she will be able to pay the cost.
"We try not to think about those images of Grenfell. We don't want to think about the fact that our building is in a similar state.
"At the forefront of our mind is the financial problem, but that is nothing compared to your life."
Of all the miserable property market stories around at the moment, the ones about the owners of flats in buildings covered in Grenfell-style cladding are among the worst. According to the Telegraph, around 20,000 leaseholders face bills that could "total hundreds of thousands of pounds just to make their homes safe" (a total of 293 private blocks are involved).
The Telegraph also references Arc Tower in Ealing, where a number of the block's 93 leaseholders are launching a class action.
The contract that the owners entered into was with a Jersey company, Frep (Ealing) Limited which has gone into administration.
Galliard was the building contractor, but it is denying responsibility, as it did at New Capital Quay.
The newspaper quotes solicitor Gurpeet Sanghera, a leaseholder, saying: "If we have to pay ourselves we are potentially looking at hundreds of thousands of pounds per flat."
Sesame Apartments was also referenced in the article, yet another freehold in Will Astor's fund with cladding issues.
Sesame Apartments: Yet another anonymous Long Harbour freeholder demanding £2.2 million over Grenfell cladding