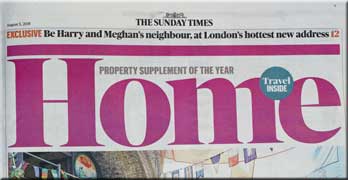 By Sebastian O'Kelly
It was good to be able to use a small Q&A article in yesterday's Sunday Times to offer a mini guide for leaseholders.
This is the sort of thing the Leasehold Advisory Service should be putting out, if it were not in thrall to the commercialisers in the sector.
Indeed, it was an opportunity to remind the wider public that this organisation has been rebuked by ministers and told to do its job properly.
Until its monopoly position as the taxpayer funded "support" service is ended, it is simply an impediment to reform.
Did it alert government to doubling ground rents? No. To the mushrooming of leasehold houses? No. Is it responsible for the civil service and Law Commission examining this sector? Not to the slightest degree.

All the reforms currently being considered are despite the Leasehold Advisory Service, not because of it.
On the other hand, has it hosted seminars advising freeholders how they can scam leaseholders with insurance commissions of 50 per cent? Yup.
Has it honed up the skills of freehold speculators such as Martin Paine – who lands ordinary families with ground rents of £8,000 a year? Yup, a second time.
Is it keeping its fingers' crossed hoping that the current wave of leasehold reform fizzles out? Almost certainly.
And so it goes on …
Sunday Times article below (click image to expand).
Please feel free to add other points in 'comments':