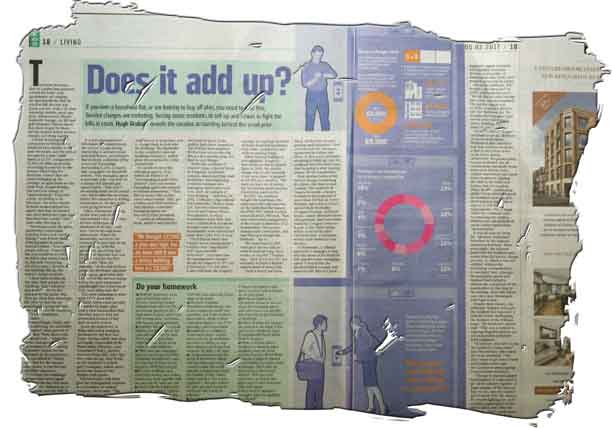 Under the headline "Does it add up?", The Sunday Times exposed ever escalating service charges in an excellent, well researched article by journalist Hugh Graham published yesterday.
Property buying agent Paul Bailey was quoted saying that ever escalating service charges are under-mining capital values in prime London sites.
"It does not matter to the billionaire in the penthouse, they can afford it," Mr Bailey is quoted. "But for the tenants lower down, it can become incredibly expensive."
Martin Boyd, of LKP, said that it was "not uncommon" for developers to underestimate service charges so as not to scare off buyers.
Once the freehold is sold off it is all too frequent for the freehold and the management to be under the same ownership.
"Over-charging is part of the process," one veteran managing agent was quoted. "They find as many ways to make money as possible. They get creative with their invoices.

"And landlord-controlled managing agents are becoming more prevalent."
The case of Charter Quay is re-examined, which is chaired by Martin Boyd, also a trustee of LKP.
It won back £500,000 in overpaid service charges to the Tchenguiz organisation (County Estate Management), and the residents have now bought the freehold (unaccountably for more than £2 million less than the Tchenguiz organisation had valued it).
Sir Peter Bottomley reference this issue at the Leasehold Advisory Service, questioning how professionals could have gone along with such a valuation, which would of course have made this asset more valuable as security for further loans.
The article also turned its attention to the poisonous dispute at Canary Riverside, a prime Canary Wharf site with a five-star hotel in situ.
The freeholder here is John Christodoulou, a Monaco-based property tycoon who owns the Yianis group.
The property tribunal found the site to be very poorly managed and agreed to appoint a court-appointed managing agent: ie one accountable to the court for the site.
Having lost at the lower tribunal and the lower tribunal, and been refused appeal, Mr Christodoulou is challenging this with a judicial review. There has been constant legal wrangling since the case.
Indeed, the case was up before the courts again today.
An unnamed resident – as 110 members of the residents' association were threatened with libel proceedings at one stage by Mr Christodoulou's litigation solicitor David Marsden, the anonymity is understandable – was quoted saying:
"The law is stacked against leaseholders. It is also hard to get all the lessees together. A large number of the flats are buy to let, and we could not get in touch with the owners.

"It is worth fighting for, as it is actually a great place to live – the views and location are great.

"But I would never buy leasehold again. It is a nightmare."