There is to be no commonhold. No regulation of managing agents. No reform of right of first refusal
And yet another 'consultation' on capping existing aggressive ground rents, but that is strategic to stop legal challenge
Proposed reforms will strip out most of the dodgy income streams of leasehold
Service charges to become transparent formula. Ditto insurance, with commission fiddling ended.
Enfranchisement racket to be overhauled, and costs stripped out. 'Fleecehold' victims to have right to get rid of management companies
With leasehold recognised to be this toxic, which major housebuilder is going to be the first to start the move to commonhold?
By Sebastian O'Kelly
UPDATE Monday 13 November 2023: Number 10 sacks Rachel Maclean
Rather unpleasant surprise for us, too. So … it may be Labour that has to deliver on reforming leasehold and commonhold after all @justinmadders @MikeAmesburyMP @charlotte2153 https://t.co/h8W4e87ovC

— Leasehold Knowledge (@LKPleasehold) November 13, 2023
Housing minister Rachel Maclean assured MPs in the All-Party Parliamentary Group on leasehold and commonhold reform last night that the Leasehold and Freehold Bill would be "a generational transformation" of the leasehold system.
The outlines of the reforms announced in the King's Speech yesterday have been reported in the media, such as by LKP here:
Leasehold changes were a key component of the King's Speech – but how much will the reforms help?
Minister Maclean acknowledged that the reforms were not going to satisfy everyone, that government has a year of life left in it before facing the electorate and that it is determined to deliver almost all that LKP and other campaign groups have fought for over many years.
She praised the work of LKP and warmly welcomed the appointment of Martin Boyd, LKP chair, as the new chair of the government quango the Leasehold Advisory Service, about which LKP has been deeply critical over many years.
"I want to also thank the Leasehold Knowledge Partnership for their dedicated work," she said. "You've exposed some of the abuses in this system and given us that impetus, because we could then see these injustices. We knew that we needed to act.
And continued:
"Your first home should be a milestone. It should be a moment of celebration and pride. And we do believe that you should be able to do it with the certainty that homeownership is exactly that: ownership in the fullest sense of the word. But instead, as we are all too aware, far too often the dream of homeownership has become a nightmare.
"Soaring service charges, rip-off insurance commissions, escalating ground rent, and a sense of being left in the dark and the system working against you rather than, for you.
"We will be able to put this right through a comprehensive programme of reforms to protect existing and future generations of homeowners.
"So, we will be banning the creation of new leasehold houses, so that other than in exceptional circumstances, every new house in England and Wales will be freehold from the outset.
"We will be making it easier and cheaper for leaseholders of both houses and flats to extend their lease or buy out their freehold saving leaseholders thousands of pounds. While at the same time, helping them to gain greater security over the future of their homes.
"We will seek to lengthen the standard lease extension for both houses and flats to 990 years with a peppercorn ground rent.
"And we will also remove the requirement for leaseholders to have owned their property for two years before they can benefit from these changes.
"And I'm pleased to tell you that we will also shortly be consulting on options to cap existing ground rents in England and Wales [see below], and we are looking at the impact of these options of how we might bring about this change.
"In addition, following our consultation on increasing the non-residential limits for collective enfranchisement and the right to manage for those living in mixed-use buildings, we plan to raise the threshold [of commercial property] to 50 percent allowing many more leaseholders to access these rights.
"And as we develop this legislation, the secretary of state and I have been especially focused on cracking down on the poor, unresponsive or even exploitative practices which blight the daily lives of leaseholders. And so we propose to boost transparency over leaseholder service charges meaning that all the leaseholders better understand the cost they're being charged and are better equipped to challenge them if they are unreasonable.
"We will be replacing insurance commissions with transparent administration fees, ending the egregious practice of leaseholders being charged exorbitant, opaque commissions on top of their premiums.
"Now, it's bad enough that these leaseholders are subject to such poor practices, but even worse that it's so hard to challenge, therefore, we intend to scrap the presumption that leaseholders pay their freeholders' legal costs, even when they win a tribunal case, levelling the playing field and correcting a historic imbalance.
"Like you, I'm also concerned about the experience of freeholders living on managed estates, which too often fall short of what they deserve. And this is something that we are also intending to address.
"And on top of this, we proposed to further strengthen and improve leaseholder protections in the Building Safety Act, demonstrating our commitment to empowering leaseholders across the board.
"Last but not least, I would like to welcome very much the appointment of Martin Boyd as the new lease chair.
"I don't need to tell you that he's a tireless and fearless advocate for leaseholder rights for many years. And he has used his knowledge and experience to provide valuable advice to those most in need, in addition to others at the Leasehold Knowledge Partnership.
"It's really hard for myself, or the secretary of state, to think of anybody more fitted to lead and to strengthen LEASE so that it can help more leaseholders and park home owners, playing a key role in supporting them to make the most of the benefits and opportunities afforded by the fourth coming Leasehold and Freehold Reform Bill
"So, this for me is a vital part of our agenda, restoring fairness to homes. It is what i want from my children and grandchildren and I am sure it's what you all want as well."
---
Minister answers questions from APPG
Justin Madders, APPG co-chair (above), wanted a commitment that the reform would be an early Bill with a serious chance of going through the Commons before an election, which unsurprisingly he did not get from the housing minister.
But he also asked why existing ground rents not to be removed.
Minister Maclean's answer was interesting, acknowledging the reforms to ground rents could prompt a legal challenge that consultation might mitigate:
"Regarding the ground rent we do need to consult," she replied. "You will understand that because this is property it is an incredibly complicated sector founded with a lot of legislation. We have to think carefully and proceed proportionately in order to avoid the government being tied up in endless legal challenges.

"We have to do this in a certain way and that is why we have to consult, but nevertheless we've said very clearly that we do agree with you that ground rents are money for nothing. We do want to see them reduced to a peppercorn and this is the right, most appropriate and sensible way to do it."
---
Mike Amesbury, Labour MP for Weaver Vale, wanted the minister to explain how leaseholders whose position has been made worse by the Building Safety Act can be helped.
Minister Maclean replied that "significant changes to protect leaseholders" had already been made. "But there are nevertheless, some people who have not been able to take advantage of those measures. We are going to remedy those and bring more people into the scope of the protection."
Omitted here is the Building Safety Act excluding section 24 court appointed managers from being the "accountable person". This means, as Liam Spender indicated in his contribution, that the toxic war of attriction between leaseholders and their offshore landlord at Canary Riverside in London's Dockands, which has lasted years, will end with the detested landlord returning to manage the site and control the service charge even though his management was kicked out by the property tribunal.
---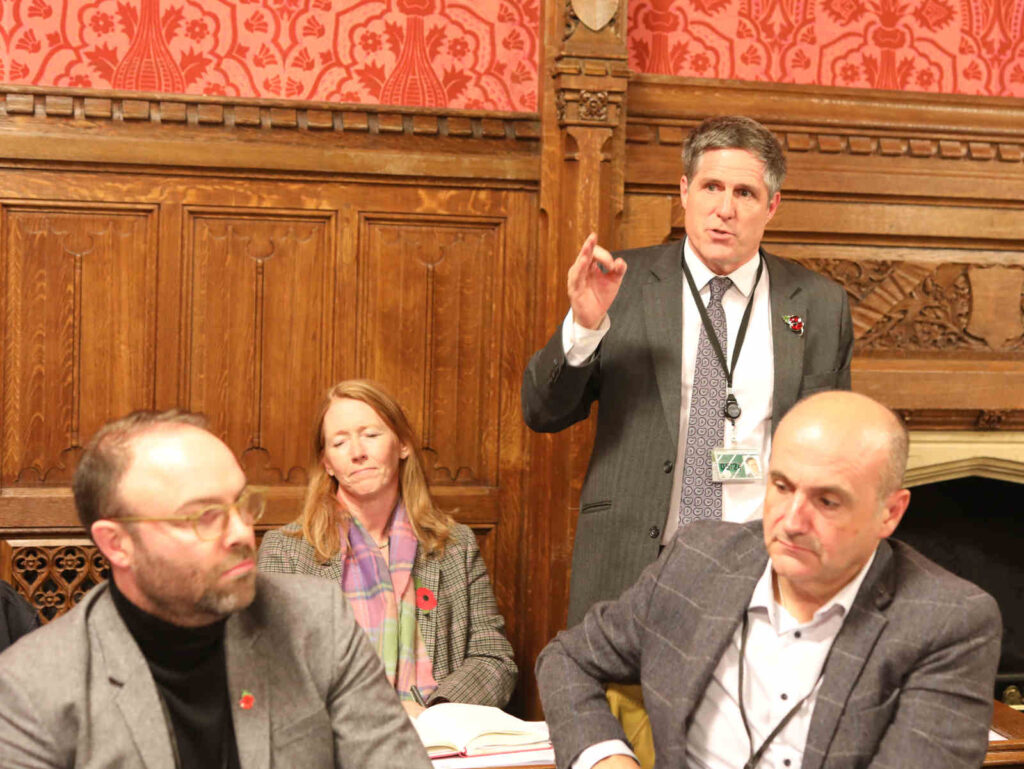 Anthony Browne (above), the Conservative MP for South Cambridgeshire, wanted to know why leasehold flats were not to be banned – by the mandatory introduction of commonhold. Several specialist stakeholders also lamented this omission, knowing that only by killing off leasehold altogether – that is, selling flats as tenancies – are its imbalances finally removed.
Minister Maclean replied: "No Bill will ever be perfect or deliver 100% of what people want, but this one does deliver a very significant number of the asks that the campaigners, leaseholders, homeowners have campaigned for rightly and demanded for many, many years.
"It is delivering the things that will make a real difference to people's lives because it will free them from the situations that they are stuck in. Nevertheless, we are aware that some people would like us to go further.
"But it is not possible within the confines of what we have in front of us now [that is, the time the government has left], but i believe it is important that we get on with delivering what we have in front of us, which will really impact on people. And does fulfill our manifesto commitments to reform the leasehold system."
---
Helen Morgan, the LibDem MP for North Shropshire, wanted assurance that private managed estates – "fleecehold" – would be addressed.
Minister Maclean replied:
"We will absolutely provide a method for them to change their managent company, appoint a new management company and challenge the ridiculous and outrageous charges that we have heard of from you and from others. Details of exactly how this will work will be in the Bill, but I can assure you, at high level, that those are the objectives that we are going to seek to legislate for.
---
Sir Julian Lewis, Conservative MP for New Forest East, raised the highly controversial permitted development rights that gifted landlords an extra two storeys on top of their blocks of flats without full planning permission.
LKP has reported this ill-conceived – and pretty pointless – attempt to boost housing supply here:
Sir Julian said: "Will the government now stop encouraging the sales of airspace over blocks of flats? This enables freeholders to set special companies to build an extra floor or two – imagine what that's like living in the top floor flat?
"The work is botched. The company set up to do it winds itself up, and the freeholder then tries to charge the leaseholders for all the remediation works involved. And yet government has been actively encouraging this practice."
Sir Peter Bottomley explained explained that this was statutory instrument 2020/632 "which causes absolute and complete chaos, and gave the equivalent of several billion pounds to landlords.
"They ruin the values of the homes or the lives of many leaseholders not just by doing the work but by threatening to do the work or by selling flats that don't exist."
Minister Maclean replied that the veteran MPs were raising an issue "that I'm aware of from my correspondence does affect people". But enfranchisement would help.
Sir Peter replied: "If people do enfranchise they should not have to pay for the hope value of what might be allowable under 2020/632 features."
LKP is aware of numerous enfranchisement cases where these permitted development rights are cited as grounds for a hugely inflated freehold value.
---
Beth Rudloph, of the Conveyancing Association which has been so vehement in its criticisms of leasehold administration fees levied at point of sale of flats, asked about the regulation of property agents as advised in the Regulation of Property Agents report carried out by Lord Best.
Lord Best was an attendee at the APPG meeting.
Minister Maclean replied: "I fully understand the work that Lord Best has done, it is very comprehensive and wide ranging, but unfortunately it is beyond the scope of what we can do in this particular piece of legislation."

On Friday 10 November, the Conveyancing Association expanded these points:

The Conveyancing Association (CA) said it is "relieved" to see a Leasehold and Freehold Bill in this week's King's Speech, however urged the Government to also look at other key areas such as the introduction of Commonhold and the Regulation of Property Agents (ROPA). The King's Speech included a specific Leasehold and Freehold Bill which […]
---
Mark Chick, of the Association of Leasehold Enfranchisement Practitioners, asked about the progress of the Commonhold Council, which has stalled in recent months.
Minsiter Maclean replied: "The Commonhold Council has been incredibly important in informing our thinking and how we responded to the Law Commission's recommendations.
"As you will know that was a very wide-ranging piece of work with a huge numbers of recommendations. What we have been doing is working with them and we will continue to do that because we think that their work is vital in looking at how commonhold can form a greater part of the UK's property offering.
"It is not the right time to take all of that work forward in this Bill. It would become too big for us to manage and for us to reliably get through Parliament. What we want to do is focus on measures that will make a real difference to existing leaseholders right now, which this Bill will do."
---
London leaseholder and campaigner Joe Douglas (centre, at rear) asked why the government did not block the sale of freeholds to private investors, and why flats were not mandated to be sold with a share of freehold.
Minister Maclean repeated: "This is an incredibly sweeping reform to property law. Probably one of the most comprehensive and significant that any government has brought forward for a very, very long time.
"And it is very important that we do so without completely destabilizing the whole of the property and building industry because that would not be in anybody's interests.
"Is the reform going to be everything that everybody wants? No, it's not, but it can be delivered and it will help millions of people restore true homeownership freeing them from a set of rip-off circumstances under which they were living before. And i think it is the right thing to do."
---
Paula Higgins, of the Home Owners Alliance, wanted to know whether marriage value would be abolished and would leaseholders still be made to pay for freeholders' costs.
Minister Maclean replied: "Marriage value will be abolished and we will say more about how the cost will work when we come forward with the Bill."